Map Timelapse Shows Where Russia Has Lost Ground in Ukraine
Russian forces waging war in Ukraine have lost a significant amount of ground since the invasion of the eastern European began in late February.
Russian hopes of a quick and speedy win in Ukraine after President Vladimir Putin gave the go-ahead to invade the country were quickly dashed. Despite being militarily inferior on paper, Ukraine has held its own against Russian forces, putting up an intense resistance.
Russia has suffered a number of setbacks, including a reportedly high number of troop casualties. In the more than three months since Russia's initial invasion of Ukraine, the country has incurred as many troop deaths as the Soviet Union did during a nine-year period of fighting in Afghanistan, according to a report from a British intelligence agency.
Maps and intelligence reports posted to social media from the United Kingdom's Ministry of Defence provide a detailed look at just how much Russian forces have lost in terms of controlled land in Ukraine.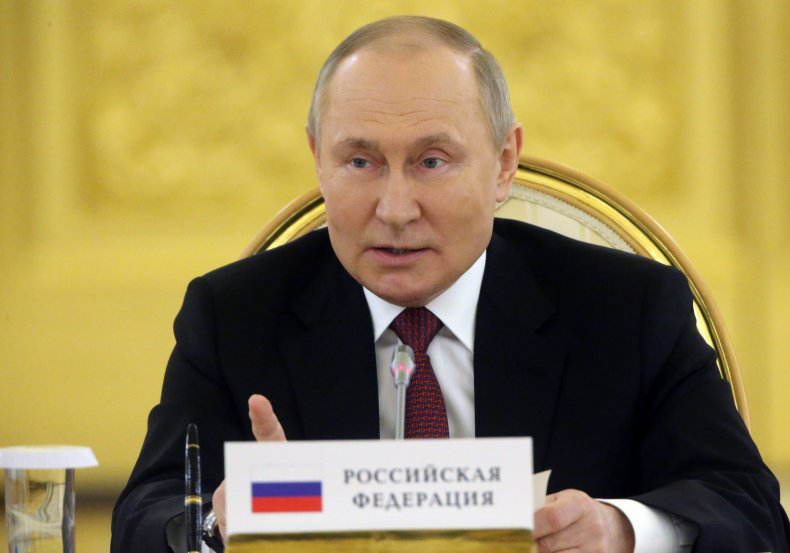 In the early weeks of its invasion, Russian forces managed to secure a majority of the northeastern border between themselves and Ukraine and were advancing on Kyiv, launching attacks on Ukraine's capital city.
March 8
Maps from the British government displayed Russia's significant control of portions in eastern and southern Ukraine.
April 1
Approximately, three weeks later, on April 1, Russian forces had managed to extend their areas of control in Ukraine, extending into eastern portions of the country, according to the map from the United Kingdom. However, Ukraine had reportedly managed to launch "successful but limited counter-attacks" to the north and east of Ukraine's capital city.
An intelligence report from the British government said Russia had continued to hit the Ukraine cities of Cherihiv and Kyiv, "despite Russian claims of reducing activity in these areas."
April 15
Two weeks later, on April 15, a map from British intelligence showed that Russia no longer controlled territory in the northern area of Ukraine, bordering Russia and Belarus. Ukrainian forces had managed to push Russia back into Eastern Ukraine.
On that same day, British intelligence reported that Russia sustained damage to two of its key naval assets.
May 6
A map from British military intelligence posted on May 6 indicated that Russian forces had retreated slightly south into Eastern Ukraine.
The report posted that same day states Russia was continuing to pummel the Azovstal steel plant in Mariupol ahead of their annual May 9, Victory Day celebration.
May 27
On Friday, May 27, the map displaying Russia's lack of progress in Ukraine shows a minuscule difference from May 6. Russia continues to control land in the southern portion of Ukraine, near the Black Sea as well as on the far eastern side of the country, where Ukraine borders Russia.
However, Friday's intelligence report from the British Ministry of Defence states that while Russia has recently taken control of "several villages," Ukraine has managed to keep Russia from obtaining control of "full control of the Donbas."
Given the number of casualties Russian forces have suffered, one Russian official, Leonid Vasyukevich, made a plea to Putin to end the more than three-month invasion, calling for the "immediate withdrawal of the troops of the Russian Federation."
He also added that "there will be even more orphans in our country."
Vasyukevich, a member of Russia's Communist Party faction, spoke up during the Legislative Assembly of Russia's Primorsky Krai in the far east of the country. For his comments, he was escorted out and was labeled a "traitor."