Islamophobic Extremist Group ACT for America Advertised Annual Gala at Trump's Mar-a-Lago
October 6 update: The dinner gala reservation page has been removed from ACT for America's website. A screenshot of the page from October 5 has been added to this story. A spokesperson for The Trump Organization informed Newsweek in an emailed statement Sunday, "This event will absolutely not be taking place at Mar-a-Lago." The spokesperson did not immediately respond to follow-up questions regarding Mar-a-Lago's connection to the event.
The group ACT for America may be listed as "the largest anti-Muslim group in the United States," one that "stokes irrational fear of Muslims via a number of false claims" and attracts "far-right extremists, including white supremacists and militia group members" according to the Anti-Defamation League. But that apparently doesn't exclude it from hosting an event at properties owned by President Donald Trump and his family.
On its website, the group announced it would hold its annual dinner gala at Trump's Mar-a-Lago Club. Conservative media figure Michelle Malkin, who spent a good part of September organizing "Stand With ICE" rallies outside detention centers, will deliver the keynote speech.
Malkin and ACT for America have developed very similar brands. She even referenced the group occasionally on her blog, including in one post titled "Never forget: Muslim hate crime hoaxes," in which she listed a number of anti-Muslim crimes that she alleged have been debunked and concluded that "For every rare and bona fide act of "Islamophobia" in North America, there are multiple acts of Islamo-faux-bia ginned up to stir attention, milk public compassion and generate unfounded fear."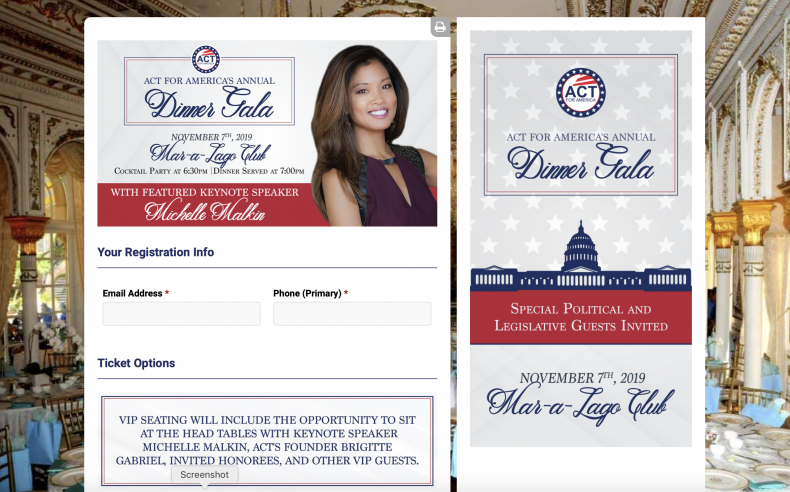 Ibrahim Hooper of the the civil rights group Council on American-Islamic Relations criticized the upcoming event at Mar-a-Lago, as reported by the Miami Herald: "It is totally inappropriate that an Islamophobic hate group would be in effect funneling money to the president of the United States by holding an event in one of his properties. This is a group that has been associated with Islamophobia in the worst form for many years and has also been associated with white supremacists and racist groups."
ACT for America—which calls itself as "the nation's largest national security grassroots organization"—was alternately described as "the face of bigotry" by the New York Civil Liberties Union in 2017. The Southern Poverty Law Center lists it as an extremist group and used the word "McCarthyite" to describe a database of Muslim United States residents the group built, reportedly to share with law enforcement.
Even the event registration company Eventbrite shunned ACT for America, freezing the group's accounts ahead of its founder's most recent book tour with the explanation that "Eventbrite does not permit on our platform content or organizations that promote or encourage hate, violence, or harassment towards others and/or oneself," according to reporting by Breitbart earlier this year.
Despite its open hostility towards Muslims—or perhaps because of it—ACT for America has attracted a large membership, with somewhere between 75,000 and 80,000 members according to different estimates.
In 2016 when he was a congressman from Kansas, current Secretary of State Mike Pompeo sponsored a room on Capitol Hill and spoke at ACT's "Legislative Briefing." ACT for America founder Brigitte Gabriel called Pompeo a "steadfast ally," according to Georgetown University's Bridge Initiative.
Tickets for the ACT gala—available, notably, on the organization's own website—promise an evening of hobnobbing with powerful figures. Besides the opportunity to sit near Malkin or Gabriel, "and other VIP guests," a sidebar noted "Special Political and Legislative Guests Invited" under a picture of the Capitol Building.
Representatives for the Trump Organization and ACT for America did not answer a request for comment about the event, while the White House declined to respond, according to the Miami Herald.