Mar-a-Lago: Trump Heads to 'Southern White House' to do 'A Lot of Work' as Presidential Public Schedule Remains Blank
President Donald Trump has vowed he'll be hard at work at his Mar-a-Lago estate in Florida this week, after arriving with his family Tuesday for the Thanksgiving break.
As the president departed the White House, he stopped to field questions from reporters.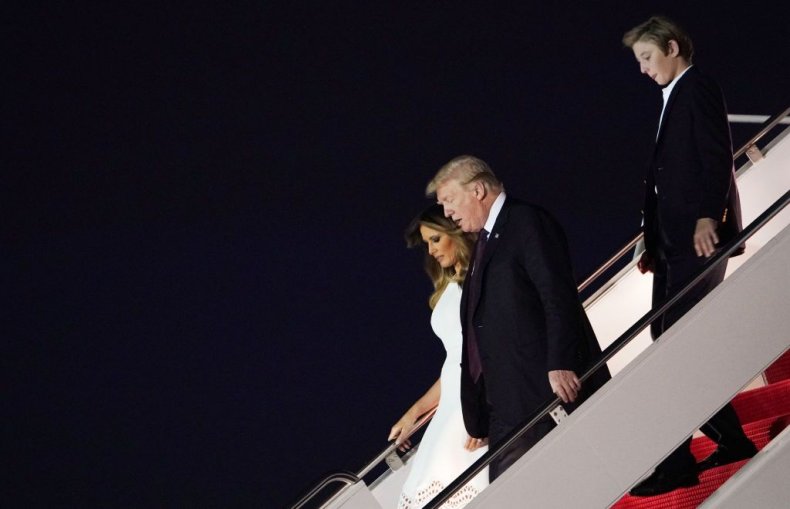 "We're going now to the southern White House," Trump said as he departed 1600 Pennsylvania Avenue. "We have a lot of work we're going to be doing in Florida."
Air Force One landed at Palm Beach International Airport at around 6 p.m. Tuesday for the president's first visit to the resort since April, reported CBS Miami.
The president's son, Eric Trump, and his wife Lara arrived at the airport earlier, according to the reports.
President Trump was joined by first lady Melania Trump, son Barron Trump, and daughters Ivanka Trump and Tiffany Trump for the journey.
Before setting off, Trump conducted the annual pardoning of the Turkey ceremony in the White House Rose Garden, accompanied by the first lady.
"That turkey is so lucky," Trump said upon pardoning a lucky fowl named Peas. "I've never seen such a beautiful turkey."
The president's public schedule is empty Tuesday, though these schedules do not include all of a president's activities.
Trump has faced criticism this year for heading to his Mar-a-Lago retreat while troops he deployed to halt a caravan of migrants from Central America spends the holiday at the southern border. The president was asked about the controversy by reporters Tuesday.
"Don't worry," Trump told reporters at the White House regarding the troops, adding, "these are tough people."
"You're worried about the Thanksgiving holiday for them, they're so proud to be representing our country on the border," he said.
Trump also spent Thanksgiving last year—which was his first as president—at Mar-a-Lago, where he enjoyed a meal with his family, boasted of his administration's achievements on Twitter, and served sandwiches at a coast guard base with the first lady.