A marathon runner has expressed his dismay after being overtaken in the final stretch of a course that was later discovered to measure 621 yards (568 meters) too long.
The men's Brighton Marathon on England's south coast climaxed in a dramatic finish this weekend, when runner Neil McClements caught rival Ollie Garrod in the last 200 yards.
McClements was officially declared the winner, completing the course in 2 hours and 33 minutes. But that victory is now in question following the error, which was spotted two hours after the race began.
Garrod, a 28-year-old accountant, said that while he was "frustrated" by the mistake, he appreciated the inherent difficulties of measuring such long distances.
He told The Daily Telegraph: "It is frustrating when it is a race as big as Brighton, which is an established course and hasn't changed really in the best part of 10 years.
"So it is frustrating from that angle but I feel more frustrated for the people who were close to a sub-three or that kind of thing or a milestone time for them."
"I organize some races myself and I know the pressures that volunteers are under, sometimes it is a case of a volunteer putting the cone in the wrong place."
Verity Hopkins won the women's marathon without any controversy, in 2 hours and 52 minutes.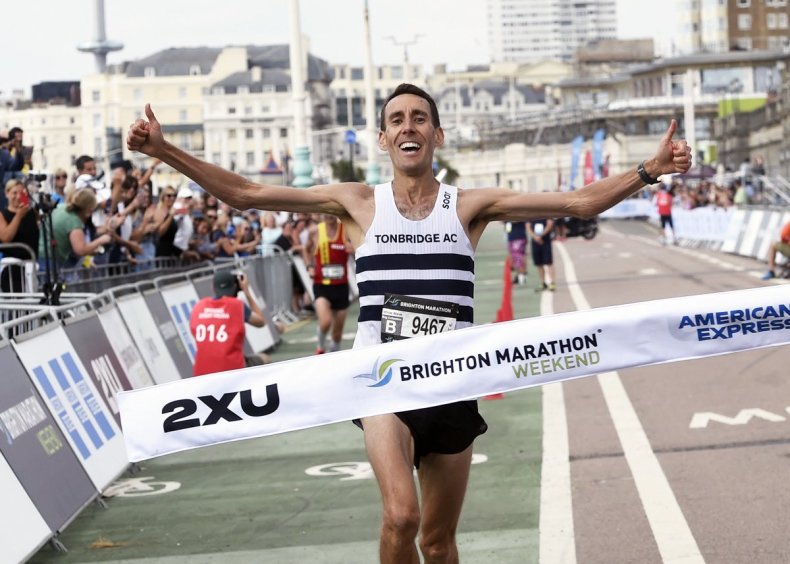 Red-faced Brighton Marathon Weekend organizers tweeted an apology on Sunday, September 12, stating: "We would like to apologize to our marathon participants that the course today has measured 568m too long.
"We are wholly disappointed that this has affected our runners & hope that it hasn't marred the experience, at what has been a fantastic comeback after event after 18 months."
Other race participants have reacted to the error by sharing their suspicions about the course.
Nik Argiropoulos tweeted: "This explains why the 3:30 pacers were going so fast in the early stages - they thought they were behind, but actually it was because all the mile markers were in the wrong place. Not good."
Paul Addicott added: "I believe the mile markers were all correct.
"Ideally pacers would have made up the time steadily, but it's a lot of pressure finding out you are 5 minutes down at halfway."
The organizers behind what is considered the U.K's second-largest marathon are expected to release a full statement later on Monday.
It is not the first time mistakes have been made in measuring out marathon distances in the U.K.
The 2019 Belfast City Marathon organizers admitted runners' race times would require amending after "human error" resulted in an additional 460 meters was tagged to the end of the 26.2-mile course.