Marathoner Radcliffe Says IOC Must Act Now on Doping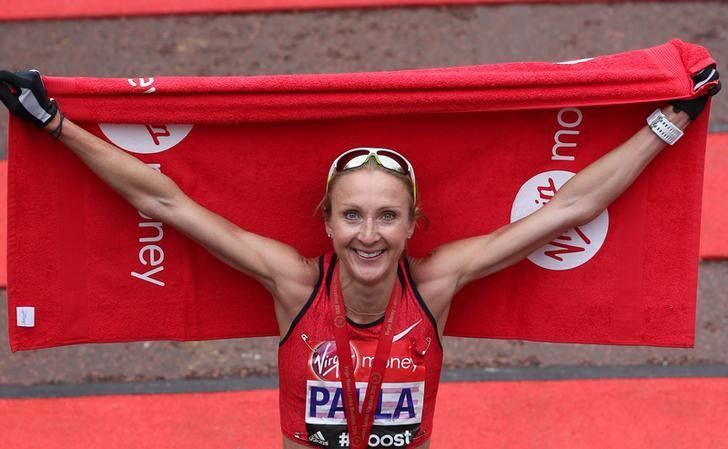 (Reuters) - The International Olympic Committee and other sports federations must take steps of their own to crack down on drugs cheats after world athletics upheld its ban on Russia for systematic doping, marathon world record holder Paula Radcliffe said on Friday.
The Council of the International Association of Athletics Federations (IAAF) said on Friday Russia had not made enough progress to improve anti-doping measures and voted unanimously in Vienna to keep the ban in place.
Russian athletes' hopes of competing in the Rio Olympics now rest with the IOC, which plans to hold an Olympic summit on Tuesday to discuss the issue.
"The IOC has a big decision to make," Briton Radcliffe said on her Twitter account.
"Particularly if evidence validates the Sochi allegations, then surely they have to act to protect clean athletes and everywhere and also the sanctity of anti doping and the Olympic ideals."
She was referring to allegations that Russian anti-doping experts and members of the intelligence services secretly broke into tamper-proof bottles to replace urine samples tainted by performance-enhancing drugs with clean urine collected earlier at the 2014 Sochi Olympics.
Radcliffe, long an advocate of the fight against doping, praised the IAAF Council's stand.
"They showed that they are ready to step up and fulfill the vital role of supporting the clean athletes and ensuring that all is done to maintain a fair and level playing field," she said.
"It is now up to the IOC and other governing bodies to act. From November it was clear that this was never just about athletics and these bodies should have been acting then."
An independent report from the World Anti-Doping Agency (WADA) in November revealed widespread state-sponsored doping in Russia, leading to the IAAF to suspend the sports superpower from international track and field activities.
But Radcliffe said the problem went beyond athletics and Russia.
"For complete fairness other countries and regions now need to be examined in the same way," she said.
"I totally sympathize with all clean athletes suffering in this situation, but do feel that Russian track and field athletes were told repeatedly how their Olympic participation depended on them getting their state to acknowledge, react to and take accountability for the problems."
The British Olympian also took exception to statements by Russian pole vault record holder Yelena Isinbayeva, who said that her human rights were infringed upon by the IAAF vote.
"It is not a basic human right to take part in sport on the Olympic stage," Radcliffe said. "It is an honor and a privilege and if that privilege is abused then you shouldn't be invited to the party."