Disney Producer Says 'Bold' Action Needed Against Homophobia After Walkout
Disney has been called on by one of its producers to take "bold" action against homophobia, after employees staged a walkout in protest of the company's reaction to Florida's Parental Rights in Education bill.
The entertainment giant faced protests from employees at its theme parks in Florida and California on Tuesday over its decision to not immediately condemn the legislation, dubbed the "Don't Say Gay" bill by critics.
When The Walt Disney Company (TWDC) shared in a statement on LinkedIn on Tuesday that it stood in support of its LGBTQIA+ employees, Marc Femenella, who is a co-executive producer at Disney, urged the company to take a bolder stance.
"Denouncing is the first step," Femenella commented under Disney's post. "The next is to enact real consequences that will make politicians listen. There's no easy road to oppose fascism and homophobia. Be bold and gutsy, Disney."
The bill prohibits Florida's teachers from discussing LGBTQIA+ issues with students from kindergarten up to third grade. It was passed by Florida's state Senate this month, and is expected to be signed into law by Governor Ron DeSantis.
Critics of the bill have expressed fears that the legislation will lead to wider discriminatory laws affecting the LGBTQIA+ community.
In its statement on Tuesday, TWDC said: "We stand with our LGBTQIA+ colleagues, friends, families and future employees around the world.
"We value authenticity, inclusion, and community, and we denounce the discriminatory bills advancing in states across the country that are harmful to all of us.
"We oppose any legislation that infringes on basic human rights and support our LGBTQIA+ employees, cast, crew, and Imagineers who make their voices heard today and every day."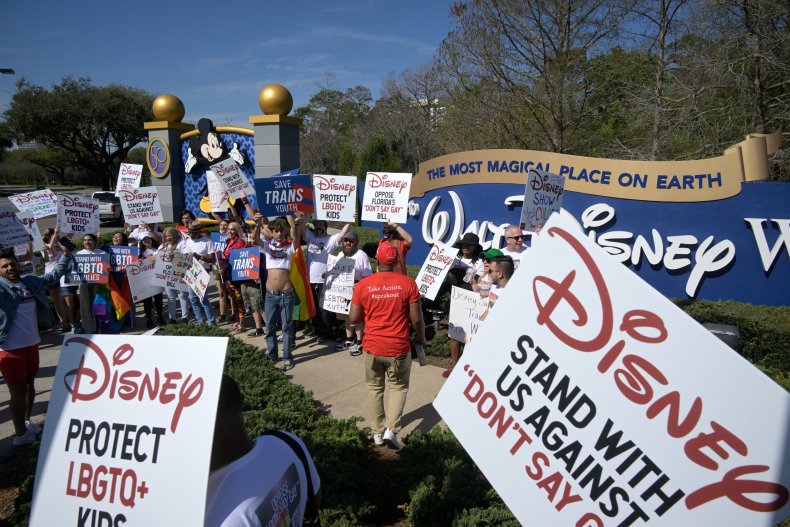 Staff at Walt Disney World in Florida and California's Disneyland theme parks were among the employees across Disney's divisions protesting this week. On Tuesday, some employees at the parks staged a walkout between 8 a.m. to 6 p.m. local time.
The Disney Do Better Walkout website says in a statement on its website: "The recent statements and lack of action by TWDC leadership regarding the 'Don't Say Gay or Trans' bill have utterly failed to match the magnitude of the threat to LGBTQIA+ safety represented by this legislation.
"As a community, we have been forced into an impossible and unsustainable position. We must now take action to convince TWDC to protect employees and their families in the face of such open and unapologetic bigotry."
Disney CEO Bob Chapek had faced criticism from employees for not publicly condemning the legislation. Earlier this month, Chapek stated that he would meet with DeSantis and LGBTQIA+ leaders at his company to discuss the bill.
This claim was disputed in a statement from DeSantis' office, which said that no in-person meeting with Chapek had been arranged. It was also said that the governor's position on the legislation "has not changed."
Disney has faced pressure as it owns a number of sizable properties in Florida, including Orlando's Walt Disney World theme park. The company is also a major political donor to the state's politicians.
A number of figures and organizations that helped advance the Parental Rights in Education bill have had their donations from Disney paused following backlash.