Marc Jacobs Reveals He's Had a Facelift As He Shares Bandaged Photo: 'F*** Gravity'
Fashion designer Marc Jacobs has had a facelift—and shared the news with his 1.6 million Instagram followers.
The 58-year-old New Yorker posted a selfie on Wednesday showing his heavily bandaged head as he sat in a doctor's office.
In the photo, Jacobs is wearing a black-and-white shirt—and blue face mask—with white gauze wrapped around his head and drainage bags holding excess blood taped to the bandages.
Jacobs captioned the image "Yesterday," tagging plastic surgeon Dr. Andrew Jacono and adding the hastags "#f***gravity" and "#livelovelift."
Dr. Jacano, who is based in New York, specializes in mini facelifts, rhinoplasties and eyelid lifts, according to his website.
In an interview with GQ back in 2008, Jacobs said he was open to getting plastic surgery in the future—citing fellow designer Tom Ford as his inspiration.
"I've learned at this point to never say never to anything," said Jacobs. "I look at Tom [Ford] and he looks great. Whatever he's doing works for him. And I don't know if he does anything, but I'm not opposed.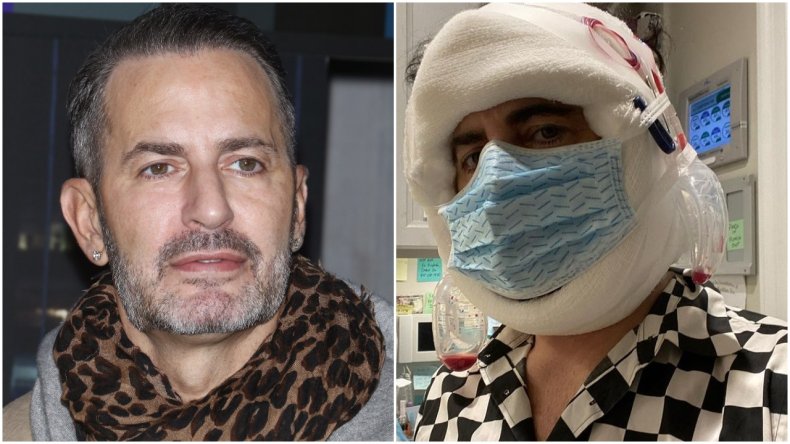 "Whatever makes me feel good, I want more of. If work is going well, I want to do more clothes. If the gym thing is working for me, I want to be bigger. If getting my hair cut makes me look younger, I want to play with the color. So, I could see myself slipping down that road so quickly."
In the same interview, Jacobs told GQ that he had previously had work done on his nose, after running into a glass door.
For his part, Ford told The New York Times in 2019: "I've been open about using Botox and fillers, although I can move. You have to be very careful with it. I do it about once every eight months."
Ten years earlier, in an Advocate interview to promote his debut as a film director, A Single Man, Ford said: "I'd never get a full facelift, though. Facelifts on men are a disaster."
Jacobs has previously spoken about overhauling his diet and fitness after years of neglect, opening up in a conversation with Calvin Klein that was published in Harper's Bazaar in 2010.
He said at the time: "I had 21 percent body fat four years ago. I was in and out of the hospital because I had flare-ups of ulcerative colitis. I'd be in the office for 16 hours a day, six of which were in the bathroom because I was so ill. I ate nothing but junk food. Basically, the doctor said, 'We're going to have to remove your colon.' And I said, 'I'm not doing that!'
"So I went to a nutritionist named Lindsey Duncan, and he said, 'If you are 100 percent compliant with what I tell you to do, you will be in better shape than you've ever been in, and you will not have to have your colon removed.'"
Jacobs removed caffeine, sugar, white flour and cow's milk from his diet, then started consuming a long list of healthier foods, including goji and wheatgrass shots, and began working out.
The designer told Klein: "When I started to feel better, and when my stomach wasn't hurting, and when I wasn't on the toilet all day, and when I could look at myself in the mirror, and when I went from 21 percent body fat to 5 percent body fat and I had muscle, I was like, 'This is great!'"
"Before, I never took care of my appearance," he added. "I was like, 'Who cares? I'm in the studio 16 hours a day, and nobody sees me.' Everything, it all sort of changed. My home life changed. I wanted to have people over for dinner. I cared about interiors because I wanted to have guests over all the time."
Newsweek has contacted a representative for Marc Jacobs for comment.