March Madness: More Busted Brackets in Elite Eight After Kentucky Blows It?
Top seeds tumbling like dominoes, brackets busted with regularity: March Madness has definitely lived up to its name so far.
On Thursday, Kentucky became the NCAA tournament's latest illustrious victim after losing 58-61 to Kansas State University in the battle of the Wildcats.
Kentucky was the highest-ranked team left in the South, after the top four seeds—Virginia, Cincinnati, Tennessee and Arizona—had already been dispatched earlier in the tournament, and their path to the Final Four in San Antonio looked as straightforward as possible.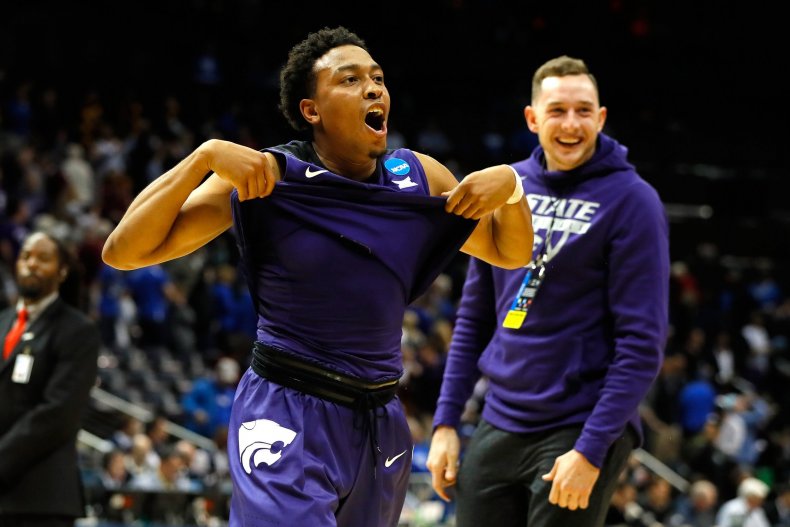 It was anything but. Kentucky could not overcome a team that shot only 35.2 percent from the floor, had three players fouled out and was forced to play without star forward Dean Wade, who missed the second half as he continued to battle with his foot injury.
Kentucky had trailed by as many as nine points in the second half but eventually rallied, ensuring there was never more than possession between the two teams in the final five minutes. Barry Brown's layup with 18 seconds left put Kansas State ahead 60-58, before Quade Green missed his three-point jumper six seconds later to hand ninth-seeded Kansas State a trip to the Elite Eight for the first time since 2010.
Such was the expectation John Calipari's team would cruise through the Sweet Sixteen stage that the match-up in Atlanta was nicknamed the "Kentucky Invitational". However, the expected cakewalk never materialized and, in fact, motivated Kansas State even further.
"We heard it a lot," Kansas State guard Kamau Stokes was quoted as saying by ESPN. "Not just from [Kentucky] fans, but players, too. That motivated us. They thought they were going to have it easy, and they didn't."
Kansas State will now face Chicago's Loyola Ramblers, who wrote another chapter of what is turning out to be a fairytale March.
The 11th seed eliminated number six seed Miami in the first round 64-62 thanks to a buzzer-beater, before repeating the trick against third-seeded Tennessee last week to win 63-62.
It was fitting then that the Ramblers' improbable run was kept alive by yet another thrilling finish, with Marques Townes sinking a three-pointer with 6.3 seconds to go to put Loyola 69-65 ahead over Nevada.
"I'll probably remember it for the rest of my life," Townes told the Associated Press. "I mean, it doesn't really get any better than that."
The seventh-seed hit back with a three-pointer of their own but ran out of time to find a winner, meaning Loyola-Chicago is the lowest ranked team in the Elite Eight.
Syracuse could join the Ramblers but it will take a massive effort to get past second-seeded Duke on Friday. However, Syracuse has already knocked out Texas Christian University and Michigan State—ranked number six and three respectively—so it would be naïve to bet against the Orange.
The Midwest is the only region where a degree of normality has been retained, with Duke and top-seeded Kansas still in the running, while third-seeded Michigan is the highest-ranked team left in the West, after disposing of Texas A&M 99-72.
Having busted George H.W. Bush's bracket, the Wolverines take on Florida State, whose incredible run shows no sign of stopping as they reached the Elite Eight for the first time since 1993.
The ninth-seeded Seminoles beat fourth-ranked Gonzaga 75-60, adding another prestigious scalp to a list that already contained eight-ranked Missouri and top-seeded Xavier, and should they win on Saturday, they will progress to a first Final Four since 1972.