March Madness Top 4 Seeds, Per Region, According to the Latest Betting Odds
Filling out brackets for March Madness is no exact science, and neither is betting on college basketball. It's called March Madness for a reason. Things get crazy.
As the tournament nears, here are the certains: the regular season has ended, conference tournament champions get automatic bids into the men's national tournament and the 68-team field will play the tournament in its entirety in Indiana.
Another certainty, at this point: Gonzaga and Baylor are the top two men's teams across the board, and in that order.
Selection Sunday is coming up this weekend. If this year is anything like most seasons, there will be around 70 million brackets filled out. In most years, that's more brackets than total votes for the previous presidential winner.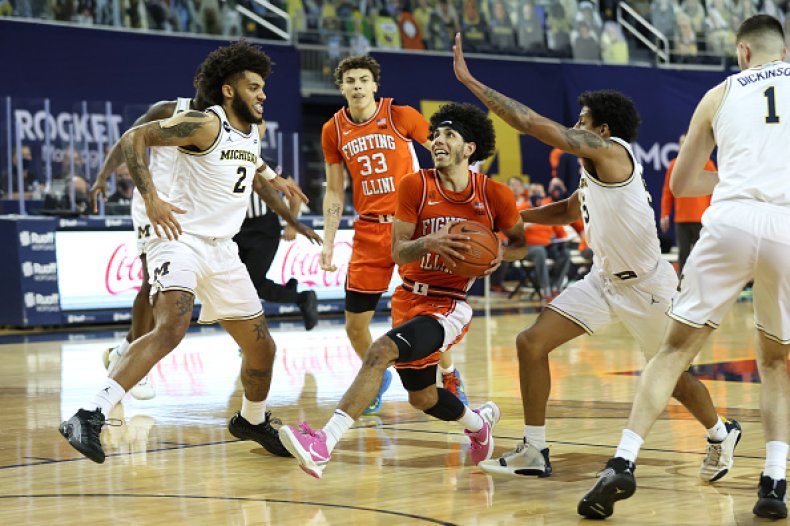 For the upcoming brackets, and favorites, different media outlets have their own projections—Like Tom Lunardi of ESPN. Then there's Andy Katz, who has power ranking released on the NCAA's website. There are Associated Press and Coaches rankings.
Then there are the bookmakers who release the odds of teams winning the whole tournament, and that's how we have created a top 16 and put them into four regions.
Here's how we did it. We took three different odds makers: BetMGM, Caesars and SportsBetting.ag. We ranked the teams from 1-20 based on the odds of each bookmaker, then tally points based on their rankings.
For example, Gonzaga is the favorite to win the NCAA tournament in all three books. Allotting the Bulldogs one point for each first-place vote, they total three points, which is the lowest-possible number, giving them the top overall seed for now.
Baylor was No. 2 in all three books, and at two points for each, they have six points. Michigan was unanimous at third, so they have nine points, and so on.
Not all books lined up, though. Some teams are favored more in one sportsbook than another. Let's take the Houston Cougars, who are No. 10 in the MGM book at +2000, but they are sixth in the other two at +2000 (Caesars) and +1800 (SportsBetting). Their total points would be 10+6+6 for 22, which puts them at sixth overall, and just one ahead of Ohio State (23), who is sixth (MGM), eighth (Caesars) and ninth (SportsBetting).
That said, here are the top 16:
| | | |
| --- | --- | --- |
| Rank | Team | Points |
| 1 | Gonzaga | 3 |
| 2 | Baylor | 6 |
| 3 | Michigan | 9 |
| 4 | Illinois | 12 |
| 5 | Iowa | 15 |
| 6 | Houston | 22 |
| 7 | Ohio State | 23 |
| 8 | Florida State | 24 |
| 9 | Alabama | 25 |
| 10 | Creighton | 30 |
| 11 | Villanova | 32 |
| 12 | West Virginia | 33 |
| 13 | Kansas | 37 |
| 14 | Virginia | 37 |
| 15 | Texas | 43 |
| 16 | Texas Tech | 51 |
Kansas and Virginia tied with 37 points, so the tiebreaker in this method goes to which team is ranked higher at least twice. In this peculiar situation, both teams split the rankings in the first two and the final ranking has them tied at +3300. The coin toss in this situation goes to Kansas, which is the only team to beat No. 2 Baylor this season
To put them into regions based on their rankings, the No. 1 seed (Gonzaga) will get the No. 16 team (Texas Tech) as the No. 4 seed in its region. The No. 8 and 9 teams will get the No. 2 and 3 seeds in that region.
Here are the seedings and regions, according to an average of odds makers (odds listed are according to Caesars):
Region 1
Gonzaga (+210)
Florida State (+2500)
Alabama (+2500)
Texas Tech (+4000)
Region 2
Baylor (+425)
Ohio State (+2200)
Creighton (+3000)
Texas (+3500)
Region 3
Michigan (+350)
Houston (+2000)
Villanova (+2000)
Virginia (+2800)
Region 4
Illinois (+1100)
Iowa (+1600)
West Virginia (+33)
Kansas (+37)
Here are some points to take away from the disparity between rankings, projections and the oddsmakers. Neither are guaranteed to be exactly right, but both can be intertwined to make decisions. Like this:
Katz has Arkansas at No. 10 in his end-of-season power rankings and Oklahoma State at No. 11. Arkansas is ranked No. 8 in both current polls and Oklahoma State is 12th in the AP poll and No. 14 in the coaches poll.
The best Arkansas does in any of the top 20 odds is +4000, meaning a $100 bet would net a Hogs fan $4,000 if his team wins it all. For Oklahoma State, the Cowboys are +3300 in the Sports Betting pool and not even listed for MGM. That must be an oversight because Duke and Kentucky are still listed at +8000 despite the fact that neither will even make the tournament unless they win their respective conference tournaments.