More Than 2 Million in 90 Percent of Voting Districts Joined March for Our Lives Protests
More than 2 million people participated in the March for Our Lives protest against gun violence over the weekend, according to the nation's largest gun violence prevention group.
Activists demonstrated in 387 congressional districts, or 90 percent of all voting districts in the U.S. across party lines, according to Everytown for Gun Safety, which assisted the survivors from Marjory Stoneman Douglas High School in organizing marches in Washington, D.C., and worldwide. There were more than 850 sibling marches across the world.
The Stoneman Douglas survivors organized Saturday's march after a 19-year-old gunman fatally shot 17 people at their school in Parkland, Florida, on February 14 with a legally purchased AR-15. An estimated 800,000 gun protesters gathered in the district alone to issue lawmakers three demands: Ban the assault weapons often used to execute mass shootings; end the sale of high-capacity magazines; and implement universal background checks for every gun sale, closing the current background check loopholes.
The widespread activism across congressional districts is significant for the gun control movement. Almost immediately after the shooting, Marjory Stoneman Douglas survivors used their national platform to put the gun industry and politicians they deemed to be in the pockets of the National Rifle Association on notice.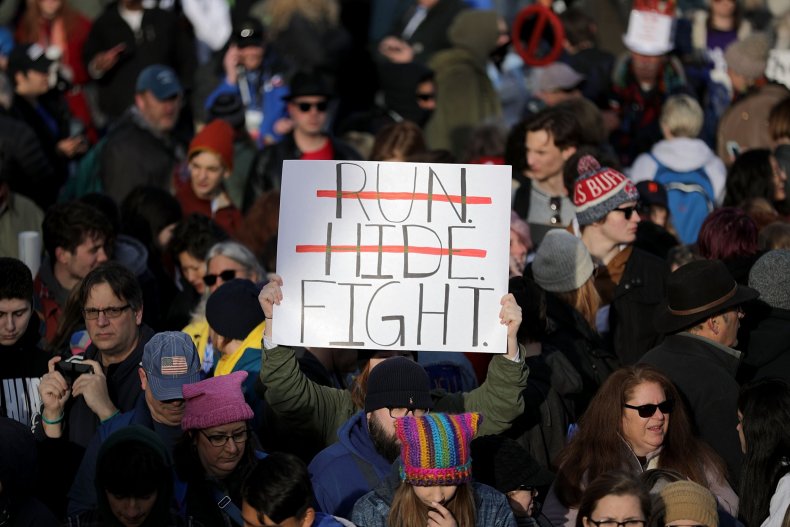 "Politicians: Either represent the people or get out. Stand with us or beware, the voters are coming," 17-year-old Cameron Kasky, a junior at Marjory Stoneman Douglas, told Washington, D.C., protesters. "Our voices are powerful and our votes matter."
The movement's momentum doesn't appear to be subsiding. On Monday, Everytown announced it would allocate $1 million toward a grant program for students to get involved in nationwide Students Demand Action chapters. The organization will also assist with voter registration drives, including pre-registering 16- and 17-year-olds.
Related: Gun control protests aren't going away this time
"On Saturday, we marched," said Julia Spoor, 16, a founding member of Students Demand Action, in Everytown's statement. "On Monday and every day after, we'll organize and keep growing this movement until this crisis ends."
Everytown also said it will continue to help students participate in gun control activism, saying more than 200 events are planned over the next two weeks.
Students around the country had walked out on March 14, the one-month anniversary of the Parkland shooting and on April 20, the 19th anniversary of the Columbine High School shooting, students will again walk out of their classrooms. The forthcoming demonstration, called the National School Walkout, will also take aim at politicians and protest "congressional, state, and local failures to take action to prevent gun violence," its website says.