March for Our Lives: When Is It, What Is It And Will It Make Congress Take Action On Gun Control?
Hundreds of thousands of students and their families are expected to descend upon downtown Washington D.C. Saturday for the March for Our Lives rally. The anti-gun violence march will be led by the survivors of the Marjory Stoneman Douglas High School shooting in Parkland, Florida.
Demonstrators aim to "demand that their lives and safety become a priority and that we end gun violence and mass shootings in our schools today." The march's organizers argue that "the time is now" to talk about gun legislation.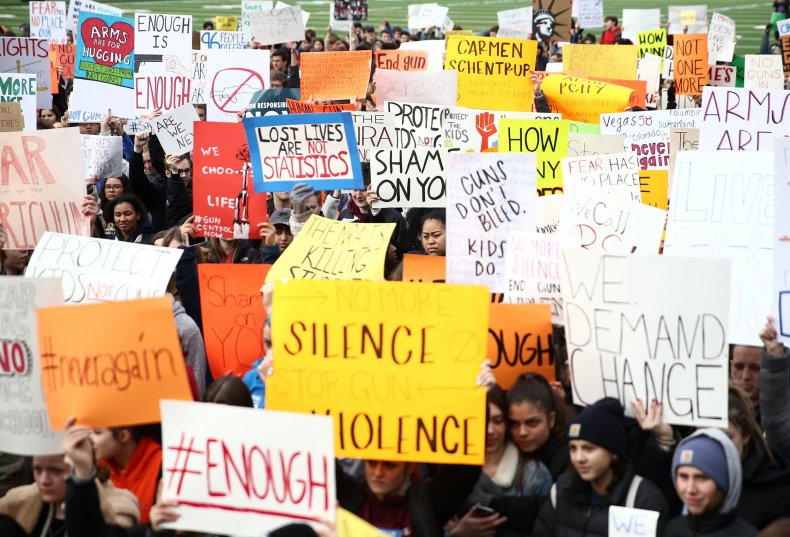 The rally will begin at noon on Saturday on Pennsylvania Avenue between 3rd Street and 12th Street NW. Medical tents staffed with volunteers will serve as reunifications points, water will be available and food trucks will be stationed nearby, The Washington Post reported.
The March for Our Lives website said there were 838 solidarity marches scheduled worldwide. Each of the marches around the country are independent student-led initiatives, according to March for Our Lives. Everytown for Gun Safety and Giffords Courage are among the groups helping to coordinate the marches outside of Washington.
D.C. Mayor Muriel E. Bowser told The Washington Post that federal agents and D.C. police will be on hand and Metro trains will run every few minutes to accommodate an estimated 500,000 people. Bowser told reporters that the district has been preparing for the event, which she expressed support for.
"As the young men and women from Parkland, Florida, have been preparing for Saturday's event, the District has been preparing to keep them safe here in Washington," the Democratic mayor said during a news conference. "We are very much looking forward to supporting this rally."
Students first demonstrated their dedication to the cause when they planned a National Student Walkout with the hashtag #EnoughisEnough. Thousands of students nationwide walked out of their high schools on March 14 and stood in silence for 17 minutes in honor of the lives lost in Parkland.
While encouraging their peers to participate in Saturday's march, Parkland survivors like David Hogg are also urging young people to register to vote. "This isn't just voting-THIS IS VOTING TO SAVE LIVES," he tweeted on March 18.