Marchers Should Demand Second Amendment Repeal, Says Former Supreme Court Justice Stevens
Former Supreme Court Justice John Paul Stevens said on Tuesday demonstrators from the March for Our Lives should push for repeal of the outdated Second Amendment, the right to bear arms. The 97-year-old Stevens, who became one of the court's liberal voices, declared it would bring advocates closer to their objective in gun reform.
"The demonstrators should seek more effective and more lasting reform. They should demand a repeal of the Second Amendment," the third-longest-serving justice said in a New York Times op-ed.
The former justice, who retired in 2010, declared the amendment a "relic of the 18th century."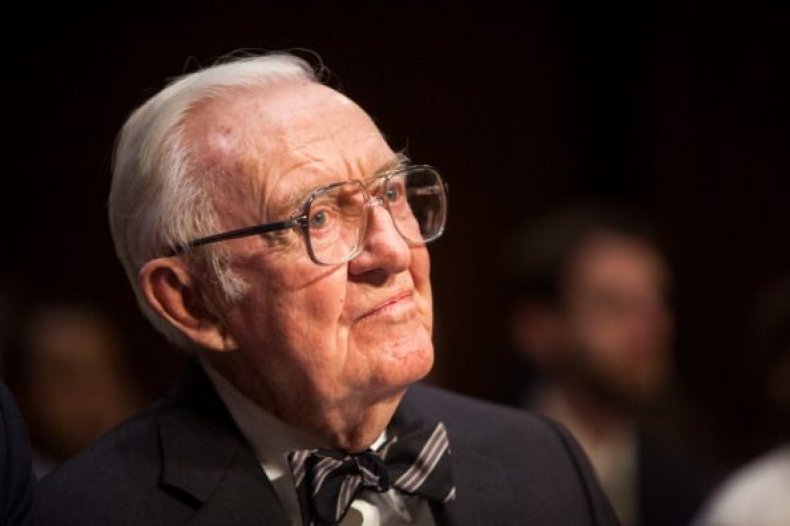 Stevens was on the losing end of a 2008 ruling, District of Columbia v. Heller, for which the high court upheld the Second Amendment's right to bear arms for self-defense.
"That decision—which I remain convinced was wrong and certainly was debatable—has provided the NRA with a propaganda weapon of immense power," Stevens said.
Stevens has said in the past that "five additional words" to the Second Amendment would fix the gun debate: "A well regulated Militia, being necessary to the security of a free State, the right of the people to keep and bear Arms when serving in the Militia shall not be infringed."
The former justice argued that repealing the Second Amendment would "weaken the N.R.A.'s ability to stymie legislative debate and block constructive gun control legislation than any other available option."
"That simple but dramatic action would move Saturday's marchers closer to their objective than any other possible reform," Stevens wrote. "It would eliminate the only legal rule that protects sellers of firearms in the United States—unlike every other market in the world."
Organizers estimated 800,000 gun protesters gathered just in the nation's capital alone on March 24, and the day has been credited as the largest youth protest since the Vietnam War era. Nonpartisan organization HeadCount, which registers voters at concerts, said thousands signed up to vote on Saturday. The organization also broke its record for highest voter registrations in its 15-year history.