Marco Rubio Calls for Fauci's Ouster Over COVID-19 Origins: 'A History of Moving Goal-Posts'
Senator Marco Rubio, a Florida Republican, called for Dr. Anthony Fauci to be fired from his roles as head of the National Institutes of Health and chief medical adviser to President Joe Biden due to the health official's response to inquiries into the origins of the COVID-19 pandemic.
Fauci, 80, has faced significant backlash from top Republicans and other critics over his initial dismissal of the possibility that COVID-19 leaked from the Wuhan Institute of Virology in China. He has also faced criticism for the NIH funding gain-of-function research connected to the Wuhan lab. Some critics—including Rubio—have speculated that this research led to the formation of the novel virus.
"Dr. Fauci has now infamously denied that the National Institutes of Health (NIH) funded gain-of-function research at the WIV, but that was a lie by omission. In 2015, researchers at the University of North Carolina Chapel Hill and the WIV teamed up to conduct a gain-of-function study funded largely by U.S. taxpayers. Only the Americans were funded by NIH, but the WIV received a sub-grant from USAID," Rubio wrote in an opinion article for Fox News on Saturday.
The Florida Republican also argued that Fauci had simply dismissed the possibility of lab leak, despite it being a highly plausible explanation.
"Some scientists were cautious to remain open to a range of possibilities, but others, like Dr. Anthony Fauci .... dismissed the idea that the virus could have come from a lab. It was a massive failure in judgment for a prominent public health official—though in retrospect unsurprising, given his history of holding back the truth based on personal judgments about when he thinks the American people are 'ready' to hear the facts," Rubio wrote.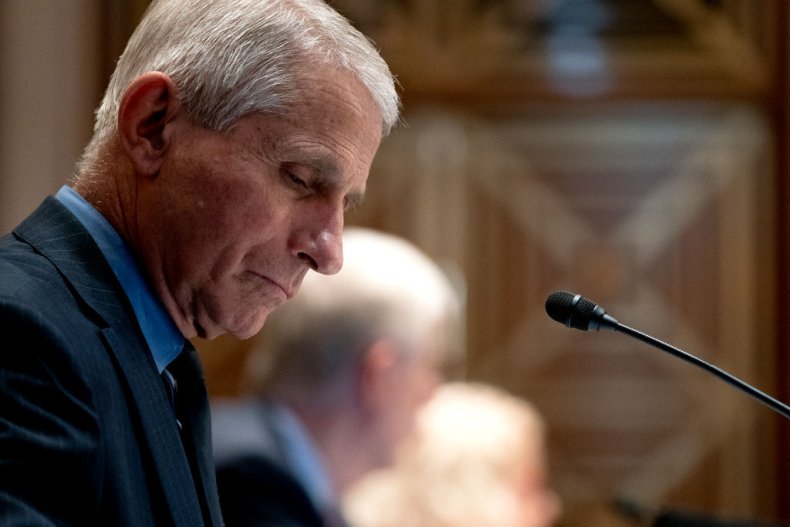 The senator wrote that Biden should "fire" Fauci if he wants to live up to his campaign promises.
"Our work to shed light on COVID-19's origins has just begun, but one thing is clear: Dr. Anthony Fauci has repeatedly demonstrated a history of moving goal-posts when it comes to public health, withholding facts that don't conform with his own narrative, and issuing inappropriate personal judgments that distort the truth," Rubio wrote.
"During the campaign, Biden said, 'I'll choose science over fiction.' Now is his chance to make good on that promise and fire Dr. Fauci," he added.
Newsweek reached out to the White House for comment, but did not immediately receive a response.
White House Press Secretary Jen Psaki dismissed the possibility of Biden firing Fauci when asked during a press conference on Friday.
"He's overseen management of multiple global health crises, and attacks launched on him are certainly something we wouldn't stand by," Psaki said. When asked if she could envision circumstances that would lead Biden to fire the public health official, she replied, "No."
Biden told reporters on Friday that he remains "very confident" in Fauci.
Conservative backlash has been fueled further by the publication of a trove of Fauci emails by BuzzFeed News and The Washington Post. Critics of the public health official have pointed to excerpts from various emails to double down on their opposition to Fauci. The NIH director defended himself this week, saying the excerpts were being taken out of context.
"The only trouble is they are really ripe to be taken out of context where someone can snip out a sentence in an email without showing the other emails and say, 'based on an email from Dr. Fauci, he said such-and-such,' where you don't really have the full context," Fauci told NewsNation.