Marco Rubio Campaign Email Decries 'Democrats' Extremism' As High-Profile Liberals Targeted with Explosives
Senator Marco Rubio's campaign sent an email Wednesday denouncing "Democrats' extremism" as authorities intercepted explosive devices targeting high-profile liberal figures including former President Barack Obama.
The email from the Florida lawmaker's campaign, titled "It will only get worse," said that Democrats were altering political standards and blocking progress in the Senate.
"Democrats' partisanship has gone into overdrive, and the norms that once governed our politics and public discourse are gone," the email said.
"Their extremism and obstruction have hijacked the Senate's productivity for long enough, and if we do not prevent them from taking control, it will only get worse. I know this sounds overblown, but as someone who has been a recent target of Democrats' extremism, I can assure you this is the daily reality we're facing if we lose."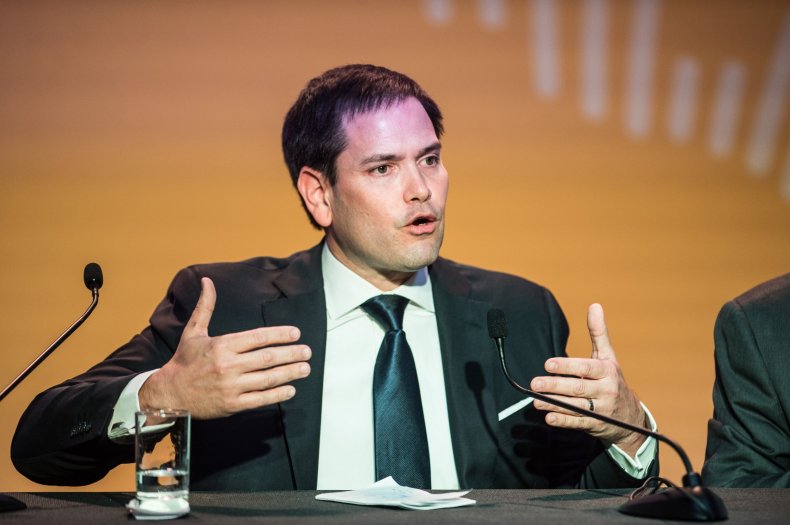 News broke Wednesday morning that the Clintons and Obama had been mailed explosive devices.
CNN's New York office was also sent a suspicious package. Police later reported that the package with the explosive device contained white powder.
Throughout the day, reports of additional high-profile Democratic figures being mailed similar packages emerged. Representative Maxine Waters said her Washington office was sent a suspicious package. Representative Debbie Wasserman Schultz received a package that was misaddressed to former attorney general Eric Holder, The New York Times reported. The return address listed Wasserman Schultz's name, so the package was redirected to her district office in Florida.
The devices sent to the prominent Democrats followed the discovery on an explosive device in the mailbox of liberal billionaire George Soros, a frequent target of right-wing conspiracy theorists.
Authorities are investigating whether the packages are linked.
The rhetoric Rubio's campaign used in its email starkly contrasted statements the senator posted on Twitter. The lawmaker, along with many Republican leaders, condemned the attempted attacks.
"An attack on an American who happens to be a Democrat, Republican or Independent is an attack on America. The terrorist behind this will soon find out that while a free people have politics that are conflictive, if you try to kill any of us you will have to face all of us," he wrote in
one tweet.
He later posted "Americans must never & I believe will never accept terrorism against any of us. If the terrorist(s) doing this believed otherwise they are very mistaken. Because we are free, we openly & passionately argue over our political differences. But we settle them with ballots, not bombs."
Rubio's Washington office did not respond when contacted by phone, and a contact request sent via his website was not returned.
Conservative lawmakers and pundits have recently lambasted Democratic rhetoric and critiqued protesters. GOP Senator David Purdue compared Democratic tactics to oppose Supreme Court nominee Brett Kavanaugh to those used by brownshirts, Nazi paramilitaries that aided Hilter's rise to power. Commentator Ben Stein invoked the same historical reference when he compared liberal protesters to brownshirts.
A number of figures from both parties, including House Minority Leader Nancy Pelosi and Senate Majority Leader Mitch McConnell, have been confronted by protesters recently.