Marco Rubio Challenges MLB Commissioner Rob Manfred to End League's Ties With China and Cuba
Senator Marco Rubio (R-Fla.) on Monday questioned Major League Baseball (MLB) Commissioner Rob Manfred's decision to move this year's All-Star Game out of Atlanta in light of Georgia's new election laws and suggested the league should sever its ties with countries that do not hold democratic elections.
MLB announced last week it would be moving the 2021 All-Star Game out of Georgia. While the decision has been praised by some Democrats, other Americans have indicated support for an MLB boycott over the decision.
In a Monday letter to Manfred, Rubio said the decision to relocate the All-Star Game "reeks of hypocrisy."
"Will Major League Baseball now end its engagement with nations that do not hold elections at all like China and Cuba? Will you end your lucrative financial relationship with Tencent, a company with deep ties to the Communist Party and actively helps the Chinese Government hunt down and silence political dissidents?" Rubio's letter asked.
Rubio's letter continued, "Since Major League Baseball now appears eager to use its 'platform' to demonstrate 'unwavering support' for fundamental human rights, will you cease your relationship with the Chinese Government, which at this very moment is committing genocide against the Uyghurs Muslims in the Xinjiang Uyghur Autonomous Region (XUAR)?"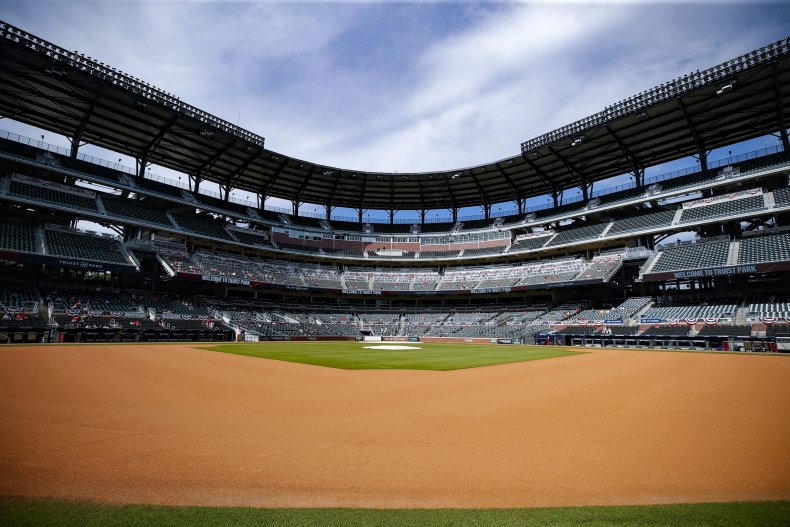 Rubio went on to say that he was "under no expectation" that MLB would take those kinds of steps, or that Manfred would end his own membership at a private golf club in Georgia.
Relocating the All-Star Game "is an easy way to signal virtues without significant financial fallout," Rubio wrote. "But speaking out against the Chinese Communist Party would involve a significant loss of revenue and being closed out of a lucrative market."
MLB is not the only American organization to voice concern about the new election laws that Georgia's GOP-led legislature recently passed. Critics of the new laws have suggested the legislation will limit voter access to the polls during future elections, which inspired companies like Coca-Cola and Delta Air Lines to publicly come forward with their concerns.
In an April 2 statement, Manfred cited Georgia's new election laws as a reason for the All-Star Game's move.
"Major League Baseball fundamentally supports voting rights for all Americans and opposes restrictions to the ballot box. In 2020, MLB became the first professional sports league to join the non-partisan Civic Alliance to help build a future in which everyone participates in shaping the United States," Manfred's statement said.
"We proudly used our platform to encourage baseball fans and communities throughout our country to perform their civic duty and actively participate in the voting process," he continued. "Fair access to voting continues to have our game's unwavering support."
Manfred's statement concluded by saying that MLB was working to decide on a new host city and would announce the new arrangements soon.
Shortly after Manfred announced the game's planned relocation, former President Donald Trump issued a statement through his Save America PAC that encouraged his supporters to boycott MLB, as well as Coca-Cola and Delta.
"Baseball is already losing tremendous numbers of fans, and now they leave Atlanta with their All-Star Game because they are afraid of the Radical Left Democrats who do not want voter I.D., which is desperately needed, to have anything to do with our elections," Trump's statement said. "Boycott baseball and all of the woke companies that are interfering with Free and Fair Elections. Are you listening Coke, Delta, and all!"
Georgia's Republican governor, Brian Kemp, also criticized MLB's decision in a series of tweets, which said the league "caved to fear, political opportunism, and liberal lies."
"Georgians—and all Americans—should fully understand what the MLB's knee-jerk decision means: cancel culture and woke political activists are coming for every aspect of your life, sports included. If the left doesn't agree with you, facts and the truth do not matter," Kemp wrote.
Newsweek reached out to MLB for comment and will update this story with any response.
This story has been updated with additional information and background.