Marco Rubio, Champion of Human Rights, Voted Against Ending U.S. Support for War in Yemen
Despite his tough rhetoric on human rights, Republican Senator Marco Rubio voted on Thursday against ending U.S. support for the war in Yemen. The conflict has caused a widespread famine and a cholera outbreak.
Senators voted 56-41 in support of the Yemen resolution, which was proposed by Senators Bernie Sanders and Mike Lee. Seven Republicans and all Senate Democrats voted in favor of the resolution, which was widely viewed as a signal that lawmakers will no longer accept President Donald Trump's unwavering support for Saudi Arabia and its abuse of human rights.
But some analysts noted that it was strange that Rubio, who is outspoken on human rights issues in countries like Venezuela and Cuba, would turn a blind eye to the suffering in Yemen. In many instances, he has touted human rights as a national security issue and a pillar of U.S. foreign policy.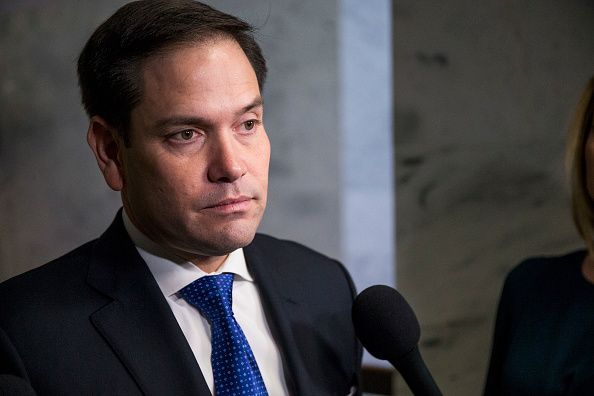 Last year, a report by Human Rights Watch noted that "dozens of coalition airstrikes indiscriminately or disproportionately killed and wounded thousands of civilians in violation of the laws of war. The coalition also used internationally banned cluster munitions."
Rubio did not respond to requests from comment about his vote on Yemen in time for publication.
On Thursday, the Florida senator introduced a bill that would grant temporary protected status to Venezuelan migrants who are fleeing the deteriorating economic and security situation in their country. Congress created TPS in the Immigration Act of 1990, designating countries that are facing an ongoing internal conflict, environmental disaster or other extraordinary conditions.
Rubio has been an outspoken critic of Venezuela's authoritarian leader, Nicolás Maduro, and has called on the U.S. to help people fleeing his rule.
"As Venezuelans continue to face serious threats to their safety and livelihood at the hands of Maduro's narcoterrorist tyranny, it is clear in-country conditions warrant granting temporary protected status to Venezuelan nationals residing in the U.S.," Rubio said in a statement Thursday.
Meanwhile, he has called on the State Department to strengthen sanctions against any entities controlled by the Cuban military.
Aside from his focus on Latin America, Rubio has also used his public pulpit to call for the release of political prisoners in Egypt.
"We simply cannot, in the national interest of our country, turn a blind eye to the ongoing repression of Egyptian citizens by their government," Rubio said last year. "It weakens our moral standing in the world, and it makes Egypt less secure. And if Egypt is less secure, ultimately America will be less secure."
Marco Rubio, Champion of Human Rights, Voted Against Ending U.S. Support for War in Yemen | World