Senator Marco Rubio Mistakenly Tweets Photo of Elijah Cummings in Memorial to John Lewis
On Saturday, Florida Senator Marco Rubio tweeted a memorial for civil rights activist and Georgia Congressman John Lewis, who died Friday at age 80. But the photo in the tweet instead showed former Maryland Representative Elijah Cummings. Rubio later tweeted about his mistake after deleting the original Twitter post.
In the earlier tweet, Rubio wrote that he was "honor[ed] to know and be blessed with the opportunity to serve in Congress with JohnLewis [sic] a genuine & historic American hero." He also shared prayers for the late activist.
"May the Lord grant him eternal peace," Rubio wrote, along with a photo of Cummings, who died in October 2019.
A number of users on Twitter screenshotted Rubio's mistaken tweet and shared it —including journalist Yashar Ali, who pointed out that the man pictured with Rubio was actually Cummings.
When contacted by Newsweek for a comment, Rubio's office pointed out that the photo had been mislabeled on the internet, incorrectly indicating that Cummings was Lewis.
Shortly after the mistake became clear, the senator tweeted that he had shared the wrong photo and offered more praise for Lewis. "Earlier today I tweeted an incorrect photo," he wrote. "John Lewis was a genuine American hero[.] I was honored to appear together in Miami 3 years ago at an event captured in video below[.] My God grant him eternal rest."
Rubio shared a link to a video of the two of them participating in a Martin Luther King celebration in Miami from 2017. In the clip, Rubio called it an "honor" to celebrate Martin Luther King Day with Lewis. Rubio also changed his profile picture to one of him and Lewis posing for a photo at the event.
In a press conference after the 2017 event, Rubio said that despite disagreeing with Lewis' views on President Donald Trump's election being "illegitimate," he had much respect for the congressman. "I have tremendous admiration for congressman Lewis. Not only for what he's done, but what he stands for, and that remains undiminished," he said.
Some people defended Rubio for making the error, saying that Lewis and Cummings looked similar.
Despite correcting the error in the original tweet, people on Twitter still criticized Rubio for mistaking the two. One user responded to Rubio's correction by saying that, while the mistake may have been excusable for someone who had never met either man, it was "a real disgrace and shame" for Rubio to make the mistake, because he "met them and should understand the context of those meetings and photos."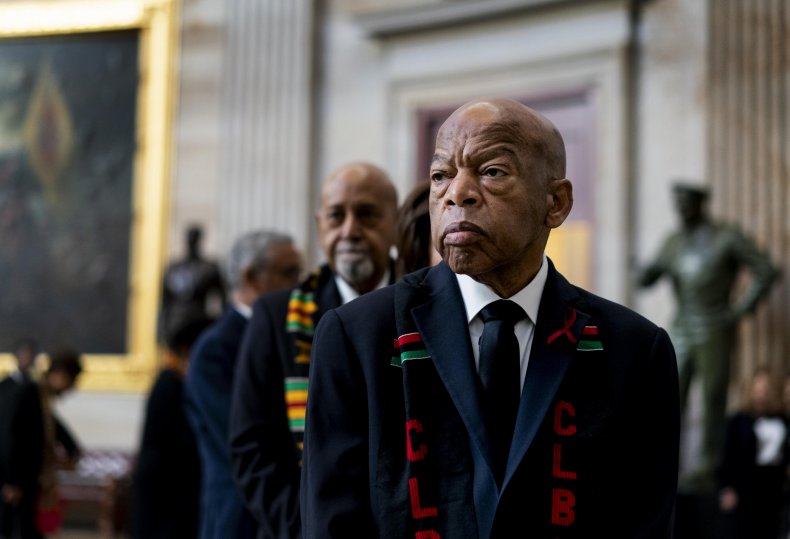 Updated 4:43 PM ET, to include a clarification from Rubio's office about the photo.