Chrissy Teigen and Josh Gad Mock Marco Rubio for Accidentally Teasing a Blue Wave in Florida
Marco Rubio didn't intend for his evening to turn out like this. When the Florida Senator took to Twitter on Tuesday to predict a wave of Republican voter turnout to win his home state, he ostensibly did so to show his for support President Donald Trump. Rubio posted a simple GIF of a large wave, but the move backfired tremendously for him.
The issue is that it wasn't a GIF of just any wave, but a very blue wave—blue, as in the color associated with the Democratic Party. In essence, he accidentally teased a Biden victory for Florida.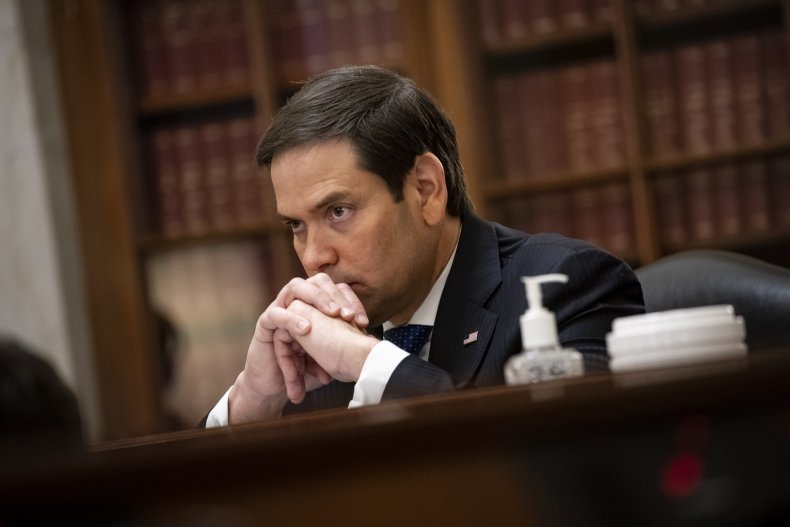 Below is the tweet from Rubio that unleashed a tidal wave of its own:
Actress Patricia Arquette was quick to pick up on Rubio's mistake. (She then further insulted the senator in subsequent tweets.)
Meanwhile, Chrissy Teigen—someone who knows very well how to wield the power of social media—burned the Republican senator.
Many keen observers recalled something from 2013: Rubio's awkward moment drinking water during the GOP's response to then President Barack Obama's State of the Union address. Donald Trump later mocked the moment when the two were running against each other for 2016's Republican nomination. (Trump also said of Rubio during that time: "He has really large ears, the biggest ears I've ever seen.")
Trump has had his own share of strange water incidents, which several well-known Twitter users were happy to reference. For whatever reason, Trump has recently had trouble steadying glasses of water with his hands. Here's a montage to serve as a little background for some tweets ahead:
Here's Craig Thomas, co-creator of How I Met Your Mother, referencing Rubio's troubled history with water:
Journalist Mark Gongloff jokingly tried to explain the wave error.
As playwright/novelist/critic Bonnie Greer noted, Rubio had a chance to delete the tweet. Not only did he neglect to do so, but he kept posting afterwards, apparently completely unaware of his snafu.
DJ Qualls, an actor known for high-profile parts in hits like Road Trip and Hustle & Flow, called the moment a "self own."
Josh Gad simply agreed with Rubio.
Comedian Sarah Cooper was pretty blunt in her assessment of his tweet:
Seth Grahame-Smith, the author of the best-sellers Pride and Prejudice and Zombies and Abraham Lincoln, Vampire Hunter, suggested another video of a wave that might be more appropriate—the scene from the horror classic The Shining of blood filling up a hallway.
These tweets are just from well-known people, and only represent a fraction of the actual responses that Rubio's post received within the first hour. In other words, the senator could be in for a long night—and an even longer run to the 2022 election for his senate seat, should Florida go blue.