Marco Rubio Rails Against Fauci, Says He 'Lied About Masks' and 'Distorted' Herd Immunity
Senator Marco Rubio aired his grievances on Sunday with the nation's top infectious disease expert, Dr. Anthony Fauci.
The Florida Republican blasted the National Institutes of Health (NIH) official, claiming in a tweet that he "lied" about mask usage, has been "distorting" the need for getting vaccinated and is part of a larger conspiracy of elites trying to deceive Americans.
"Dr. Fauci lied about masks in March. Dr. Fauci has been distorting the level of vaccination needed for herd immunity," Rubio wrote. "It isn't just him. Many in elite bubbles believe the American public doesn't know 'what's good for them' so they need to be tricked into 'doing the right thing.'"
Some of what Rubio claimed was either inaccurate or misleading. His post led to swift backlash from Twitter users, similar to the kind generated when Rubio and some GOP colleagues received criticism for getting COVID vaccines before first responders, health care workers and others who are more susceptible to the virus, despite downplaying the pandemic earlier in the year.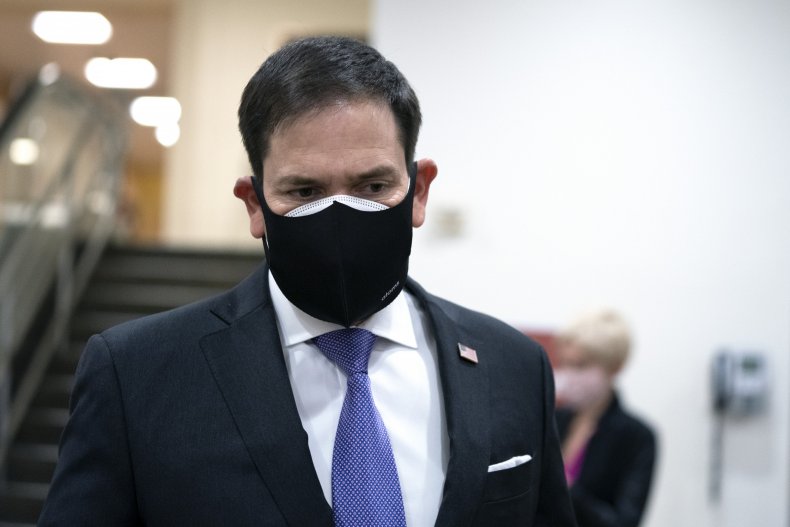 The Congress member's public critique of Fauci came just eight days after Rubio himself touted the vaccine's safety and effectiveness when he was inoculated at the U.S. Capitol.
"I am so confident that the #Covid19 vaccine is safe & effective that I decided to take it myself," the Sunshine State lawmaker tweeted at the time.
Fauci, along with other public health officials and the Centers for Disease Control and Prevention (CDC), did urge Americans against mask-wearing at the onset of the pandemic in March. However, CDC guidance was changed in April to recommend the wearing of face coverings as more was learned about the highly contagious disease.
Fauci went on to explain in media interviews that their early reasoning was twofold: mass mask-wearing could create a greater shortage for medical professionals, and there was an initial lack of knowledge about how many infected people were asymptomatic.
Like his stance on masks, Fauci's herd immunity estimation has also shifted over time. He and other health experts have ticked their estimates upward from 60 to 70 percent to 75 to 85 percent.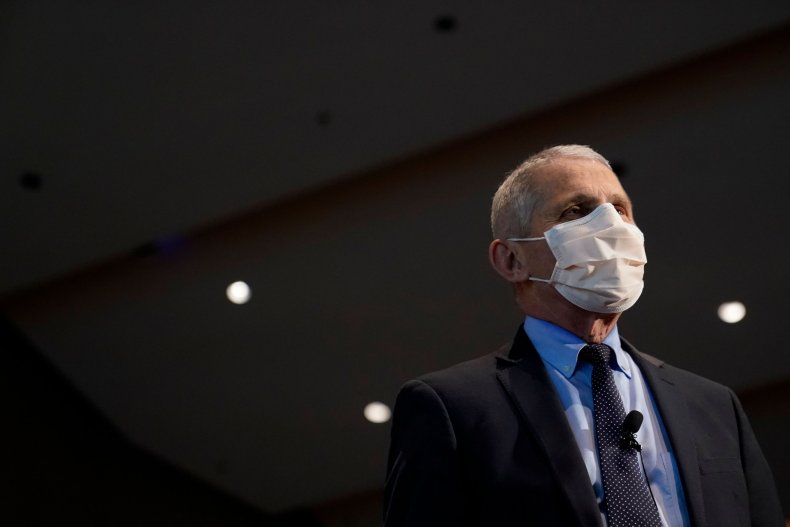 In a recent New York Times interview, Fauci suggested the shift was based on public polling that showed more openness to receiving the vaccine—and a subsequent willingness for Americans to hear his new estimation—and the discovery of more transmissible strains.
Both to the Times and in an appearance on CNN Sunday morning, the NIH official elaborated that his new suggestion for as much as 85 percent vaccination for herd immunity was also based on past measles outbreaks.
"When you get below 90 percent of the population vaccinated with measles, you start seeing a breakthrough against the herd immunity," Fauci said on CNN. "I think we all have to be honest and humble; nobody really knows for sure, but I think 70 to 85 percent for herd immunity for COVID-19 is a reasonable estimate and, in fact, most of my epidemiology colleagues agree with me."
Democrats and prominent voices on Twitter ridiculed Rubio for his criticism of Fauci, some more aggressively than others.
"F*cking bull, and you know it, Mario," wrote Rep. Mark Pocan (D-Wis.). "Remove your head from Trump's butt, please. Much better air will clear your head."
The anti-Trump group Republicans for Joe Biden questioned why "does little@marcorubio find the 'courage' to attack Dr. Fauci, America's Top infectious disease expert but not the president of the US who constantly lied to the American people about this terrible pandemic?"
Correction, 12/27 6:30 p.m.: An earlier version of this story incorrectly stated that Rubio was casting doubt on the need to receive the vaccine. This has been fixed and we regret the error.