Marco Rubio Says 1/6 Commission Requests for Subpoenas Will Be Tool to 'Damage Republicans'
Sen. Marco Rubio (R-Fla.) has denounced the proposed bipartisan 9/11-style commission to investigate the January 6 Capitol riot as an opportunity for Democrats to "damage Republicans" by using subpoena requests.
Rubio made the remarks in a video posted to his Twitter account on Friday. He insisted that the commission was designed as a Democratic weapon to play "politics" against Republicans who exercise their authority to block subpoenas. The commission would require members of both parties to approve any subpoena requests.
"This is about politics," Rubio said. "You don't actually need the subpoena. All you need is a story out there saying 'congressman so-and-so, they want to subpoena him or her but they can't because the Republicans are blocking it.' It creates this impression that maybe congressman so-and-so did something wrong."
"The story would be Republicans are covering up the investigation into congressman so-and-so," he continued. "So that's what this is about, it's about damaging Republicans. You don't even need the subpoena. You just need the request for subpoena to damage Republicans... it's about keeping the House majority in 2022."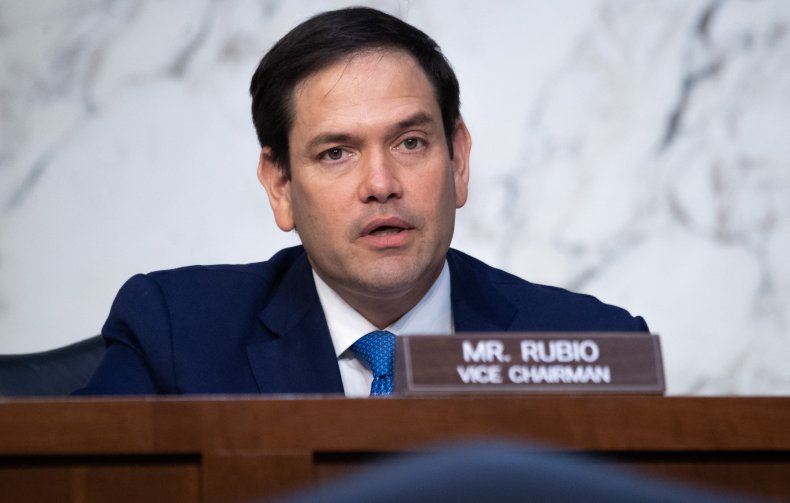 Rubio maintained that there was "no cover-up" about January 6 because "the media doesn't stop talking about it" and other investigations are ongoing. He also argued that the proposed commission was not really "evenly divided" since the commission chair would have the power to hire staff and overrule some decisions, describing the proposal as "a partisan joke."
The commission would consist of an even split of Republican and Democratic members of Congress investigating the storming of the Capitol, during which an angry mob of former President Donald Trump's supporters breached the building while a joint session of Congress was certifying President Joe Biden's 2020 election win.
The proposal passed in the House earlier this week, with support from a small but significant number of Republicans. House Minority Leader Kevin McCarthy (R-Calif.) and Senate Minority Leader Mitch McConnell (R-Ky.) have both announced their opposition to the commission, greatly diminishing its chances of becoming reality. The GOP leaders argued that the commission should include investigations of left-wing violence during incidents entirely unrelated to the January 6 riot.
Months after the riot was widely condemned by members of both parties including Rubio, Republican leaders have moved to strengthen ties with Trump, who has continued to promote the same false claims of massive election fraud that many of those who took part in the January 6 riot believed.
Sen. Ron Johnson (R-Wis.) objected to the use of the word "insurrection" while speaking about the riot on Fox News Wednesday, arguing that the incident that left several people dead and injured dozens of law enforcement officers who were defending the Capitol was instead a largely "peaceful protest."
Newsweek reached out to the office of Rubio for comment.