Marco Rubio Says 'No Risk' for Zelensky From 'Nondescript' Tweet of Meeting
Senator Marco Rubio on Sunday downplayed the potential risks of his tweet showing a video call with Ukrainian President Volodymyr Zelensky.
Rubio, a Republican from Florida, received significant backlash on Saturday for sharing a photo taken during Zelensky's meeting with several U.S. lawmakers on Twitter, as did Senator Steve Daines, a Republican from Montana. Lawmakers were reportedly asked by Ukrainian officials not to share anything about the meeting, out of concern for Zelensky's security.
During a Sunday appearance on CNN's State of the Union, Rubio dismissed the dangers presented by his "non-descript" tweet and explained that he had already shared the photo once the lawmakers were asked not to share anything.
"First of all, [the Ukrainian ambassador] asked that like 30 minutes into the call after I had already done it," Rubio said. "But second, I think she was under the impression that no one knew that call was happening. That call had been widely reported...There was nothing secure about that call and the picture was just a non-descript picture, looks just like every other one seen out there publicly. There was no risk posed, but you're always gonna have a couple people who want their name in an article."
In a prior statement sent to Newsweek on Saturday, Rubio's office offered a similar defense.
"There were over 160 members of Congress on a widely reported Zoom call," the statement read. "There was no identifying information of any kind. Anybody pretending this tweet is a security concern is a partisan seeking clicks."
In the wake of the tweets from Rubio and Daines, numerous Twitter users called on Twitter itself to remove the tweets due to the potential security risks posed. As of Sunday morning, both tweets remain visible.
Some criticism came from other lawmakers, both in Washington and at the state level.
"Dude, what the hell is wrong with you?" Michael Steele, the former chairman of the Republican National Committee asked in a tweet. "You are the Vice Chairman of the Select Committee on Intelligence, and a Member of the Foreign Relations Committee. You were specifically asked NOT to share this briefing with Zelensky. Why would you risk his safety for a tweet?"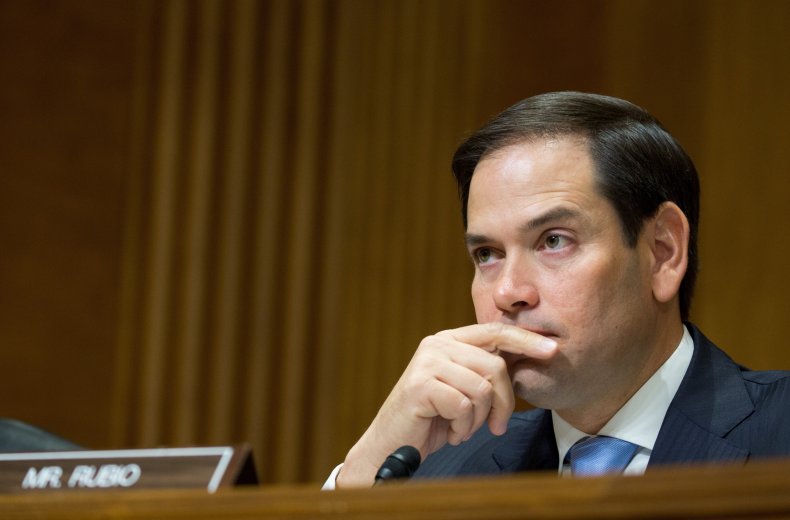 "You were told not to share screenshots and yet you did? For what reason? Clout?" Anna V. Eskamani, a state representative in Rubio's own state of Florida, asked in her own tweet.
Since the calls for the removal of the tweets began, Twitter has remained silent on the issue.
Newsweek reached out to Twitter for a comment on whether or not they intend to take action against the tweets from Rubio and Daines.