Marco Rubio Would Fight Donald Trump If He Declared National Emergency on Border Wall: 'I Think It'll Be a Terrible Idea'
Marco Rubio is strongly opposed to President Donald Trump declaring a national emergency should talks with the Democrats over a proposed border wall stall in the coming three weeks.
The Florida senator said he would challenge Trump over any such move, describing it as the "wrong way" to achieve border security.
It comes as splits emerge within the Republicans over how the GOP should proceed, now the partial government shutdown has ended until at least February 15.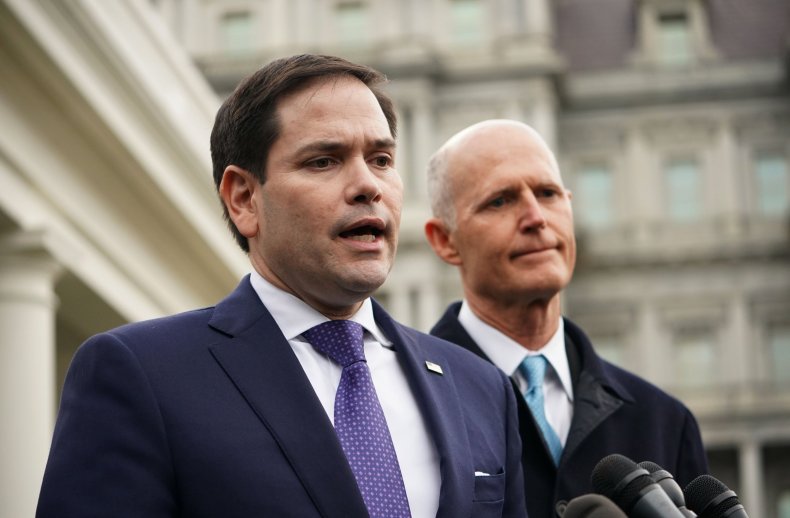 Facing criticism from some of his supporters that he caved in to the Democrats, Trump said in an interview with the Wall Street Journal that another shutdown is "certainly an option."
He also said on Friday that if no deal was reached, "obviously we're going to the emergency—because that's what it is, a national emergency."
However, Rubio told NBC's Meet the Press: "I don't think it's a good idea. I think it'll be a terrible idea. I hope he doesn't do it."
When asked by host Chuck Todd if he would fight the president on it, he said: "I don't think we will have to fight because I'm not sure we'll have to end up doing that.
"But now you are the mercy of a district court somewhere... so really it may not even withstand it when you look at some of the other rulings we have seen.
"It's just not a good precedent to be set in terms of action, it doesn't mean that I don't want border security; I do. I just think that's the wrong way to achieve it. It doesn't provide certainty. You could very well wind up in sort of a theatric [sic] victory at the front end and then not get it done," The Huffington Post reported him as saying.
"The best way to do it is to have a law passed that funds border security so we know it's going to happen," Rubio added.
There is no love lost between Rubio and Trump. During the 2016 primaries, Trump dubbed him "little Marco Rubio," once tweeting that he "is just another Washington D.C. politician that is all talk and no action."
Rubio has hit back though, criticizing Trump's appearance and actions numerous times. He once said: "Donald is not going to make America great, he's going to make America orange." During the campaign he described Trump as a "con artist."