Marco Rubio Writes Strange Tweet About Lithuanian and Japanese Athletes not Playing in NFL
Update: 1:08 p.m. ET— Florida Republican Senator Marco Rubio responded to this story on Twitter to specify what his tweet about the NFL, its rules and Lithuanian and Japanese athletes was intended to mean.
"Well allow me to explain it to you," he tweeted. "NBA has a global talent pool, including Lithuania. MLB has a global talent pool,including Japan. However overwhelming % of NFL players are U.S. born. If American parents stop letting their kids play,the sport dies."
Rubio is correct that the vast majority of NFL players are from the U.S. A Washington Post analysis from last year found that 97.5 percent of people who've played in the NFL were born in the United States.
Original story:
Florida Republican Senator Marco Rubio tweeted about the NFL on Wednesday. That much we know.
But it seemed kind of unclear what the rest of the tweet meant. Here's what he posted in a series of tweets:
"I LOVE FOOTBALL. Played it,coached it, parent of 2 players & fanatically support @GatorsFB & the undefeated @MiamiDolphins (#FinsUp). It is a valuable tool to teach important life lessons & helps builds pride & sense of community in schools & cities like no other sport. Understand complaint that penalizing hard hits have turned it into a different game. But if parents continue keeping kids away from football at the current rate,one day won't have any football to complain about. Remember, we don't have Lithuanian RB's or Japanese QBs in @NFL."
Rubio appears to be commenting on rule changes and referee calls in the NFL that have drawn some controversy—chiefly among folks who think the league has gone too far in penalizing hard hits. The Miami Dolphins have said, for instance, that lineman Williams Hayes tore his ACL—knocking him out for the year—while trying to avoid landing on a quarterback while making a sack over fear or getting penalized.
"He will be out for the season," Dolphins coach Adam Gase said, according to USA Today. "He tore his ACL on that sack. He was trying to not put body weight on the quarterback. His foot got caught in the ground."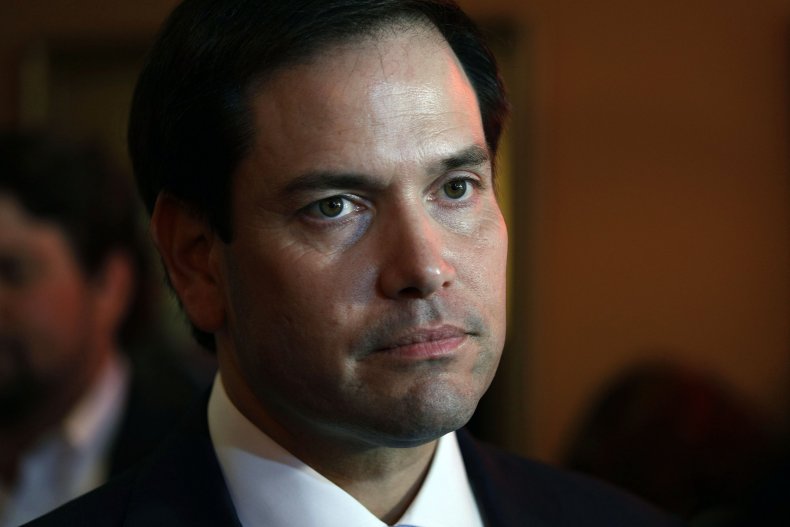 Rubio appears to be supporting the rule changes, however, arguing that making the game less violent will prevent parents from keeping their children away from football. Football and the NFL especially have been plagued by the controversy surrounding concussions, brain injuries and the degenerative brain disease known as CTE.
The sentence from Rubio about the NFL not having "Lithuanian [running backs] or Japanese [quarterbacks]" was a bit strange, as some folks on Twitter pointed out. Why bring Lithuania or Japan into it? It seems to be the Florida lawmaker was promoting an American excellence of sorts—that only U.S. athletes can fill out NFL rosters—and that we might soon run out of NFL players.
Not for nothing, there was a Lithuanian-born NFL player—albeit a linebacker and not a running back—in the '60s. His name was Arunas Vasys and he played three seasons—1966 through 1968—for the Philadelphia Eagles, according to NFL.com stats. He never registered a tackle.