Before the Eastern Conference Finals began, Marcus Morris suggested few players were better than him at stopping LeBron James. The claim sounded both outlandish and misplaced given LeBron's penchant for stepping up to a challenge, but Morris did exactly what he said he would.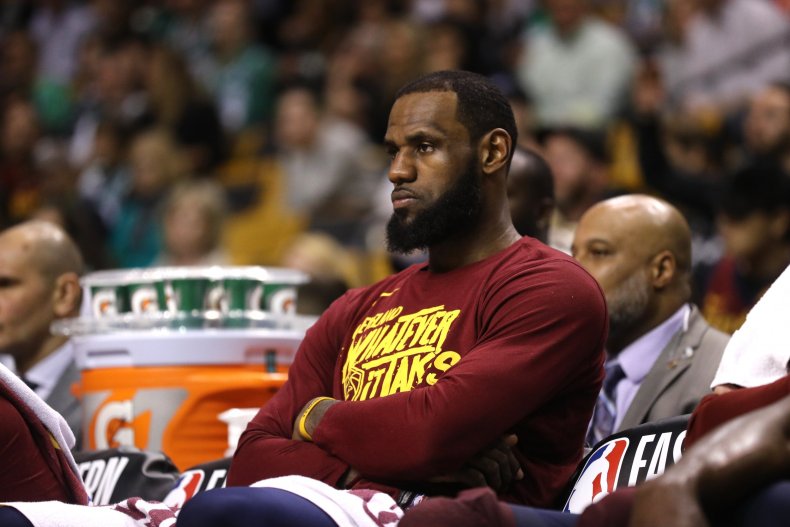 The 28-year-old was thrust into Boston's starting line-up for Game One and found himself defending against LeBron in 24 plays during the game, limiting the three-time NBA champion to five points on two-for-six from the field and two assists and forcing one turnover.
LeBron finished the game with 15 points, nine assists and seven rebounds in 36 minutes, as the Celtics blew Cleveland away 108-83. It was only the second time since Game Two of the 2016 NBA Finals against Golden State in 2016 that LeBron failed to score at least 20 points in a playoffs game but Morris declined to take all the credit.
"It's a team effort, man, it's not just me," Morris said after the game, as reported by ESPN. "Everybody played their part in guarding him. He's obviously the best player in the game, and you need multiple guys and a team to guard him an entire game. I just think we did a great job of that."
The Cavs struggled at both ends of the court in Game One but it would be naïve to think Celtics can keep LeBron below 20 points per game for the duration of the series and Morris himself admitted one player alone is not enough to stop the four-time MVP.
However, LeBron's figures against Morris make for interesting reading. The best player of his generation averages 20.3 points per game with a paltry 14.6% shooting from three-point range in the last 12 games he's played against a team including Morris.
More worryingly as far the Cavs are concerned, LeBron has not scored 30 points in any of those meetings, while he's passed the threshold six times in the first 11 games he's played in this post-season.
Data compiled by Second Spectrum also showed only Draymond Green has forced LeBron to show with a lower percentage from the field than Morris since the 2013-14 season.
"[Morris] was able to really force the issue in the offensive end and make LeBron exert so much energy because then he has to come down and really guard him," Celtics guard Marcus Smart said. "Can't take plays off against really good players."
As for LeBron himself, he admitted neither he nor the Cavs had an answer to the Celtics' high-energy approach in Game One but vowed to come back stronger in Game Two.
"I thought they had great game plan Game One," James told ESPN. "[Morris] was the start of it. He was my matchup, and I think they did a great job of communicating throughout the whole game, knowing where I was and knowing where our teammates was.
"[Celtics coach] Brad [Stevens] and the coaching staff did a great job in Game One. You commend that. We have an opportunity to look at a lot of film tomorrow and see ways they were making us uncomfortable, making myself off-balance and not have a rhythm all game. So we'll be much better in Game Two."