Video: Marcus Smart Shoves Joel Embiid to the Floor,Taunts Crowd after Being Ejected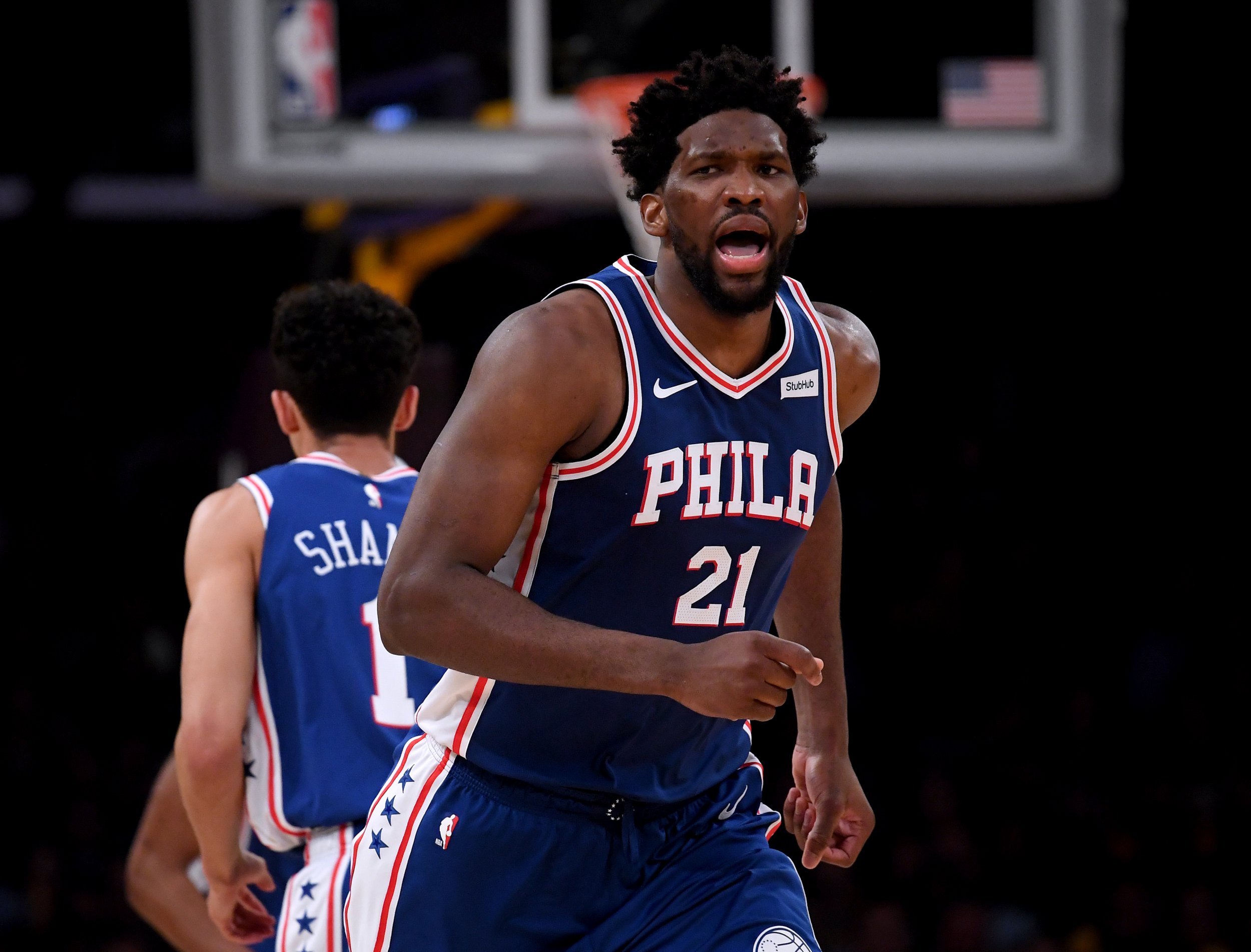 There is never a dull moment when the Philadelphia 76ers and the Boston Celtics cross paths and Wednesday night was no exception. Celtics guard Marcus Smart was ejected shortly into the third quarter, after shoving Sixers big man Joel Embiid to the floor.
With 11:08 to play in the third period, Smart and Embiid made contact as the former was looking to intercept a pass destined for the latter. A couple of seconds later, Smart fell to floor after he was seemingly elbowed in the ribs by Embiid.
The incident went unpunished however, and the Celtics guard opted to administer some retribution of his own. Smart stood up and pushed Embiid, who had turned his back on him, to the floor using both arms.
The Cameroonian went flying, before springing back to his feet and squaring up to the 25-year-old. The duo were kept apart by teammates, referees, coaches and even security guards, before match officials reviewed the incident.
Smart was eventually hit with a flagrant foul 2, which resulted in an immediate ejection, while Embiid was called for a technical foul.
"Obviously, I was frustrated, because it was a cheap shot," the Sixers center told ESPN after the game. "I didn't see it coming. It caught me off guard. But, I mean, I really don't want to talk about it. I don't care."
Smart, however, wasn't quite done yet. As he walked off the court, he opted to taunt Sixers fans, gesturing towards them and delivering some choice words.
Embiid suggested Smart didn't exactly live up to his surname by getting the crowd involved.
"Stuff like that, it gets me going, it gets the crowd going," he explained. "And everybody knows that I play better when the crowd is involved. So, that energy was definitely good for us."
It is not the first time Embiid has been involved is some controversy against the Celtics. In February, the two-time All-Star claimed "the referees f***ing suck" after he felt officials had allowed Celtics big man Al Horford to get away with a series of blatant infringements in Boston's 112-109 win.
On Wednesday, however, Embiid kept his cool and after the fracas with Smart, the Sixers went on an 8-0 run. That dragged them back into the game after trailing by 11 points at halftime and they ended up winning 118-115, notching up only their third win in the last 13 meetings with Boston.
Embiid finished with 37 points and 22 rebounds, while Jimmy Butler and Tobias Harris combined for 43 points. Butler clinched the win with a crucial bucket with six seconds left which put the Sixers five points clear.
At the time of his ejection Smart had recorded a meagre three points and four assists, but the Celtics rode Kyrie Irving and Al Horford, who finished with 36 and 22 points, respectively.
The win improved the Celtics' record to 43-29 for the season but they remain fifth in the Eastern Conference standings one game behind the Indiana Pacers, while the Sixers are third with a 47-25 record.