Marcus Stroman Calls Out Reporter for Suggesting He Doesn't Pitch Enough
Marcus Stroman is feuding with Mets beat reporters again, this time over his ability to pitch deep into games.
The Mets starting pitcher called out an MLB.com reporter Wednesday after Stroman threw five innings and took the loss in New York's 6-3 defeat to the Boston Red Sox on Tuesday.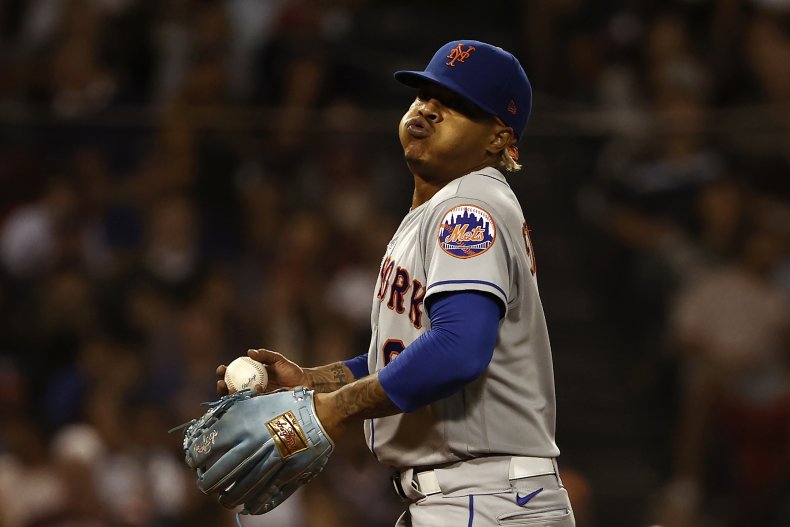 Stroman, who turned 30 on May 1, has been the Mets' de facto ace since Jacob deGrom went on the injured list with a forearm injury in July, and has been their best pitcher aside from deGrom this season. He leads the majors in starts (32), leads the Mets and ranks 11th in the bigs in innings pitched (174), is eighth in the National League in earned run average (3.00) and has pitched at least six innings in 17 of his starts, including five of his past seven.
But after Stroman allowed four runs and seven hits over five innings at Fenway Park on Tuesday, and the Mets fell for the 11th time in 16 games, MLB.com Mets reporter Anthony DiComo pondered whether the Mets or any team would be willing to pay Stroman frontline-starter money when he becomes a free agent this offseason. He referenced Stroman's inability to work deep into games as one of his "limitations," citing his average length of start (5⅓ innings during the 2021 season).
"While that may be typical for many starters in today's game, it could nonetheless give teams pause if they are looking to pay Stroman like a top-of-the-rotation starter," DiComo wrote.
Stroman has been a top-of-the-rotation starter throughout his seven-season MLB career and has made 30-plus starts in four of the past five seasons spent between the Mets and Toronto Blue Jays—he opted out of the 2020 season due to the COVID-19 pandemic. He took issue with DiComo's assessment and called him out while promoting Mets fans and reporters who defended his workload this year.
The fans referenced Stroman's unusually large number of starts in doubleheaders (8)—major-league doubleheaders are seven innings this season due to the pandemic—and the fact his average start length is skewed by the third of an inning outing he had against the Miami Marlins that was suspended due to rain April 11.
It isn't the first time this season that Stroman, who is very online, has taken issue with a Mets reporter this year. He also butted heads with Newsday's Tim Healey on Twitter after the reporter took Stroman's tweeting to task shortly after he pitched well but lost to the San Francisco Giants on August 17.