Mardi Gras 2022: Schedule, Parade Details and COVID Restrictions
Following a year of canceled festivities due to the COVID-19 pandemic, Mardi Gras celebrations are returning in full force to Louisiana. Newsweek breaks down everything you need to know about this year's event.
What is Mardi Gras?
Mardi Gras is an originally Christian festivity and is French for 'Fat Tuesday' as the celebration originally allowed people to gorge on rich and fatty food before the start of Lent, a 40 day fasting period.
Modern day Mardi Gras celebrations have since deviated from their originally religious roots and have become synonymous with carnival, as large parades with elaborately decorated and colorful floats, marching band, street dances, performances, feathered outfits and colored beads have become the image of the annual party in New Orleans.
New Orleans has become the home of the annual festivities, having been the epicenter of the celebrations since 1837. However, the very first Mardi Gras celebration to be held on American soil took place in Mobile, Alabama in 1703.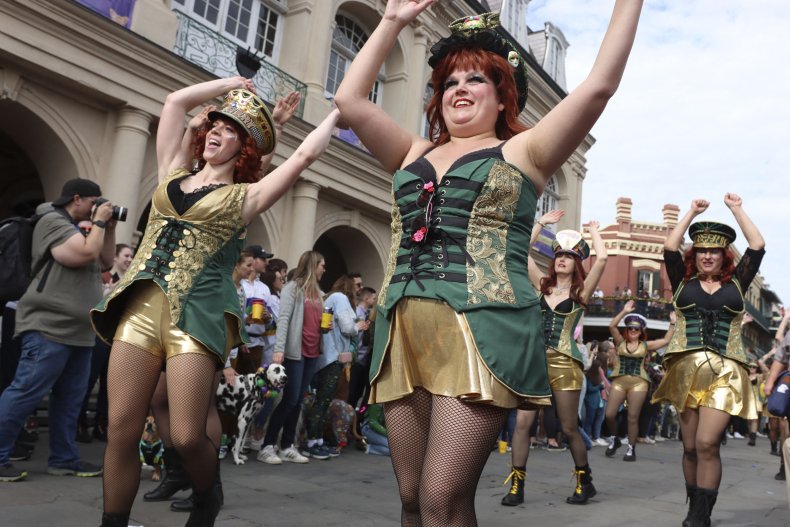 Mardi Gras COVID Restrictions
Mardi Gras was canceled in 2021 in order to curb the spread of coronavirus after the 2020 edition was found to be one of the country's first super-spreader events at the start of the pandemic. Despite its return, this year's Mardi Gras will still be marked by the COVID-19 pandemic as slight changes to the celebration have had to be put in place.
Unlike previous editions of the celebration, parade routes will be shorter and most will be traveling the same designated route, instead of meandering through different neighborhoods as is traditionally the case.
Musical acts have been curtailed as some have chosen not to perform this year, while the number of tourists flocking to Louisiana to join in with the festivities has also, unsurprisingly, seen itself reduced.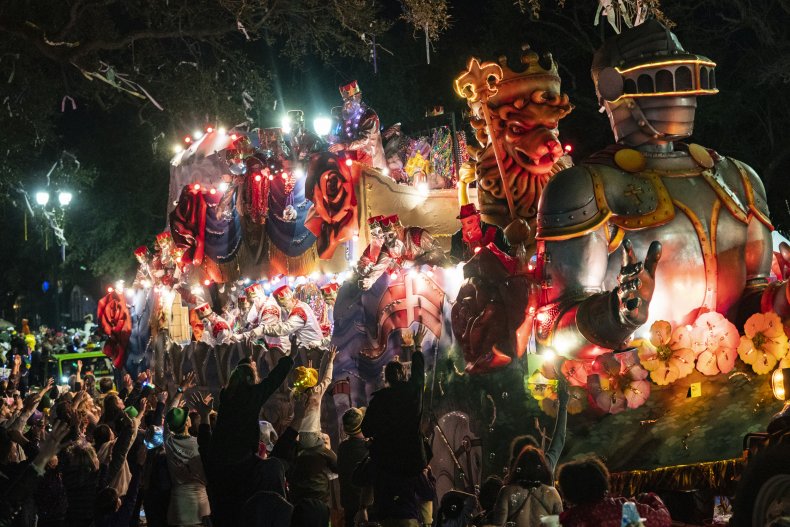 According to the city's tourism bureau, hotel capacity is roughly 80 percent of what it was during the last celebrations in 2020, though the full figures will not be known until later in the week.
New Orleans has also reinstated an indoor mask mandate to help curtail a surge in possible infections. The mandate will come into effect on Tuesday March 1 and will apply to everyone taking part in festivities across the city.
Mardi Gras 2022 Schedule and Parade Details
Festivities for Mardi Gras officially kicked off on January 6, and parades have been marching through New Orleans sporadically for the past number of weeks.
The festive spirit went up a notch from February 23, when the city started holding daily parades, which are set to continue until March 1. The parades and celebrations continue into March, with 10 different parades scheduled to dance through New Orleans on Tuesday, March 1.
The full schedule of parades across New Orleans from January until the event's conclusion can be found here.
As is to be expected, food is a central part of the celebrations. Some of the popular and staple foods eaten during Mardi Gras include King Cake, a rich cake that often comes with a hidden baby toy in it which is meant to represent baby Jesus.
Pastries such as beignets, Polish Paczkis, Pennsylvania Dutch Fastnachts and pancakes are also a common feature during the festivities.