A pair of cosplayers are taking the internet by storm thanks to their uncanny resemblance to Margot Robbie and Scarlett Johansson.
Kate Shumskaya, from Russia, regularly shares content dressed as the Black Widow actress, including wearing her costumes as Natasha Romanoff.
Shumskaya posts clips to TikTok, which often rack up millions of views apiece, as she dons a red wig to resemble the Avenger and Marvel Cinematic Universe heroine.
But a video she uploaded on Wednesday has caused a frenzy among fans after she teamed up with fellow lookalike Anastasyia Prichinina, who is the spitting image of Australian actress Margot Robbie.
Prichinina's social media pages are filled with her own videos embodying the Wolf of Wall Street actress, often dressing as her Suicide Squad character, Harley Quinn.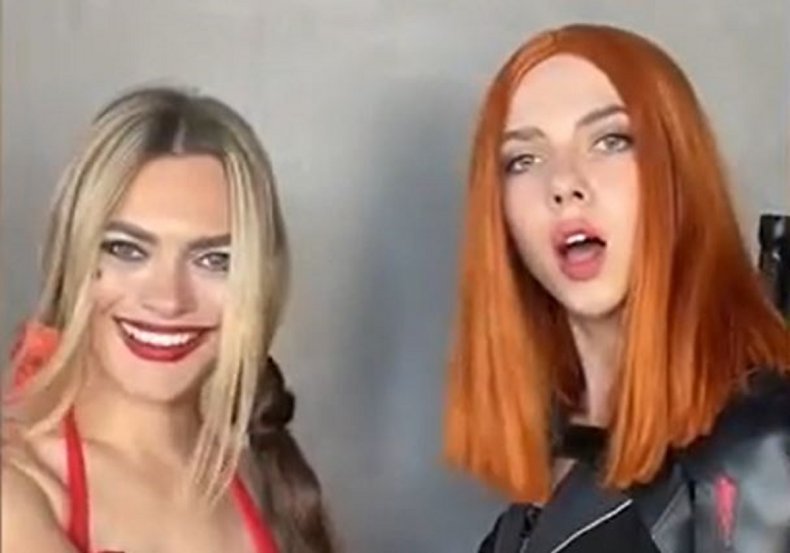 Wednesday's video sees the pair initially look at the camera, in casual attire with no make-up. They spin round in a perfectly executed move, editing the clip so they then appear in full hair, make-up and costumes in time to the music.
Shumskaya is dressed in Romanoff's signature outfit from the recent blockbuster, released earlier in 2021, while Prichinina has Quinn's trademark pigtails, along with her facial tattoo.
Shumskaya, 24, asked in the clip: "Who do you choose?" While the captions above their heads said: "DC or Marvel."
The video has been watched more than 45 million times, as people were blown away by their resemblance to the A-listers.
"There's no way that's not the actual Margot Robbie," Sam Wilson thought.
Cameron Kozak thought: "Wow she really does look like Margot though."
Arkanear asked: "How does someone who looks exactly like Scarlett happens to know someone who looks exactly like Margot?"
While Jessica Vill raved: "The best Harley and Black Widow lookalike I've ever seen."
Daechell Wilson questioned: "You're telling me this ain't Margot and Scar??"
Prichinina also uploaded a clip of the pair together on her own TikTok page, seemingly revealing who would win in a fight between the characters.
It shows Prichinina, dressed as Quinn, waiting in an elevator, with Shumskaya, dressed as Romanoff, walking in with her back to the camera.
She stands in front of Quinn as the doors close and when they re-open, the Black Widow character is on the floor and is being dragged out by the Suicide Squad star.
Both women regularly share content in their cosplay outfits, with Shumskaya even enlisting the help of another woman to play Florence Pugh's character in the Marvel film, Yelena Belova.
Shumskaya jokes on her Instagram page that she is "the illegitimate daughter of Scarlett Johansson."
Newsweek has reached out to Shumskaya and Prichinina for comment.
Update 8/5/21, 10:11 a.m. ET: This article was updated with a video from Shumskaya.