Margot Robbie on 'The Suicide Squad,' Harley Quinn's Love Life and Marvel vs. DC
Margot Robbie completes a trilogy of accomplished Harley Quinn performances in "The Suicide Squad" but the Australian actress isn't done there.
First introduced in 2016's Suicide Squad, her performance demanded a stand-alone spin-off movie and 2020's Birds of Prey (and the Fantabulous Emancipation of One Harley Quinn) continued her reputation as a fan-favorite.
Movie-goers will be glad to see she's back once again in James Gunn's The Suicide Squad, out in theaters and on HBO Max now. The gory, irreverent, hilarious comic book movie filled with "losers" and "also-rans" is receiving rave reviews with Robbie once again singled out for her performance.
Speaking to Newsweek, Robbie recalls her early conversations with writer and director Gunn about how he saw Harley Quinn in his movie. She said: "I remember definitely saying [to him] she's a catalyst of chaos and she works best when she's not the narrative center or the emotional person that you have to pin morals on, because that kind of limits her in a strange way."
"So I like when she gets to be in a group setting, I like seeing whatever everyone else likes about her too," she added.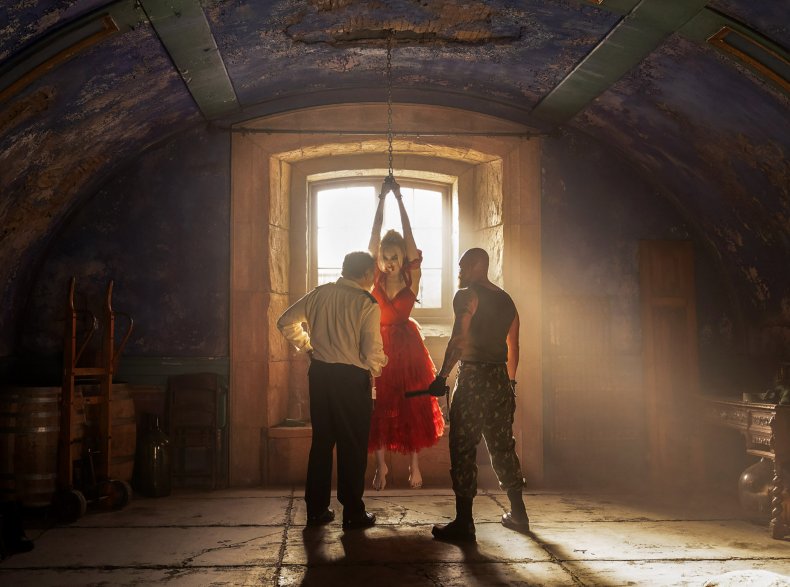 Fans certainly seem to like Harley Quinn and Robbie's The Suicide Squad co-stars seem to have really warmed to her as well. During filming, which lasted from September 2019 to February 2020, Margot was flying to and from set in between promoting her Birds of Prey movie.
John Cena, who joins the squad as the larger than life and ironically named Peacemaker, credits Robbie and the prominent talent of the film for keeping spirits high.
"I often think tempo starts at the top and James Gunn is the top, your director. Then the lead actors, Idris [Elba] and Margot, they're the most dedicated and hard working, upbeat people in the universe and when you maybe want to say, 'Man, I should have gotten more sleep last night', you know Margot is flying off for media for Birds of Prey then right back to shooting," he told Newsweek.
"Margot wouldn't allow anyone to have a bad day. And I don't mean in like a strict, 'Don't you do that,' they just kept their spirits up. It was the trickle down effect. Everyone felt like they're having a great time," Cena said.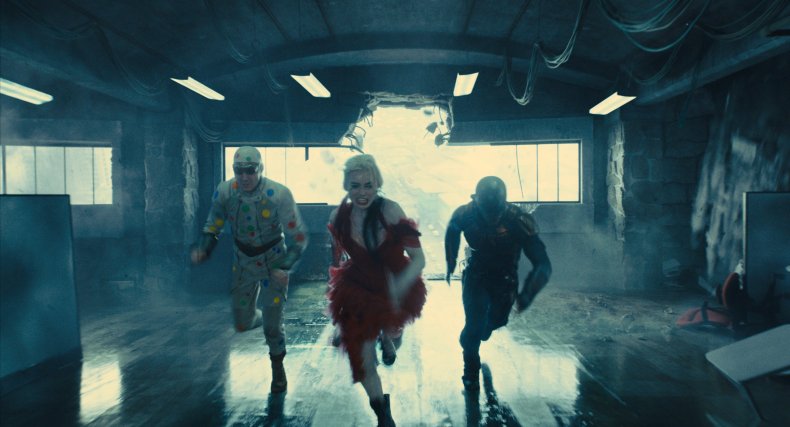 Robbie isn't taking the credit for the positive experience on set, she says it was a team effort. However she did say that when she inevitably felt exhausted during shooting, her "kind" co-stars made sure to make the most of the situation.
"There was days when I was so tired, juggling a few other work things at same time. I literally fell asleep on the ground in the middle of this big battle sequence we were shooting and my lovely supporting cast members, seeing I was fatigued and tired and really needed support that day, all piled in and took pictures around me making fun of me." Robbie recalled.
She wryly said: "It's things like that that really let you know that you can trust your colleagues, that they have your back and it's really special."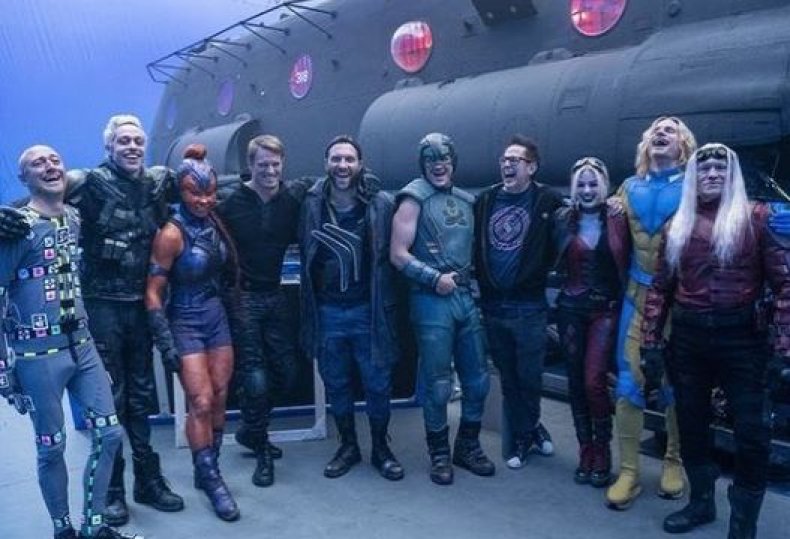 Many of the cast members of The Suicide Squad now share a common career thread. Idris Elba, Michael Rooker, Sean Gunn, James Gunn, Taika Waititi, David Dastmalchian, even Sylvester Stallone are performing double duty as part of both the DC Extended Universe and the Marvel Cinematic Universe. There appears to be no grudges held between the studios now, as is proved by Marvel Studios president Kevin Feige, and co-president Louis D'Esposito visiting the set of The Suicide Squad to visit Gunn during filming.
With no rivalry in sight, and many stars cashing in on the multiple opportunities at their disposal, how would Margot Robbie feel about taking on a Marvel role to compliment Harley Quinn?
"I honestly have my hands full with Harley. I couldn't imagine another comic book character exciting me as much as Harley does." She continued, "Even now that I've played Harley three times, I'm so excited to play her again in different scenarios with different characters and actors. I just think it would be really tough to find someone I find more exciting than that."
Harley's costume was changed again for this movie and initially stuck to the red and black scheme which she's famously known for in the DC comics. Gunn shared the process of how he decided on which jacket she'd wear on his Instagram account. On the back the slogan reads "Live Fast Die Clown" but alternate versions were "Clown AF" and "World's Greatest Grandpa."
Harley Quinn seems more dangerous and hilarious than ever but she also has more romantic opportunities in The Suicide Squad—a decision implemented by Gunn that Robbie seems in favor of. She said: "Harley is single and ready to mingle but she just doesn't have good luck when it comes to love it turns out.
"There was a blossoming romance very quickly into the movie but that doesn't pan out and then she tries again and you know what the next one lasts a bit longer and looks promising and then I'll say no more," she said. "It's really hard to talk about this film without giving things away."
Robbie isn't the only big-name cast member appearing in the new iteration of the Suicide Squad franchise. Idris Elba joins as Bloodsport, Sylvester Stallone voices King Shark, Joel Kinnaman returns as Rick Flag, likewise Viola Davis is back as Amanda Waller. Other stars include Nathan Fillion, David Dastmalchian, Peter Capaldi, Jai Courtney, Flula Borg and SNL's Pete Davidson.
The Suicide Squad is out in theaters worldwide now and available to watch on HBO Max.