Freed Russian Agent Maria Butina Says She Will Work For Human Rights Agency and Help Convicted Drug, Weapons Traffickers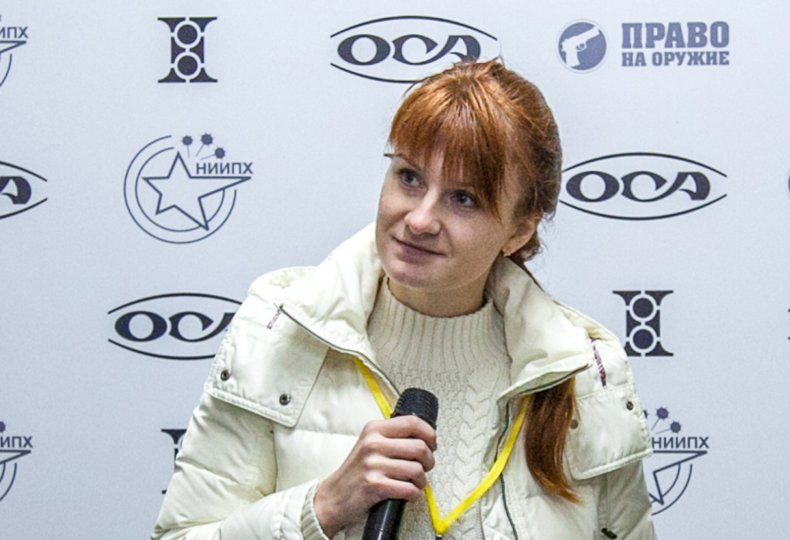 Confessed Russian agent Maria Butina, who was released from prison and immediately deported back to Moscow in October, has been invited to join Russia's High Commissioner for Human Rights to assist citizens in various predicaments overseas, according to comments she made in an interview published Tuesday.
Speaking with Russia's Federal News Agency, Butina said as part of her post-incarceration advocacy she will work to raise funds for Konstantin Yaroshenko and Viktor Bout, two Russians serving lengthy prison sentences in the United States.
Yaroshenko, a former aircraft pilot, was convicted in April 2011 of conspiring to smuggle cocaine into the United States. The Justice Department says he is a trans-national drug trafficker "who transported thousand-kilogram quantities of cocaine throughout South America, Africa, and Europe."
Bout, an international arms dealer, was convicted by a U.S. jury in November 2011 for his participation in a conspiracy to sell weapons to Colombian FARC rebels, an armed guerilla group that had long been in conflict with the country's security forces. The FARC officially disarmed in 2016 amid a broader peace deal with the Colombian government.
In the interview, Butina decried the "huge sentences" and "terrible conditions" both men are facing. Yaroshenko was sentenced to 20 years in prison; Bout was sentenced to 25.
In response to a request for comment, Lee Ginsberg, a lawyer for Yaroshenko, provided Newsweek with the following statement:
"I always believed that Mr. Yaroshenko's prosecution was the result of the overreaching of the U.S. government in a drug sting operation. Hopefully, this new development will lead to his release from custody."
Newsweek reached out to the Russian Federation's Commissioner for Human Rights about Butina's work and has not yet heard back.
As part of her plea deal with federal prosecutors in the District of Columbia, Butina admitted to establishing "unofficial lines of communication" with American powerbrokers in order to influence domestic politics at Russia's behest. Working to advance the interests of a foreign entity often requires pre-registration with the Justice Department, which Butina admitted did not do.
Butina's years-long efforts included attempts to infiltrate the National Rifle Association (NRA) and ingratiate herself with influential conservatives. By attending various NRA conferences and co-mingling with Republican attendees, she hoped to establish an unofficial back channel to a prospective Trump administration.
More than just a rogue operator, Butina has become a cause célèbre in her native Russia after making well-publicized comments about the conditions of her confinement in the United States.
Her characterizations of the American prison system and descriptions of languishing inside solitary confinement have served as fodder for Russian propaganda, but they also recall credible criticisms of how the United States treats detainees.
As part of the work she says she will do for the human rights commission, Butina described a hotline she will purportedly help develop to provide legal assistance to Russian citizens. She also said she will push to eliminate abusive prison practices internationally.
"I will be working to ban torture in the form of prolonged solitary confinement in places of imprisonment around the world," she said. "You need to call things by their names, a person is not meant to live in isolation. Solitary confinement is torture. Even though the U.N. convention classifies it as torture, this method of punishment is still widely used, especially in the United States. My four months in solitary confinement is a great example."
In the interview, Butina also recounted a previously untold story about being welcomed back to Russia once her prison sentence was complete. After being put on an Aeroflot plane in Miami, she claims, a reporter handed her a phone with Maria Zakharova, the spokesperson for Russia's Foreign Ministry, on the other end of the line.
According to Butina, Zakharova comforted her, saying, "Maria, the whole country is looking at you. Get ready, we have been waiting for you so much."
Butina says she will work on preparing a forthcoming report on the status of Russians currently in legal jeopardy abroad.
In terms of the cases of Yaroshenko and Bout, which the Russian government has been pressing for years, Butina believes that the President Donald Trump's administration is no longer willing to cooperate on these sorts of issues.
"We expected one thing, for example, that a friendly [President Donald] Trump would be interested in building a new, good relationship between Russia and the United States, and that the United States would stop being hostile towards Russia," she said. "But as you see, it turned out to be the opposite of that."
Butina professed a sense of patriotic duty in her purported work for Russian citizens on behalf of the government, which regularly detains dissidents and utilizes torture, according to Human Rights Watch.
"The Russians do not abandon their own, so now the baton is in my hands, and I consider it my duty to help those who find themselves in the same situation," she said.
Translation assistance for this story was provided by Elizaveta Galkina.
This story has been updated to include a statement from Lee Ginsberg, a lawyer for Yaroshenko.