Accused Russian agent Maria Butina managed to weave herself into a web of conservative business dealings, including a botched jet fuel deal with the wife of the former National Rifle Association president, the New York Times reported on Sunday.
Butina, 29, is currently awaiting trial for charges of conspiracy and illegally acting as an agent of the Russian government. But new details continue to emerge about the alleged secret agent and the Times report Sunday described a series of failed business deals with well-connected right-wing characters.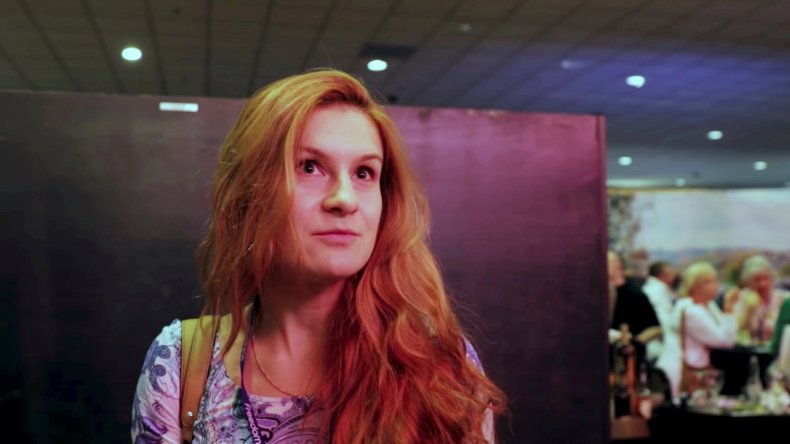 In one deal for Russian jet fuel, Butina linked up with Donna Keene, a powerful Republican lobbyist and the wife of David Keene, the former N.R.A. president. Federal prosecutors have painted Butina as an agent supported by Russian intelligence who was tasked with infiltrating conservative U.S. groups.
Hundreds of pages of emails lay out how Butina was expected to secure a massive supply of jet fuel that totaled more than double what Russian referinies export over an entire month.
Butina had no previous experience in oil and gas industries and it's unclear why she chose that venture, but Donna Keene and Butina's 56-year-old boyfriend, Paul Erickson, attempted several failed deals. Her first attempted client sought 5 million barrels of jet fuel, but the deal fizzled after Butina requested $25,000 up front. A second failed deal collapsed with an Israeli-American associate who realized the Butina and her boyfriend "had no idea what they were doing," the Times reported.
Butina's boyfriend, Erickson, ran Patrick J. Buchanan's 1992 presidential campaign and is a former board member of the American Conservative Union. He's been accused defrauding investors out of millions of dollars in three different states. In June 2017, emails show Erickson realized the absurdity of the jet fuel deals.
"It might be a novel someday," he wrote to Donna Keene, while also touting that Butina may have landed "a Russian supply side juggernaut." The Keenes and Erickson have not responded to the newest revelations.