Missouri Senator Calls on White Democrats, Claire McCaskill for Slavery Reparations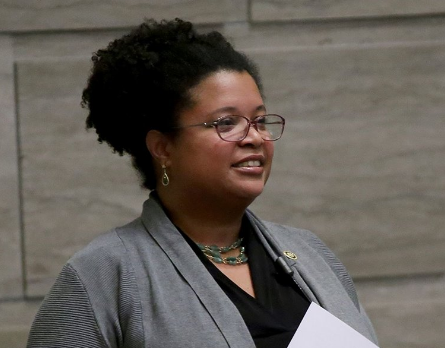 Missouri state Senator Maria Chappelle-Nadal, D-University City, blasted white Democrats on the Senate floor Tuesday, saying there's "no difference" between them and members of the Republican Party.
Chappelle-Nadal said Democratic Missouri Sen. Claire McCaskill should add slavery reparations to the national Democratic platform as she says both parties have failed African-Americans, the Kansas City Star first reported. Chappelle-Nadal gained widespread notoriety last year for a Facebook post longing for President Donald Trump's assassination and a later tweet comparing him to Adolf Hitler, but her comments this week honed in on members of her own party.
"Neither one of them give a heck about the black community, only the votes," Chappelle-Nadal said on the Missouri Senate floor, referring to Democrats and the GOP.
Chappelle-Nadal used her time during a tax bill debate to ridicule the use of tax benefits to entice wealthy corporations into hiring Missouri residents. Chappelle-Nadal's University City district, an inner-ring suburb of St. Louis, is 41 percent African-American -- a demographic of families she says won't benefit from the corporate spending. She illustrated the divide between poor members of her district and the wealthy corporations reaping taxpayer payouts by saying some of her constituents are struggling to survive.
"When I'm getting a single mother of three children calling me trying to find a place to live because they don't have a place to live, that's what's on my mind today and every single day," she said.
She then urged McCaskill, who called on Chappelle-Nadal to resign over her Trump assassination Facebook post, to repair her image among African-American voters by placing slavery reparations in the national Democratic Party platform. "I have a whole lot of people who don't like Claire McCaskill at all who are African American," she said. "In Boone County, Missouri, in Callaway County, Missouri — what my family contributed to making the state what it is today is incredible, and my family deserves way more than what it is getting today."
"The Democratic Party should add reparations for African Americans to their national policy agenda. The measure should be sponsored by Missouri's own @clairecmc," Chappelle-Nadal tweeted Thursday morning.
The comments targeting McCaskill come just one day after black activist Walle Amusa criticized her for not being responsive to the needs of the African-American community.
"As the highest elected official in the Missouri Democratic Party, McCaskill must lead in confronting the scourge of racism and white privilege in the state party," Amusa wrote in the April 9 guest column for The St. Louis American. "I know there are many good people in the Missouri Democratic Party. But I also know that racism is stronger than religion. And the Missouri Democratic Party is not immune. I renew my request for a meeting with McCaskill or a public explanation as to why she expects me, my family, friends and community to vote for her if she cannot sit down, meet and discuss issues of urgent concern to this community."
State Senator Jamilah Nasheed, D-St. Louis, said he supports McCaskill "150 percent" but added that Chappelle-Nadal has every right to express her criticism of the fellow Democrat. Nasheed said he doesn't believe it is a positive thing for Chappelle-Nadal and others to take shots at McCaskill just six months before her November election against likely GOP nominee and Missouri Attorney General Josh Hawley.
Both McCaskill and Chappelle-Nadal's offices did not immediately respond to Newsweek for response Thursday morning.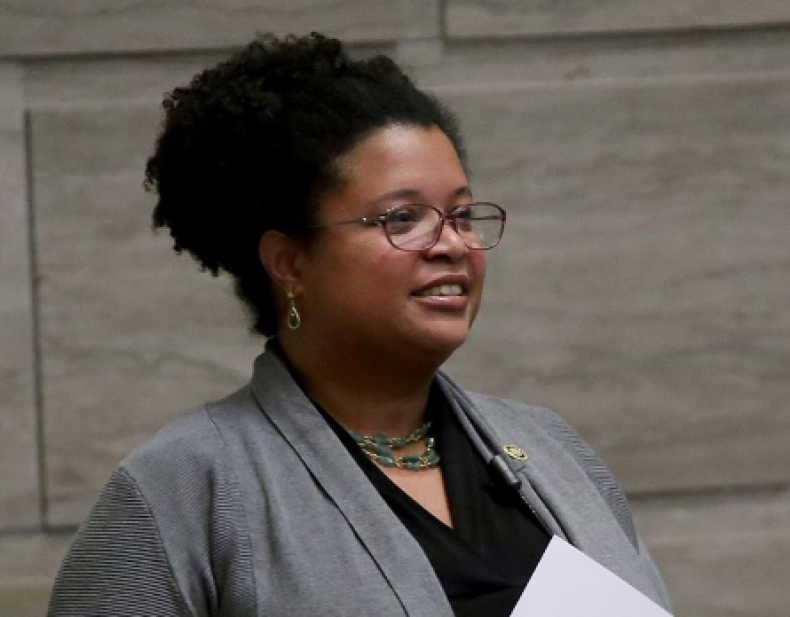 In 2015, Chappelle-Nadal sparked controversy for a series of tweets about race in the wake of the Ferguson protests over the police shooting death of 18-year-old Michael Brown. She ridiculed people from outside the 14th District thinking they can be a "savior to Ferguson" without consulting her first.
"LET ME BE CLEAR: When you exercise your #WhitePrivilege, don't think I'm not going to remember. I will use it for the future. Uncomfortable?" she tweeted in January 2015. "LET ME BE CLEAR3: If you r not a legislator representing #Ferguson & you have not communicated w me, yet u have a 'resolution', expect fire."