Who is Maria Firmina dos Reis? Google Doodle honors abolitionist writer of 'Úrsula'
Today's Google Doodle features Maria Firmina dos Reis, a Brazilian author and educator. October 11, 2019, is Firmina dos Reis' 194th birthday, and Google is honoring her life and her contribution to ending slavery in Brazil.
Maria Firmina dos Reis was born on October 11, 1825, three years after Brazil declared independence from Portugal, to a Brazilian woman and a black slave.
Born on the São Luís island in Maranhão, Firmina dos Reis grew up on the mainland, in her aunt's house, according to Google Doodle. She was raised by her mother and grandmother and was educated at home. At 22, Firmina dos Reis began teaching at an elementary school, before founding Brazil's first free and mixed school.
As well as being an educator, Firmina dos Reis wrote poetry, essays, and stories in newspapers and journals, and composed abolitionist songs. She is also Brazil's first novelist; her antislavery novel Úrsula was published in 1859 under the name Uma Mranhense, which means a Maranhão woman.
In her novel, Firmina dos Reis wrote: "It is horrible to remember that human creatures treat their fellow men like this."
Firmina dos Reis lived to see the 1888 "Golden Law" which ended slavery in Brazil. She died in 1917 at the age of 92.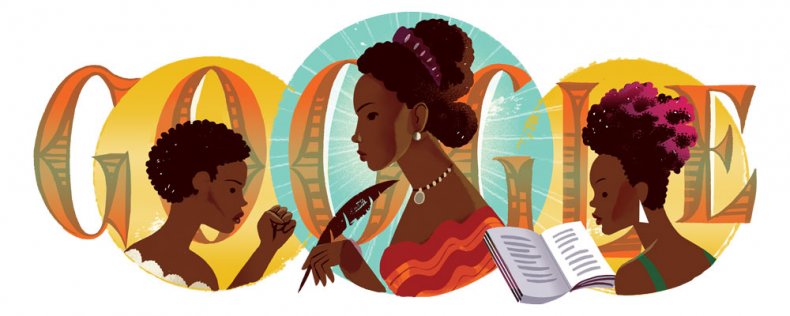 During her lifetime, Firmina dos Reis was relatively unknown outside her state and after her death was mostly forgotten about. It is thought that her work wasn't recognized for a few reasons, including because she was a poor woman, and because she lived far from Brazil's capital.
But in 1962, her work, including "Úrsula," was discovered by a collector through a second-hand dealer, according to the journal article "The Slave Woman".
In 1975, a book titled Maria Firmina, Fragments of Her Life was published. It included her short stories, poems, biographical information, and newspaper clippings. Úrsula has since been reprinted, and in 2004, two university presses in Brazil included Úrsula in a critical edition.
The Google Doodle was illustrated by Porto Alegre and Nik Neves. In an interview with Google, Neves said he created the doodle because, "Maria Firmina dos Reis is one incredible woman, writer, educator, and composer who was completely erased from cultural history. For me, this is completely unacceptable."
Though there are no photographs of Firmina dos Reis, with the Doodle, Neves "intended to show how strong and proud she was as a black woman in a country that still had slavery, and how relevant her work is today."