Umm...Is Mariah Carey Really Collaborating With McDonald's?
Mariah Carey's "All I Want For Christmas Is You" anthem often rings in the start of the Christmas season. But this year, Carey's outing onto the festive scene is in collaboration with McDonald's.
Carey recently took to Twitter to announce the arrival of the "Mariah Menu", which is coming to the fast-food company from December 13.
She said: "This holiday season at @McDonalds, you're not getting the Mariah meal... you're getting a whole menu!
"Introducing The Mariah Menu: get free daily deals w/ $1 min purchase Dec. 13 to 24, only in the app dahhling! #ad"
What Is the "Mariah Menu" at McDonald's?
Carey herself said this year, rather than offering a meal, McDonald's is offering a whole menu to be earned for free with every purchase of $1 minimum via the app.
Every day from December 13 to 24, a new item will be available for free, almost like an advent calendar.
The menu items include McNuggets, apple pie and Carey's favorite, the cheeseburger.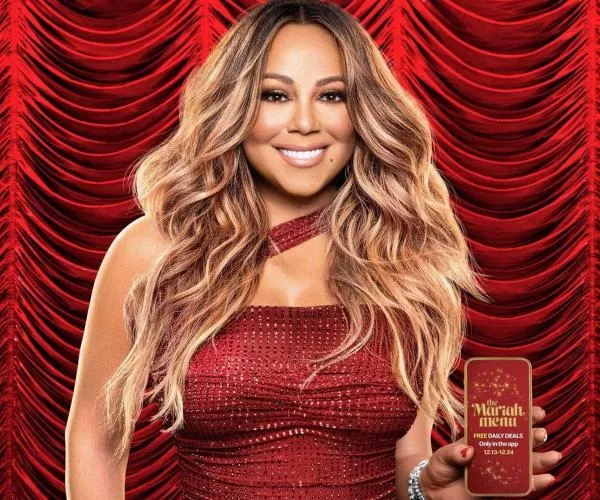 The star explained the collaboration in a press release for McDonald's: "Some of my favorite memories with my kids are our family trips to McDonald's, and of course, each of us has our go-to order. Mine is the Cheeseburger, and I get it with extra pickles."
"Bringing together some of our favorite food from McDonald's with my all-time favorite season is a holiday wish come true."
Carey was also involved in designing the packaging for each of the items to add her own flare along to the festive fun.
One of the first images released by McDonald's saw Carey in a festive red dress, standing in the sea with the golden arches behind her.
Needless to say, this confused fans, while others wanted to get their own version of the image on other merchandise.
One said: "Will there be merchandise? We want tshirts, we want goodies!! we want this photo on something @MariahCarey"
The McDonald's Twitter account replied with some hilarious quips when fans questioned the image.
Carey also was quick off the mark, correcting McDonald's tweet which supposedly gave the notes to the opening solo to "All I Want For Christmas Is You."
The singer told McDonald's their notation was a little off, after they wrote an F instead of an F#.
The "Mariah Menu" is available on the McDonald's app with purchases over $1 from December 13 to 24.
{{#isDisplay}} {{/isDisplay}}