Mariah Carey Says Meghan Has Her 'Diva' Moments in Podcast Interview
Mariah Carey called Meghan Markle a "diva" on the latest episode of the royal's Archetypes podcast, in a move that "stopped" the duchess in her "tracks."
The Grammy award winning singer was a guest on the second episode of Meghan's solo podcast which is currently number one on the Spotify podcast charts on both sides of the Atlantic and generated widespread commentary following its release last week.
The Spotify exclusive series, produced in collaboration with the duchess' Archewell Audio production company, has been created to "dissect, explore, and subvert the labels that try to hold women back."
The "archetype" examined in the second episode was the label of diva, a moniker that Carey has "reclaimed" and adopted over her career.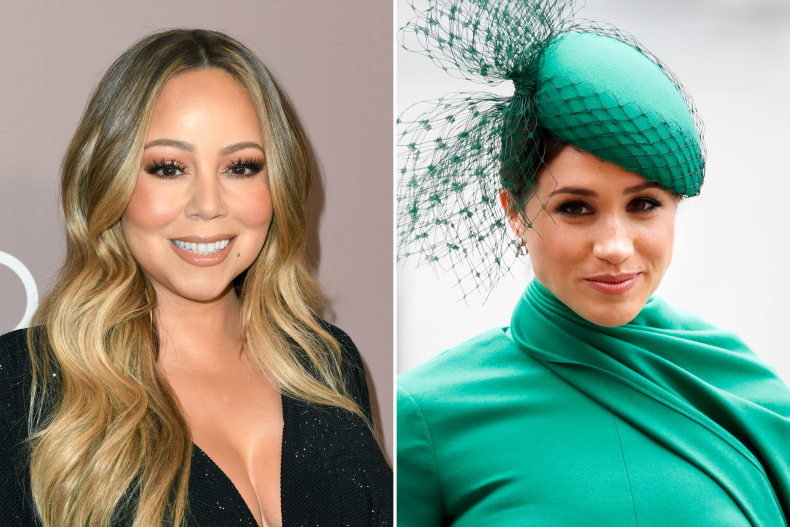 During a discussion of the word and how powerful women are able to "play into" it, Meghan told Carey that it is "not something that I connect to..."
To this, Carey interjected, rejecting Meghan's statement by saying: "You give us diva moments sometimes Meghan, don't even act like..."
Meghan then lightheartedly objected, asking for an example whereupon Carey seemed to allude to the duchess' style as being associated with elements attributed to a diva.
"It's the visual," the singer explained. "A lot of it's the visual."
"See, that's the thing I associate it differently," Meghan said in reference to the discussion about the positive and negative ways the word is used to describe women.
This moment was highlighted by the duchess after the interview when she was heard summing up the discussion, as having made her "sweat a little bit."
"It was all going swimmingly, I mean really well until that moment happened when, I don't know about you but it stopped me in my tracks—when she called me a diva," Meghan told listeners.
"You couldn't see me obviously but I started to sweat a little bit. I started squirming in my chair in this quiet revolt like 'wait, what, no, what? How could you that's not true! Why would you say that?'
"My mind genuinely was just spinning with what nonsense she must have read or clicked on to make her say that. I just kept thinking in that moment, was my girl crush coming to a quick demise? Does she actually not see me?"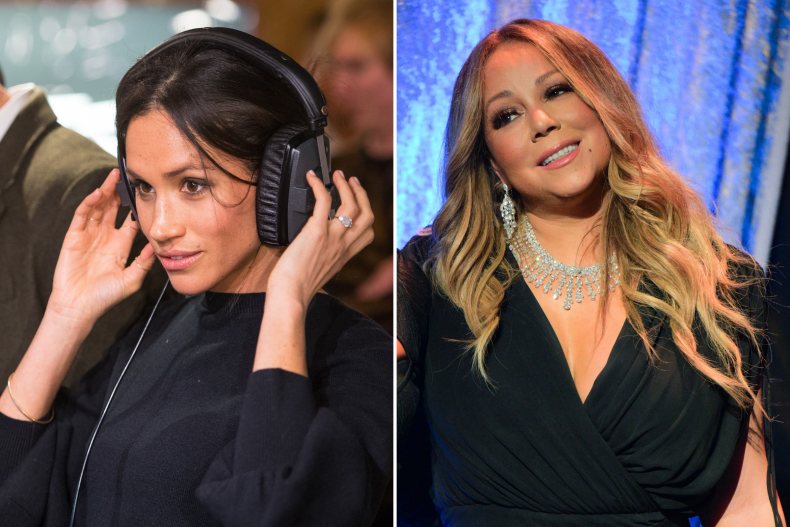 Then Meghan summarized the points made in their discussion as she explained how this highlighted the levels of meaning each chosen "archetype" has when applied to different women.
"She must have heard my nervous laughter, and you all would have heard it too as she jumped right in to make sure I was crystal clear that when she said diva she was talking about the way that I dress. The posture. The clothing. The quote unquote fabulousness, as she sees it," she said.
"She meant diva as a compliment but I heard it as a dig. I heard it as the word diva as I think of it. But in that moment as she explained to me, she meant it as chic, aspirational...how one word can mean something very different for each of us—It's mind blowing to me."
Meghan's podcast episode with Carey also contained a deeper discussion about race and representation.
After highlighting how Carey's appearance on the world stage during the 1990s sent empowering messages to bi-racial children growing up, Meghan spoke about her own experiences, saying: "It's very different because we're light skinned."
"You're not treated as a Black woman. You're not treated as a white woman. You sort of fit in between.
"I mean, if there's any time in my life that it's been more focused on my race, it's only once I started dating my husband. Then I started to understand what it was like to be treated like a Black woman. Because up until then, I had been treated like a mixed woman. And things really shifted."
Both Meghan and Harry have spoken about the racism she has faced on social media and in the mainstream media since going public with their relationship.
The Archetypes podcast is released weekly, with the guest for the third installment of the show announced by Meghan as being Mindy Kaling.
Newsweek approached representatives of Carey for comment.
Update 8/30/2022, 9:45 a.m. EDT: This article has been updated with Meghan's comments about being a bi-racial women.