Mariah Carey Releases New Song 'GTFO' to Show the 'Light-hearted Spirit' of Her New Album
Mariah Carey released her new song "GTFO" Thursday. The track will be on her 15th studio album, out later this year. Paul Jeffries, known professionally as Nineteen85, produced the song.
"I wanted to give my fans and everyone a first listen that wasn't so serious," Carey said about "GTFO" in a statement. "I've had so much fun making this album, and I wanted the first moment to reflect that light-hearted spirit."
"With You," the first official single from the new album, will be released October 5.
Carey's breathy vocals and the R&B beat do make for a "light-hearted" and sultry song, and the lyrics make it clear how the singer feels about the man she wants out of her life.
"You took my love for granted/you left me lost and disenchanted/bulldozed my heart as if you planned it/my prince was so unjustly handsome," she sings in the first verse.
She follows that up with a chorus with a clear message. "How about you get the f*** out?" she sings. "How about you take your things and be on your merry way?/Fly off with a wink, bye, bye, baby/How about you 'scuse me, let me call your valet/You just take your things and be on your merry way."
The singer teased the new music earlier in the week. "How about you…," she wrote on Twitter Monday. "#GTFO 8 a.m. ET Tomorrow," she posted Wednesday. "How about you… check out my new song," she wrote on her social media accounts Thursday. The "GTFO" music video, which was directed by Sarah McColgan, will be released at midnight Friday.
Her upcoming album is her first since Me. I Am Mariah…The Elusive Chanteuse in 2014. This is also her first new music since she signed an exclusive partnership with Butterfly MC Records and Epic in 2017.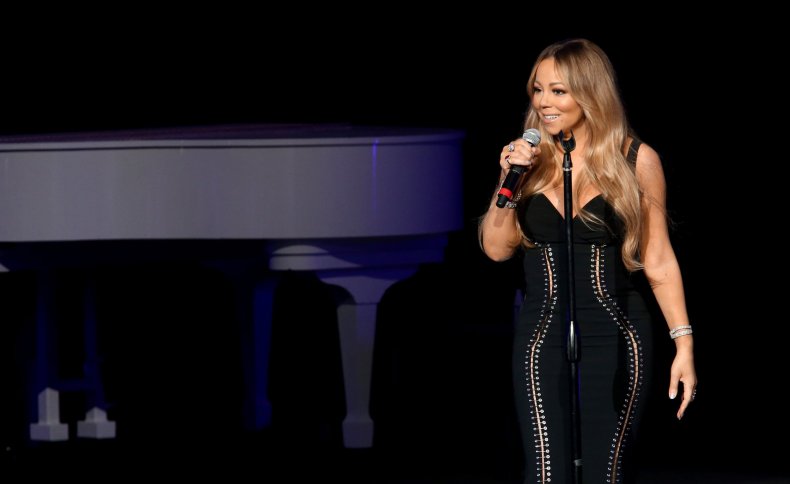 "I've been working on my new album for a while. This is a labor of love and I'm really excited," she said to People in August. "This is me at this moment in my life being able to express myself as a writer and a singer. I'm just really in a good place."
"My fans just want to hear me express myself and speak from the heart and sing from the heart," Carey continued. "Some of the record is lighthearted and fun, and some [songs] I really went deep in terms of the lyrical content. There's a nice cross-section of things."