Mariah Carey Is 'So Merry' as 'All I Want for Christmas Is You' Makes Holiday Song History
Mariah Carey's 1994 hit All I Want for Christmas is You reached another milestone on Friday as it became the first holiday single to receive the Recording Industry Association of America's (RIAA) Diamond Award.
The award was issued in recognition of the song collecting 10 million sales and streams in the U.S.
The RIAA tweeted a Friday morning message of congratulations to Carey and her teams at Columbia Records and Legacy Recording along with a video clip that featured Carey performing the song.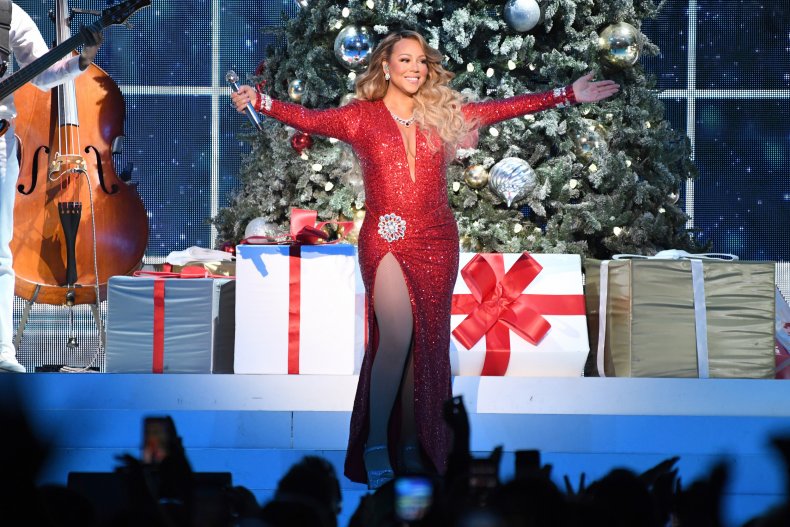 The RIAA described the song in a Friday news release as "an essential seasonal standard that continues to bring the spirit of Christmas to the hearts of music lovers the world over."
Carey posted pictures on social media Friday morning in which she could be seen holding the award in front of some holiday decorations.
"Diamonds are a girl's best friend," she said in the photo's caption.
She later retweeted the RIAA's earlier congratulatory tweet. "Festive!!!!! So humbled. This made me feel so merry today," she wrote on Twitter. She added a note of thanks to her fans, writing: "I love you #lambily for life."
In the RIAA's Friday announcement, Mitch Glazier, the chairman and CEO of RIAA, said the song had reached a "remarkable milestone" by becoming the first and only holiday song to reach the RIAA's Diamond status.
Richard Story, the president of Sony Music Entertainment's Commercial Music Group, referred to Carey in the news release as "the Queen of Christmas" and congratulated her for "continuing to make history."
Carey said in the release that the song's ongoing popularity "never ceases to amaze me and fill my heart with a multitude of emotions."
"It blows my mind that All I Want for Christmas is You has endured different eras of the music industry," she added.
The song has climbed the charts every year since its initial release in the mid-1990s, according to the RIAA, but it only made it onto the top of Billboard's Hot 100 in 2019, 25 years after it was initially released. Its rise on the chart that season gave Carey her 19th song to reach the top spot on Billboard's Hot 100, and when it reappeared one year later, it made Carey the first recording artist to have a number-one song in four decades, according to the RIAA.
The All I Want for Christmas Is You ringtone also became "the first holiday ringtone to be certified double platinum," according to the RIAAA.
This year, the song began climbing the charts again in late November, according to Billboard. The song was listed among the top 40 songs on the chart last week and rose to the 12th spot this week, Billboard's chart data showed.
Newsweek reached out to Columbia Records for comment.