Mariah Carey's 'All I Want for Christmas is You' Breaks Record With Billboard Top 10 in 2017
Mariah Carey's "All I Want for Christmas is You" has finally hit the Top 10 in Billboard's Hot 100 ranking for the first time, despite being utterly ubiquitous every December since 1994. Speaking with Billboard, Carey said of breaking the record, "It truly warms my heart, and I am proud of this song that I wrote basically as a kid on my little Casio keyboard."
The song originally appeared on Carey's 1994 holiday album, "Merry Christmas." In 2010, the pop star recorded a new version, "All I Want for Christmas Is You (Extra Festive)" for her second holiday album, "Merry Christmas II You," and that version was followed by a third recording in 2011, titled "All I Want for Christmas for You (SuperFestive!)" and featuring Justin Bieber.
Carey's songwriting partner on the track, Walter Afanasieff, aka Baby Love, has said the duo wrote the song in about fifteen minutes in August 1994. "It's definitely not 'Swan Lake,'" Afanasieff told The New York Post in 2014.
In the first music video for the single, Carey's then-husband Tommy Mottola arrives dressed as Santa and leaves on a sleigh. In the second, Carey appears in a 1960s-esque black and white setting.
According to The Economist, "All I Want for Christmas is You" is the eleventh best-selling single of all time and has earned Carey at least $60 million in royalties.
Carey has performed a holiday-themed residency, "All I Want for Christmas Is You, a Night of Joy and Festivity," since 2014 in New York City, though she pushed back the dates in 2017 due to illness.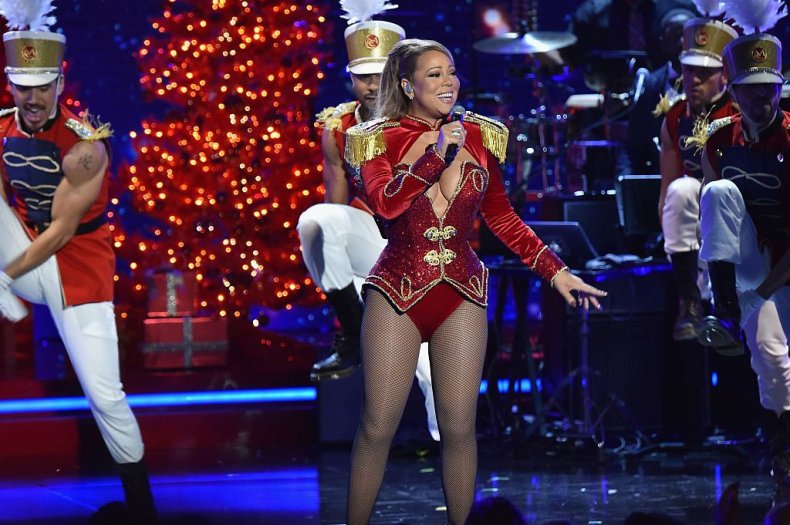 In December 2016, Carey performed "All I Want for Christmas is You" with James Corden during the "Carpool Karaoke" segment. The clip, which featured Adele, Lady Gaga, Demi Lovato, Nick Jonas, Elton John, Selena Gomez, Gwen Stefani, and Red Hot Chili Peppers, was viewed more than 2 million times in 24 hours.
Later that year, Carey performed a holiday set in Times Square and was so dramatically off-key that the performance was internationally considered a trainwreck. She eventually stopped singing and stood on the stage while her dancers continued their routine. Later, her manager blamed the show's producers and a technology malfunction, while the producers argued that Carey had opted out of rehearsals.
In 2018, Carey is scheduled to tour Oceania in "The Number 1's Tour," and as of July 2017, she was developing a loosely autobiographical Starz drama with Brett Ratner, though Ratner was been accused of sexual harassment by six women in November.