Mariah Carey's Twitter Hacked by Chuckling Squad on New Year's Eve, Shares Dozens of Vulgar Posts: 'Eminem Has a Little Penis'
It wasn't, as the singer herself might say, very "festive." On Tuesday afternoon, singer Mariah Carey's Twitter appeared to have been hacked by members of the Chuckling Squad.
The alleged hacker proceeded to post at least 54 tweets before Carey's timeline was expunged, ranging from insults such as "Eminem has a little penis" and "Eminem can hold my p*ssy"—references to Carey's longstanding beef with rapper Eminem, with whom she may or may not have had a brief assignation before marrying Nick Cannon—to promos for the Chuckling Squad's Discord server and shout-outs to various friends and associates of the hackers.
The hackers said that nudes of Carey were being posted on a Discord server which was linked to on Carey's timeline, but no current evidence exists that those pictures were posted at press time.
Within five minutes of the last tweet being posted, Carey's timeline was scrubbed of all tweets. It appears the hackers may have had control of her account for an estimated 20 minutes.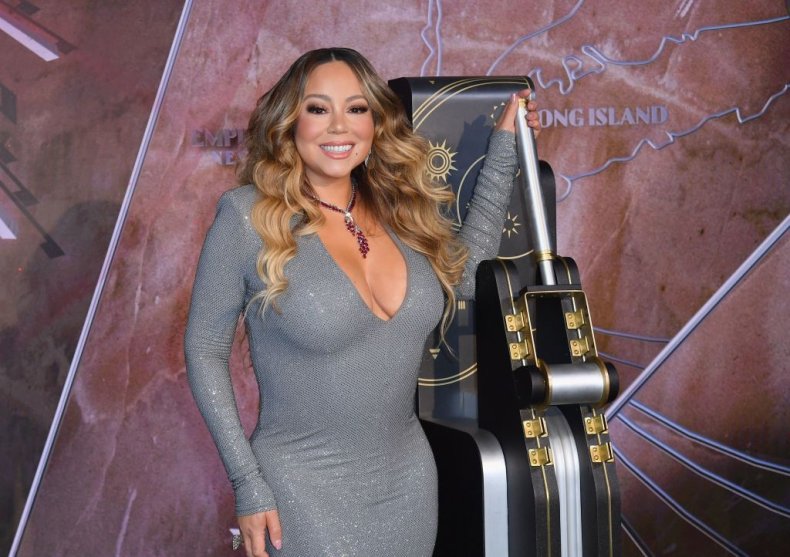 The Chuckling Squad, perhaps best known for their August hack of Twitter CEO Jack Dorsey's Twitter, has also hacked other celebrity Twitter accounts.
One ex-member was arrested in connection with the Dorsey hack in November, which, according to Vice, was accomplished via sim-swapping.
Sim-swapping is a hacking process by which invaders trick phone service providers into authorizing access to a phone number, allowing the hacker to bypass two-factor authentication methods for social media accounts such as Twitter and Facebook.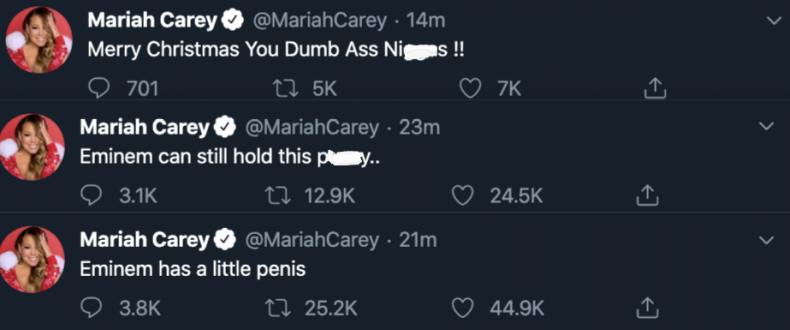 "As soon as we were made aware of the issue, we locked the compromised account and are currently investigating the situation," a Twitter spokesperson told The Hollywood Reporter.
Carey's full name made it to the second slot on Twitter's U.S. trending feed thanks to the hack, with "Mariah" making it to the second slot worldwide.
Carey has 21.4 million Twitter followers at press time.
Singer Carey had just wrapped up a particularly eventful December. On Tuesday, it was announced by Billboard that she will be the first singer to have notched number one singles in five consecutive decades—the '80s, '90s, '00s, '10s, and 20s.
Carey's "All I Want for Christmas is You" has spent three weeks atop the Billboard Hot 100 for the first time since it's original release- the song, when it originally bowed in 1994, was not eligible for Hot 100 inclusion due to the fact that it wasn't released as a single, a rule that lapsed in 1998 - and Carey released a new video for the 25 year old tune this past December.
Newsweek reached out to Carey's representatives for a comment but has not heard back by press time.