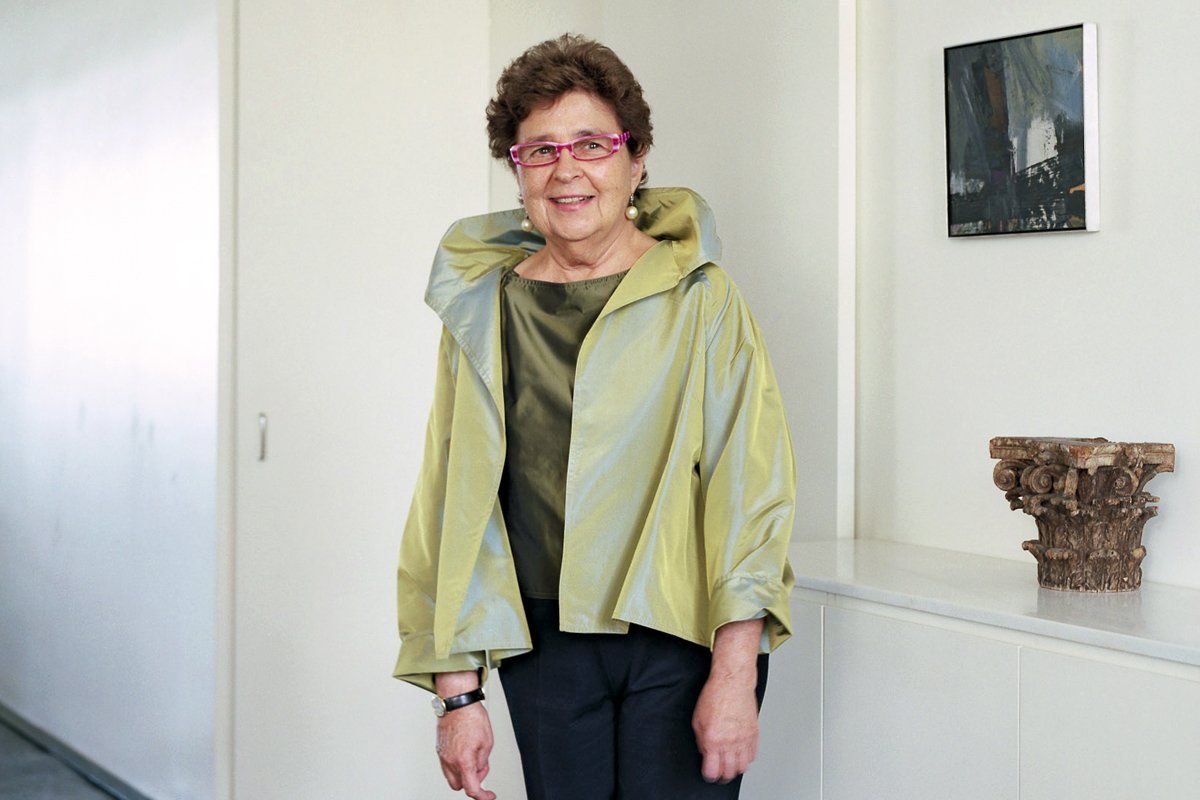 Marian Goodman, one of the world's greatest art dealers, does not look or act the part. She's barely five feet tall, talks in a tentative whisper, and, above all, does not like to discuss dealing in art. "I've made it a rule not really to talk about the business aspect," she says. She prefers the title "gallerist," with its evocations of white walls and challenging pictures, to the idea that she "deals." During an interview in her modest office, at the back of her white-cube gallery a few blocks from the Museum of Modern Art in New York, she wears black slacks and a red-and-black blouse, while her curly dark hair is suspiciously unflecked with gray. She admits only to being 39 years old ("like Jack Benny always did"), but evidence points to her being closer to 80.
Goodman is an unlikely art mogul, yet our boldest museums are dependent on her. The Tate Modern in London recently launched shows of Goodman artists Gerhard Richter, last of the great modern painters, and Tacita Dean, a Brit who is the best artist now working with film. In New York this month, at the Guggenheim Museum, Goodmanite Maurizio Cattelan has hung a lifetime of work from the rafters. Last year the Metropolitan Museum gave a brilliant retrospective to Los Angeles veteran John Baldessari, while MoMA surveyed the career of Gabriel Orozco, a major world star. Guess who represents them?
Of course, Goodman wouldn't be stocking those museums if she weren't also a force in the business of art, keeping all her star talents in paints. (And digital cameras, and video projectors.) As of Nov. 30, Goodman will be at the huge Miami Basel art fair, making money for herself and her stable—but, unlike many other of the fair's major sellers, the dollars will pour in because she cares less about them than the art. "She sees making art visible as her métier—as really what she does ... and the market is the least bad means of accomplishing that," explains Jeff Wall, the great Vancouver photographer who will be opening his latest Goodman show in December. He adds that he can't imagine doing better, financially, by moving to a more money-focused dealer: "On the side of business, she isn't doing less well ... We've been together for 25 years, and that tells you a lot." Kerry Brougher, deputy director of the Smithsonian's Hirshhorn Museum in Washington, calls her a "curator's dealer": "It's not enough for her just to sell it to a private collection for a great amount of money. The art has to be out there where the public can see it." Brougher says that he's actually heard Goodman complain when art prices rise. At a recent dinner for one of her artists, Goodman sat at a head table that included curators, artists, a critic, and various other culturati—but not a single collector.
"People on the periphery of the art world might not have heard of her, because she's not as flamboyant as Larry [Gagosian] or Matthew [Marks]," says Agnes Gund, president emerita of MoMA and a significant New York collector. But insiders, she says, are always asking, "'Have you seen the show of so-and-so at Marian Goodman?'" She explains that she treats Goodman's gallery almost as a museum—as somewhere to go to see art that's significant, and challenging, whether or not she has any intention of buying.
If Gagosian stopped making millions, we'd count him a failure, as he himself might. Goodman, with 27 employees in New York and Paris, also makes millions—a major Richter painting can go for several million dollars and the largest Wall photos list at $800,000—but she stands or falls only by the art that she shows. And so far it's been all about standing.
Not that Goodman would ever say so. Though she must know her own status and power—lesser figures in the art world live in fear of her frown—it's almost impossible to get her to boast. "You kind of go along minding your own business and doing what you think represents your best effort in responding to artists' work, and then someone comes along and tells you you did a great job." Goodman conveys a cultured politesse, but you sense a backbone of steel. She might be the headmistress of your kid's Waldorf school.
Goodman came to art dealing almost by accident, she explains, as a new divorcée who needed to support herself and two kids. In 1977, when she first opened the gallery under her name (she'd been working in editions before that), most New York dealers were still focused on local talent. She's a native New Yorker, but her secret weapon turned out to be a taste for the most rigorous of European artists, and a recognition—or maybe, at first, a blind faith—that others would soon be turning their way. "These European artists are of major historic importance, and it was my mission to introduce many of them and thus really to help change the art world," she says.
Choosing her words even more carefully than usual—a 30-second pause is normal for her, and she expands on her answers in emails—Goodman explains her modus operandi: "It's very important to me to make my decisions based on my honest feelings about the work. Not to go running after every artist who's hot for a year. And not to be focused on trying to gather a bunch of famous artists together ... I promised myself I would not be swayed by an artist's popularity or their money-making abilities—it wasn't always easy to resist temptation, but for me it was vital to keep my choices clean so I would not end up having a store but rather a gallery."
Of course, even the greediest dealers rarely say they're in it for the money, but observers seem to buy Goodman's art-first motives, and history confirms them.
The gallery's very first show was of the Belgian conceptualist Marcel Broodthaers, whose estate Goodman still represents and whose art continues to baffle. "I loved his work, and I couldn't imagine how it could be that he had no New York representation." The show sold a grand total of one piece, she says, to a Swedish museum, and garnered zero attention.
But now, as with so many of Goodman's first loves, Broodthaers is a major name, with shows in great museums and pieces in leading private collections.
Look at the roster of some other megadealers, and you see artists who can be there only to help boost profits or profile: when Gagosian agrees to show Bob Dylan's paintings, no one imagines it's because the musician is our next Leonardo. Whereas it's hard to think of many Goodman artists who aren't pulling their weight, in purely art-historical terms. (Although, over the years, I've panned two or three: Julie Mehretu and William Kentridge both seem lighter fare than other Goodmanites, and Christian Boltanski hasn't always held up.)
Almost every big contemporary gallery is funded by the blue-chip old works they sell out of the back room, while Goodman almost never sells works that her artists haven't made. "It's all front room," says Tate director Nicholas Serota. "It's an achievement to build a gallery on those terms." Where other major galleries seem to have a supermarket approach, with something to feed any billionaire's habit, most Goodman artists conform to one vision. "There's an ethos in the gallery that you don't find in many others," says Serota. Goodman spots good work by young artists who seem likely to matter—the Jeff Walls of this world—and then sticks by it.
"I never started working with an artist when he or she was a big star, or at the height of their powers. It's nice to see people prevail who I believe are very thoughtful, highly talented, one of a kind—who have found a unique means to express their innermost being." In all her years as a dealer, it seems she has only once had to tell an artist that new work was weak. "But I didn't put it that way. I just said, 'We're not in a hurry. We can wait,'" she says with a twinkle. (In unguarded moments—there aren't many of them—she can have a schoolgirl charm.) Goodman has made her name with art that's cerebral, so it's a surprise to find out that she got there by instinct. "It's not that I'm trying to measure something scientifically. I have an intellectual and emotional response to it. I think when a work is truly poetic, it can nourish one's soul."