Marianne Faithfull Realizes Her Dream Project With 'She Walks in Beauty'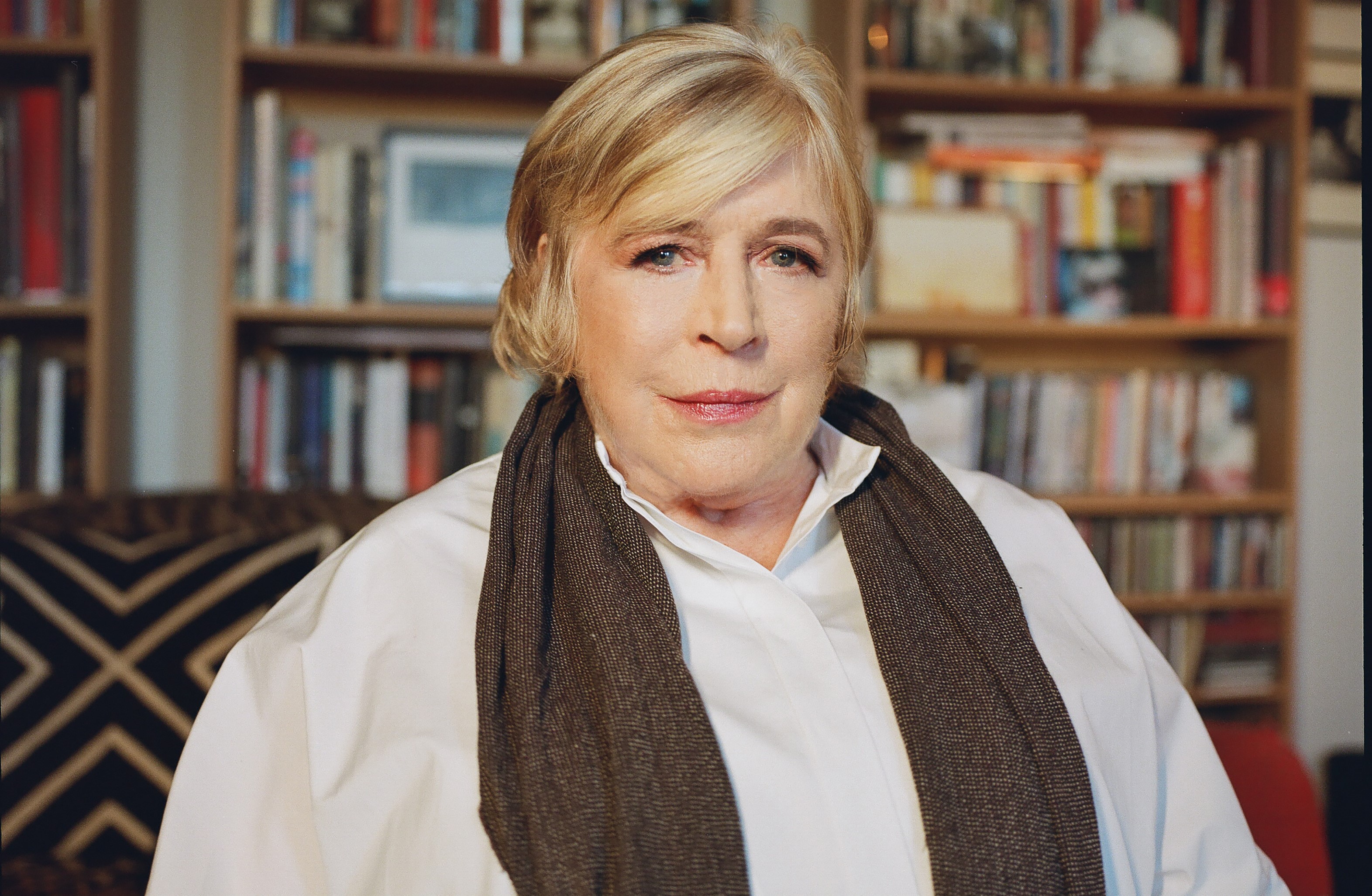 In speaking with the legendary British singer Marianne Faithfull over the phone about her most recent album, She Walks in Beauty, one could hear the immense pride in her voice about making it. A fulfillment of a dream, the record is a 11-track collection of her reading selected poems by famed British Romantic poets—such as Percy Shelley, Lord Byron, John Keats and Alfred, Lord Tennyson—accompanied by ambient music composed by Warren Ellis. The combination of Faithfull's distinct and warm voice, Ellis' soundscapes, and the poets' words feels quite timely in the current pandemic age.
"This might be the perfect record for people having gone through this experience of the coronavirus and then lockdown," says Faithfull, 74, "because it's beautiful, peaceful. It's all of these good things."
Faithfull—who first arrived onto the pop music scene in 1964 with her hit "As Tears Go By," penned by the Rolling Stones' Mick Jagger and Keith Richards—herself knows what it was like to experience COVID-19. She is currently on the mend after a near fatal bout with the virus last year that momentarily interrupted the recording of She Walks in Beauty.
"I'm better than I was," she says of her current condition, "but I still got quite a way to go. My doctors say in six months I'll be a bit better, and in a year, I might be a bit more better. But it's going to take a long time."
Working with the producer Head, Faithfull recorded about half of the spoken-word portion of the album at her London home before COVID and lockdown. "And then all that happened," she recalls, "and I got ill. I didn't even know. So once I was home [after my hospitalization], Head came up to London from the country and we recorded the rest of the poems. I'm very glad we did."
Her recorded readings of the poems were then sent to Ellis—a member of Nick Cave and the Bad Seeds as well as a collaborator on Faithfull's previous albums—who worked on composing the music in his Paris studio (The new record also features contributions from Nick Cave and Brian Eno). "She believes in these texts," Ellis said in a press release. "That world, she inhabits it, embodies it, and that really comes through. She really means it. It's no blind reading...She's inviting you into this world with her."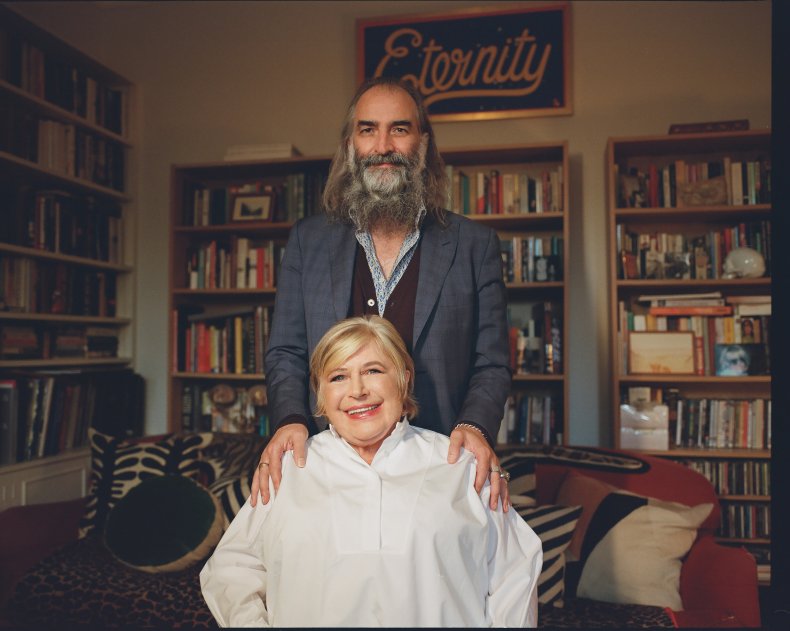 "I knew he was perfect," Faithfull says of having Ellis on board, "because what I wanted was the reading of the poems, and then I wanted ambient music behind it—not classical music, not rock and roll, none of that. Just ambient sound. And Warren is really good at that. He does a lot of film music. And he loved the poems. When he heard my readings, he got really into it. And getting help from Nick Cave and Brian Eno was wonderful."
She Walks in Beauty is a sampling of the best of Romantic poetry; the feeling evoked by the recording is something both majestic and calming. Among the works included on the record are Shelley's "Ozymandias" and "To the Moon"; Byron's "She Walks in Beauty"; and Tennyson's "The Lady of Shalott," which, at an epic 11 minutes, closes out the record. "It's a wonderful poem," she says of "Shalott." "And Warren loved the readings, too."
Faithfull's reverence towards Romantic poetry goes back to when she attended St. Joseph's Convent School in Reading, England, before she departed for London at the age of 16. "I never did the second year [of school] because I got discovered," she recalls, referring to a 1964 party she attended where she met Rolling Stones manager Andrew Loog Oldham. That encounter launched her career as a pop singer. Of whether she might have pursued a literary career had she stayed in school, Faithfull says: "I can't imagine that I would have been a poet, but I would have maybe been a scholar of some kind. I would've gone to university."
"I really love [Romantic poetry]," she also says. "My favorite, I think, is Keats. And I love poetry anyway. I love Allen Ginsburg, I love Gregory Corso. I love a lot of different poets."
It's been previously reported that She Walks in Beauty might be Faithfull's final album. "It's possible," she acknowledges, "but I hope not. I think when I said that, I was still feeling pretty rough. And to be honest with you, I still am. But I really do think I will get better. I know one thing: I won't able to tour again as I used to. That would be too hard. I am going to have to take it more easy."
Additionally, she hasn't ruled out performing in parts of Europe, such as London, Paris and Berlin, "but it would only be 40 minutes. I couldn't do a long show. You see, [COVID] damaged my lungs. But I don't know what's going to happen. Miracles happen all the time. And it might get better."
Sadly, COVID claimed the life of one of her dear friends and collaborators, Hal Wilner, who produced her 1987 album Strange Weather. "He would've helped me a lot with this record, too," Faithfull says. "Oh I can't bear it. He died when I was in the hospital and nobody wanted to tell me because they thought it might affect me very badly. And it did. [Strange Weather is] a masterpiece, and it was Hal who made that so great."
Faithfull's life has been well documented not only about music but also her association with the Rolling Stones (she co-wrote "Sister Morphine,'' which was released by the band in 1971) and her romantic relationship with Mick Jagger at the time, as well as her battles with drug addiction. In 1979, she reemerged with the breakthrough album Broken English, a raw-sounding, New Wave-ish work that contrasted with the pop music she made in the 1960s; among its many compelling songs were the title cut, "Why D'Ya Do It" and "The Ballad of Lucy Jordan." "I'm very, very proud of it," she says of that record today. " Again, I'm very grateful. I had the right people [such as] Mark Miller Mundy, Barry Reynolds, Terry Stannard. They were all great musicians. It was a gift."
In the course of her life—through the ups and downs of a music career that underwent a renaissance starting in the late 1980s; the sexism she experienced within the music industry and from the press when she first started out; and her previous health issues and now COVID—Faithfull was asked where her perseverance came from. "My mother and my father were both really amazing people," she explains. "I had a fantastic education, and I met the right people to do these things."
Meanwhile, Faithfull is heartened by the positive reception to She Walks in Beauty since its release late last month, calling it wonderful. "It's been my dream [to do this record] for a long time, and I can't tell you how happy I am that we managed to do it, and then that people seemed to really like it." She further adds: "It was hard for me to really hear it for a while. But only a few days again, I was alone here and I played it to myself. And I realized that it really is a bit of a masterpiece, [if] I say so myself."