Marianne Williamson Walks Back Hot Mic Moment Where She Said 'Fox News Is Nicer to Me' Than the Left
Marianne Williamson, one of the many 2020 Democratic hopefuls still left in the race, claimed on Friday that she was being misquoted for recent remarks that were caught on a hot mic, in which she disparaged the political left and claimed Fox News and conservatives are nicer to her.
Appearing last week on the TV program America This Week with host Eric Bolling, Williamson was captured at the end of an interview with cameras still recording as stating: "What does it say that Fox News is nicer to me than the lefties are? What does it say that the conservatives are nicer to me? It's such a bizarre world. I'm such a leftie. I'm a serious leftie. I understand why people on the right call them godless. I didn't think the left was as mean as the right. They are."
Williamson took to Twitter on Friday to clarify those comments, writing that she actually said she understood why conservatives say that she is godless — not the left.
"Re my hot mic moment Eric Bolling felt the need to put out (hardly conservatives being nice). People keep quoting me as saying I understood 'why the Right say the Left is godless.' I said no such thing," she wrote. "I said I understand that they say that about ME."
Williamson, an author and spiritual leader whose campaign has received attention for some of the unorthodox comments she's made in the past, returned to Bolling's show this week to respond to the hot mic comments, explaining that being a presidential candidate is no "walk in the park."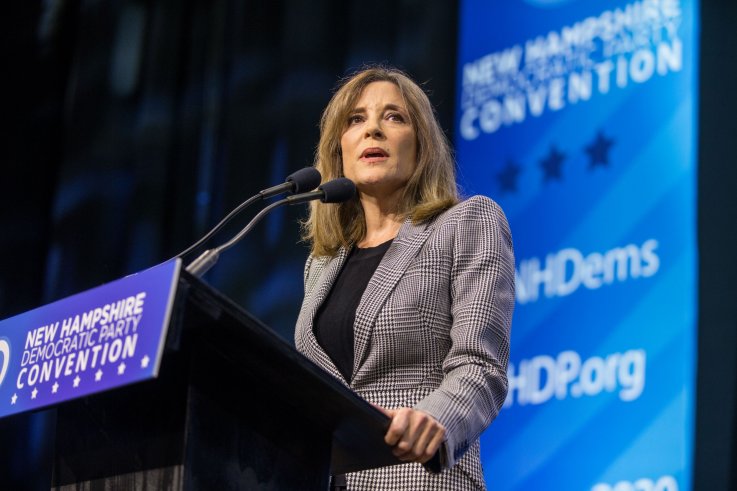 "I was making a comment that I had found my life that day, you know, the Republicans don't have to be attacking me right now," she said. "I'm in a Democratic primary, so, Republicans are, 'Hi, Marianne,' whereas some people on the left, because they're working for other candidates — I understand how that goes. That's all I meant."
"When it comes to the rough and tumble of politics and how people behave," Williamson continued, "I think that there are things that happen just in people, it's not a left-right issue, and I have found it's tough out there."
She also went after Bolling for airing the clip, saying that she was told her re-appearance on the show to explain would forgo the hot mic comments to be played. Bolling said that was not the case, and that her campaign staff were advised the never-before-scene portion of the interview would be aired either way.
Williamson's comments against the left are not the first of their kind. In her original interview with Bolling, she knocked Democrats' "condescending attitudes" toward prayer about a now-deleted tweet she made regarding Hurricane Dorian. In a New Yorker interview this month, Williamson rebuked the political "entrenched" establishment and said she the "mean" political left lies like Republicans.
Marianne Williamson Walks Back Hot Mic Moment Where She Said 'Fox News Is Nicer to Me' Than the Left | Politics