One of my favorite stories from American history involves Dwight Eisenhower before the D-Day invasion.
Meteorology being not nearly as sophisticated as it is now, the general received daily reports providing only a rough read on whether the following day's weather conditions would allow for the landing of Allied forces on the beach at Normandy. Though they had tricked the Germans into thinking the invasion would be in Calais, the Allies knew it was only a matter of time before the enemy figured out the deception. Commander Rommel, then in Germany for his wife's birthday, would surely come back quickly to take command of German forces in France. The invasion having been planned for months, it was time now for the Allies to act quickly.
One thing they had no control over, however, was the weather.
On the day of June 5, 1944, sitting at a conference table with the rest of his commanders, Eisenhower heard the meteorological report he had been waiting for: conditions would be adequate to proceed the next day. On June 6th, at 6:30 AM, it would be light enough for Allied forces to begin the landing, yet still dark and cloudy enough to provide an element of surprise as they approached the beach.
Having heard the meteorologist's report, Eisenhower at first said nothing. Eyewitnesses reported not a sound in the room as they awaited the general's response. Finally, after a silence that lasted a full two minutes, Eisenhower said, "Okay. Let's go."
It's hard to appreciate the burden that Eisenhower carried on his heart that day. He was commanding the largest amphibian landing in military history, as Operation Overlord combined the forces of more than 156,000 U.S., British and Canadian troops. Even under the best conditions, with the greatest success he could possibly hope for, Eisenhower knew he would be sending more men to die than had ever lost their lives in a single military operation.
The men (and women) who fought in WW2—my father included—have often been referred to as "the greatest generation." They became that way because they went through a terrible initiation: a World War that demanded of them a level of courageous maturity unmatched in the experience of most generations before them. A Depression, then a great war, made America—and Americans—grow up very quickly.
The generations of Americans that came after them? Not so much. We've had our problems, our tragedies—even our wars—to be sure, but not since WW2 has a whole generation of us been challenged to get real mature, real courageous and real intelligent, real quick... until this moment.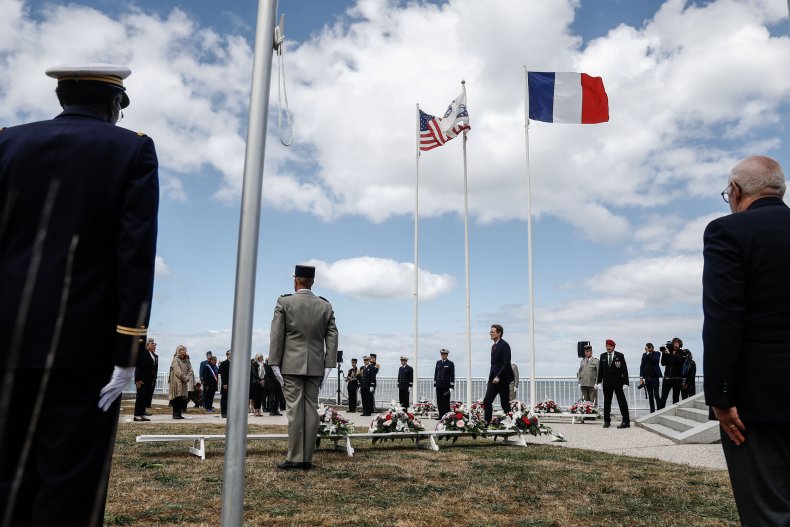 Terrorism in the Middle East? You bet, plus domestic terrorism in the form of dangerously increasing numbers of hate groups here at home. Deadly pandemic? You bet, and worse by far in the United States than anywhere else. Economic trouble? You bet, and millions with hunger so severe that food banks are overwhelmed. From an economy that, even before the pandemic, truly worked well for only a small minority of Americans; to an environmental crisis threatening to create global food shortages, economic breakdowns and hundreds of millions of refugees if we don't achieve serious reversal of climate conditions within the next decade; to the newly reported news that that the Russians have been hacking our cyber networks for the last eight months—it's obvious, if we're honest with ourselves, that we're wandering dangerously close to fall-of-Rome territory now...unless we become very serious, very smart adults, and right away.
The question is, do we have what it takes? For the last 40 years we've been a nation filled with men who too often acted like little boys, women who too often acted like little girls and citizens who acted as if someone else was watching over such issues as nuclear stockpiles—thinking that, surely, all we had to do was concern ourselves with ourselves! Nothing called us to care about anything much larger than ourselves, and too few of us really wanted to. Americans became more and more distracted by ultimately unimportant things, less and less interested in truly meaningful things—and unaware of the dangers that both portended.
Now, it's as though a nation that was drunk on nothingness has had an ocean of cold water thrown in its face. All of a sudden, life-and death-issues like a pandemic that can kill anyone pushed the Kardashians out of the center of our cultural landscape. Hell, even the Kardashians have gotten serious! America's day of reckoning seems to have come at last, and as wonderful as it is that responsible adults are taking the reins in Washington, that alone will not be enough to stave off all the disasters we've allowed to fester for too long. There are too many stress factors, too many instances of mass suffering and too many dangerous points of no return for any intelligent person to think we're not in trouble now.
My father—like so many of our fathers and grandfathers and great-grandfathers—spoke of how, the day after Pearl Harbor, young men all over America rushed to sign up for the war effort. They knew what had happened, and they knew what had to be done. There was no question but that they were prepared to do it.
And us? Are we ready to exchange our prolonged adolescence for the mantle of a mature adult generation, released at last from our obsessive attachments to things that don't ultimately matter? Are we ready to rise to the occasion of a moment so serious that our democracy, our ecosystem, indeed our entire civilization could collapse under the weight of years and years of our selfish misuse?
Actually, I think we are. I don't know anyone who isn't seriously nervous now, hungry for the wisdom and strength to become whoever it is we need to be, so that we too will respond as a generation that, in the final analysis, was good and decent enough to show up for our country in its hour of need.
None of us know for sure exactly what that will mean, or what it will look like. We don't know what next year will bring, for our country or for ourselves. We don't know what we will be called to do, but there's a feeling that we will be called. It's not a war we need to fight this time, but a new world we need to give birth to.
For the sake of future generations—as the greatest generation did so courageously for us—may enough of us show up for the collaborative effort. And like Eisenhower, who displayed the most masterful maturity at one of our most perilous moments, may enough of us in our own hearts say, "Okay. Let's go."
President Franklin Roosevelt had two announcements prepared that day: one for if the invasion succeeded, and one for if it failed. The Allies' combination of realism and determination was exactly what was needed at that time, and it's exactly what is needed now.
Marianne Williamson is a Newsweek columnist, best-selling author, political activist and spiritual thought leader. She is founder of Project Angel Food and co-founder of the Peace Alliance, and was the first candidate in the 2020 presidential primary to make reparations a pillar of her campaign. She is the author of 13 books, among them Healing the Soul of America and A Politics of Love.
The views expressed in this article are the author's own.