Marianne Williamson: Only After Reparations Can America Heal and Move On | Opinion
We celebrated our country's 244th birthday this year in the midst of a multitude of crises—medical, political and economic—that have rocked us to the core. They have shaken us personally, and they've shaken the very foundations on which this country was built. As of now, we have not stopped shaking.
In order to stop the chaos—to pave a way out of our current craziness and to build a path to a better future—America will need more than superficial fixes. We will not be able to change effects unless we deal with root causes. We need to understand how we got here. We need to understand our past.
Just as individuals unaware of their family's past can be unknowingly affected by unconscious forces built up over generations, so is a nation. We must never stop mining our history for the revelations of both pain and glory that are buried there.
Nowhere were such pain and glory more present than in the signing of the Declaration of Independence. On one hand, the Declaration established principles of liberty that remain unmatched in their politically transformative power: the equality of all citizens, justice for all, a government instituted to serve and protect the rights of its people, and the consent of the governed. But while those aspirational principles are everything, no one even at that time believed they were fully actualized. Forty-one of the 56 signers of the Declaration were slave owners. That characterological dichotomy has been with us from the beginning. This bipolarity of the American mind is built into our DNA. We're a nation founded on the most enlightened principles, yet we have at times been the most violent transgressors against the principles on which we purport to stand.
Every generation of Americans—including ours—has lived out the contest between the better angels of our nature and the demons of racism, bigotry and oppression. It's worth noting that over time, our tendency has been to self-correct. Slavery was followed by abolition, the institutionalized oppression of women was followed by the women's suffrage movement, and segregation was followed by the civil rights movement. Today, we're experiencing the newest iteration of our original struggle, as democracy and freedom are once again locked in a head-to-head battle with forces of authoritarianism and bigotry.
Black Lives Matter is a response to more than just what is happening today. It speaks not only to an established pattern of the execution of unarmed Black men, but also to the systemic oppression of Black people that began with the arrival here of slave ships in 1619. What's happening now is the legacy of things that happened long ago, and by understanding what happened then, we're better prepared to solve the problem today.
Slavery lasted in the United States from 1619 until 1865, bringing almost 250 years of unspeakable violence and oppression. And the violence did not stop there. Except for 12 years of Reconstruction, the Civil War was followed by another hundred years of institutionalized oppression of Black people in the American South. While the Civil War led to the end of slavery and the civil rights movement led to the end of segregation—both of which were huge and fundamental corrections—the work of full racial reconciliation has remained incomplete.
Unfortunately, over the past few years, we've been sliding backward. From mass incarceration, to racial disparity in criminal sentencing, to the under-education of children from financially disadvantaged homes, to police brutality toward people of color, the United States has far from completed the work of reconciling with its racist past. If anything, we've allowed new forms of racial oppression to take up where some others left off.
In order to break the cycle of our violent racial history, we must do more than "reform." Prison reform, criminal justice reform, educational reform, police reform, economic reform—the only thing they all have in common is a tendency toward constant conversation leading to little fundamental change.
A new America will be born of a new kind of politics, one that addresses root causes as well as their symptoms, and our deep humanity and socioeconomic realities. Like a Catholic at confession, a Jew on the Day of the Atonement or a member of Alcoholics Anonymous acknowledging exact character defects, America needs to atone for our national sins and make amends for our transgressions. Only then will we truly reform, because only then will we truly change.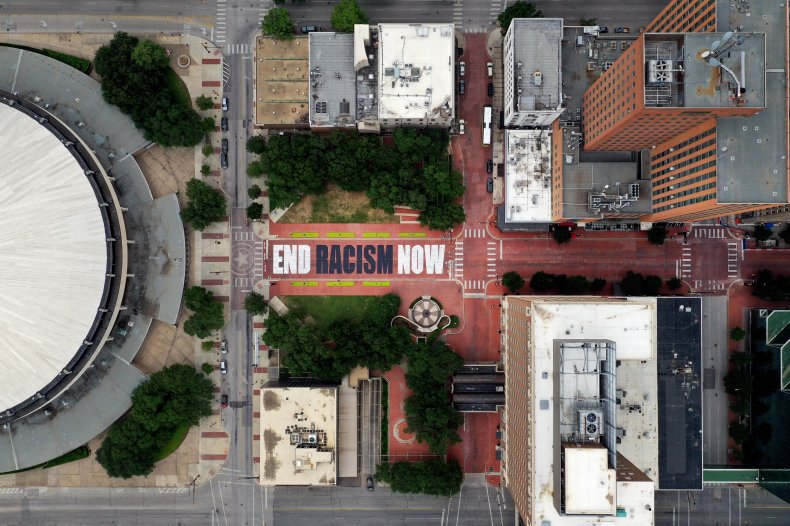 A historian can diagnose a problem, but it takes leadership to prescribe solutions. Today, it is citizen leaders who are prescribing political medicine that our politicians are often too cowardly to implement.
And this has always been true. From abolition to women's suffrage to the civil rights movement, it was the people themselves—not those within government—who created the movements that then led to governmental action.
While a presidential signature on the Emancipation Proclamation, the triumph of the North in the Civil War, and the establishment of the 13th, 14th and 15th Amendments all abolished racist institutions, they could not abolish racism. In many ways, racism burrowed even more deeply into American psyche. And it will not be expunged without a healing of the soul. We need to do more than abolish racist institutions that plague our society; we must abolish the racism that plagues our hearts.
We must atone, and we must make amends. If you've been kicking people to the ground for centuries, you owe more to them than merely to stop kicking. You owe it to them to help them get back up.
Race-based policies are different than reparations, in that reparations carry an inherent mea culpa: the acknowledgment on the part of a people that a harm was done, a debt was accrued and they are willing to pay it.
That is why, in order to heal fully, we need not only to recognize white privilege but also to pay reparations for slavery. Germany has paid Jewish organizations some $89 billion since the Holocaust; while that doesn't mean the Holocaust never happened, the reparations have gone far toward establishing psychological and emotional healing between Germany and the Jews of Europe. So it can be for us. We will never be without the stain of slavery in our past, but we can do much to remove the stain of racism in our present. Only then, as a nation, can we heal and move on.
Our ancestors will rest more peacefully, and our descendants will live more peacefully, once we do.
Marianne Williamson is a Newsweek columnist, best-selling author, political activist and spiritual thought leader. She is founder of Project Angel Food and co-founder of the Peace Alliance, and was the first candidate in the 2020 presidential primary to make reparations a pillar of her campaign.
The views expressed in this article are the author's own.