Marianne Williamson Warns Democrats: Don't Take Religious Americans For Granted
Spiritual speaker, writer and presidential candidate Marianne Williamson has a message for the rest of her 2020 competitors: Don't take religious Americans for granted.
"That's real smart strategy, Democratic leftist, that's real smart strategy. Mock and make fun of everybody who believes that God is powerful," she said at MSNBC's Climate Forum 2020 on Thursday evening.
The warning came after Williamson received a significant amount of scrutiny and negative attention for suggesting that it might be possible to pray away Hurricane Dorian.
"The Bahamas, Florida, Georgia and the Carolinas...may all be in our prayers now. Millions of us seeing Dorian turn away from land is not a wacky idea; it is creative use of the power of the mind. Two minutes of prayer, visualization, meditation for those in the way of the storm," she wrote in a now-deleted tweet on September 4.
Newsweek subscription offers >
"You had a very unusual tweet about Hurricane Dorian," forum moderator Ali Velshi said to Williamson. "You seemed to imply that good energy can offset bad hurricanes."
In response, Williamson said she did not and that there was nothing anti-science about her positions.
"It sort of felt a little anti-science-y," replied Velshi to laughs from the audience.
But Williamson did not laugh with them. She told that audience that Democrats would only continue to hurt themselves by ignoring and "talking down to" religious Americans.
Newsweek subscription offers >
"Days before I wrote that tweet, I was in South Carolina and Georgia. Do you think they weren't praying for things to turn around?" she asked. "And you're going to just— we're going to just talk down to them because you think that everybody who prays in those southern states and we're praying, dear God turn this hurricane, you think they're stupid?"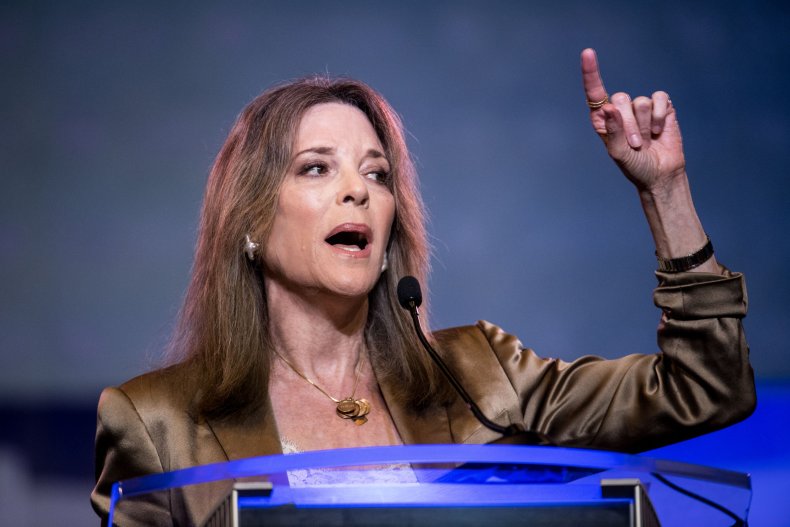 Williamson said that being a "woman who believes in God," didn't make her a woman who doesn't "believe in science. It doesn't mean that I lost some brain cells, it doesn't mean I'm less intelligent."
She then said she only deleted the tweet when she saw author Joyce Carol Oates had criticized it, "and I'm such a fan of Joyce Carol Oates, I've read all her books," she said.
Oates had replied to the initial tweet by writing that Williamson's assertions were "ridiculous." "'Two minutes of prayer, visualization, meditation' is not enough if you are hoping to move just a fork across a table by the power of your mind," Oates wrote.
Williamson may have a point though; Democrats have long struggled to mobilize a religious left in the same way that Republican candidates have been able to rely on strong Evangelical support and turnout to aid them in elections. The problem is that while Democratic voters are religious—65 percent of them said they had some sort of religious affiliation according to a 2016 poll—they're also religiously diverse. About 70 percent of Republican voters in 2016 were white and Christian, but when you break down religious Democrats, 31 percent are white Christians, 22 percent are nonwhite Christians, and 12 percent belong to a non-Christian religious group.
Williamson, in a way, reflects that split.
She is spiritually-minded, but often discusses her Judaism and her love of Christ within minutes of each other. About one-third of Democrats identify as "spiritual but not religious," according to a Pew study, much like Williamson.
Still, her preaching doesn't appear to be aiding her pursuit to the Oval Office. She's currently polling around 0.4 percent.
Marianne Williamson Warns Democrats: Don't Take Religious Americans For Granted | U.S.