Marianne Williamson Says There Is A 'Well-Strategized Effort' On The Left To Smear Her Campaign
Democratic presidential candidate Marianne Williamson told The Daily Mail on Saturday that "powerful forces" on the left are trying to keep her away from the third Democratic debate next month.
"There's well-strategized effort to smear me. There's no doubt about that," she said Friday night at the Iowa Wing Ding dinner, a local party fundraiser.
Willamson said she didn't expect that kind of behavior from her Democratic opponents: "It's very frustrating because I like to think on the left we don't do things like that. So it's been a bit of a wake-up call," she said on Saturday.
"But apparently there's some very powerful forces that want to make sure I'm not in that third debate so I must be doing something right if they've worked so hard to create that," she added.
The self-help author and guru has attracted increased attention this summer due to her emotion-oriented policy platform. During the CNN democratic debate on July 31, Williamson made an impact while laying out a plan for reparations and running on a platform of love. The candidate also drew attention when she referred to President Donald Trump as a "dark psychic force."
Willamson was also the most Googled candidate after the debate - even though she received the least amount of speaking time.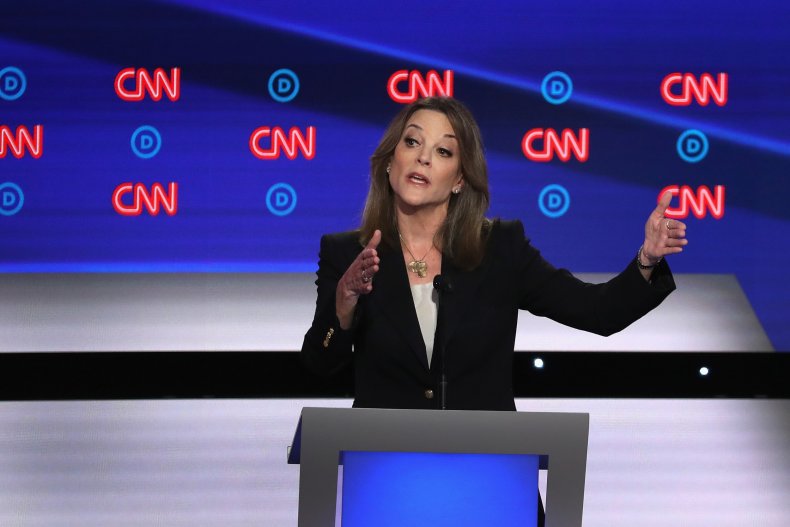 Democratic presidential candidates must have 130,000 unique donors, and register at least 2 percent support in four polls ahead of the August 28 deadline to make September's debate. So far, only nine candidates have passed this threshold — Williamson is short about 12,000 donors as of Saturday.
"I'm almost at the point of the donors needed and we'll find out in the next week or so whether I've made it in that 2 percent in those polls and how much effect those two debates have had," Williamson said.
On Friday, Williamson said she was also the victim of sexist smears by her political rivals as she pursues the Democratic presidential nomination.
"'I've heard things said about me, for which there is absolutely no evidence, no truth and things about what there's plenty of evidence to the contrary," she told reporters at the Iowa State Fair.
"I have seen great minds, some of my intellectual heroes in this country, repeating stories about me that come from websites and tweets that on the level of The National Enquirer. I've been rather shocked, I must say," she continued.
She blamed this on the fact, according to The Daily Mail, that she is a woman running an unconventional political campaign.
"It's obviously a well-strategized intentional smear," she said. "The talking points are obvious. The words are anti-science, anti-medicine. She's crazy. She's dangerous. She's a grifter. The talking points are obvious. And I have to tell you something – there's an ancient strain of misogyny which says about any woman that doesn't toe the line that is the status quo to just back up. She's scary. She's dangerous."