Marianne Williamson Throws Support Behind Andrew Yang, Says Democrats Won't Beat Trump on Issues Alone
Marianne Williamson is throwing her support behind entrepreneur Andrew Yang for the Iowa caucuses because his personality is needed to win back the White House.
"We won't beat [President Donald] Trump only on the issues; if that were the case, he wouldn't be president today. We will beat him by forging an emotional connection with the American people that is more compelling than his," Williamson wrote in a series of Instagram posts on Wednesday.
Williamson dropped out of the presidential race on January 10, but those who are still in the running will face their first major test on February 3 at the Iowa caucuses. Going into the first nominating contest of the primaries, Yang, who's surprised many with the success of his underdog campaign, trails significantly behind the top contenders for the nomination.
A Focus on Rural America poll released on Monday showed Yang at only three percent support, a 21 percentage point difference from former Vice President Joe Biden, who leads the field in Iowa. Williamson came out in support of Yang to help carry him past the primaries.
In her Instagram posts, Williamson wrote that Yang's "self-confidence, levity and positivity" are just as important in the election as his policy stances because it's something America lost and needs to regain. "It's also what millions of Americans long for," Williamson wrote.
"Andrew is light in tone, but he is deep in substance," the former presidential candidate said."I know from first-hand experience the breadth of his intellect and the expansiveness of his heart."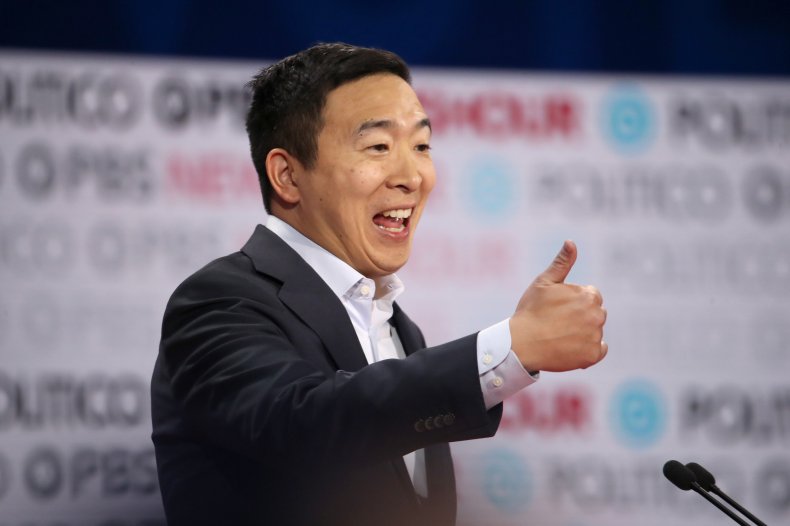 On the campaign trail, Yang's broken out dance moves, thrown axes and cracked jokes about himself while offering up solutions to problems he thinks politicians have ignored for too long. In a recent campaign ad, Yang appealed to Iowan voters as someone with experience creating jobs in the private sector and said the "angry rhetoric" coming out of Washington, D.C., isn't enough to beat Trump.
Williamson made it clear in her Instagram posts that she wasn't endorsing a candidate, but was endorsing the "psychological issue" of which candidate would make the strongest emotional connection with voters.
"For those of us who wish to deny President Trump a second term, that to me is one of the most important things to consider in deciding who to nominate," Williamson wrote.
Whereas Yang has let his personality shine, Williamson claimed Senator Elizabeth Warren, who she said would make a "spectacular president," has focused too heavily on conveying what she'd do and not enough on who she is.
"And that's a huge mistake because the part of the brain that rationally analyzes an issue isn't always the part of the brain that decides who to vote for," Williamson claimed. "People do not just make an intellectual decision who they'll vote for."
Newsweek reached out to Yang and Warren's campaigns but did not receive a response in time for publication.
If people don't "lighten up on a personal level" during a time when the political level is serious, Williamson said the months until the 2020 election will be "too tough on all of us."
"The only one who'd be laughing at the end of the year is Trump. And we must not, must not, must not let that happen," she wrote.