Marianne Williamson Felt Attacked By 'The View' Hosts, Identifies As "Pro-Vaccine, Pro-Medicine"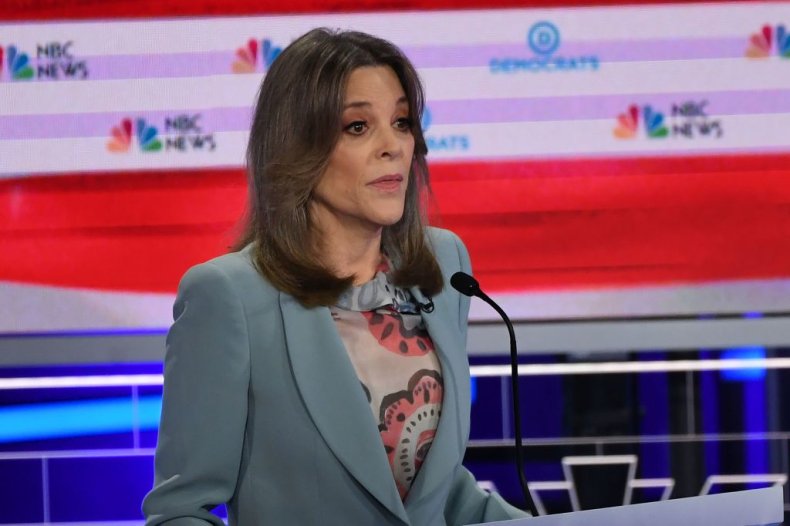 Marianne Williamson, the new age author and 2020 candidate for president, says she felt attacked on a recent visit to the daytime talk show The View in an interview with The Hollywood Reporter. She also spoke about her sloppy position on vaccinations, the reactions she received to her past debate performance and her old roommate, Big Little Lies star Laura Dern.
"I said to Joy Behar during the break, 'Why are you doing this? I'm a liberal,'" Williamson told The Hollywood Reporter. "She [Joy] said, 'What are you talking about? I've always been good to you.' I said, 'Until today you have been.' I don't understand it."
Much of her appearance on The View centered on her confusing stance on vaccinations, something she calls a "self-inflicted wound." But then elaborates that the visit on a whole was tense.
"When it went to other issues such as the larger question of my candidacy, when Ana Navarro and Whoopi Goldberg weighed in, it was so unreasonable," she said. "Coming at me, for instance, because I have a book about politics. So does every other candidate running."
"I'm pro-vaccine," she went on to say to The Hollywood Reporter. "Pro-medicine. Any time there is a medical intervention, there is both benefit and risk. Government must come down on the side of public health. Having said that, I understand that many areas having to do with food, health and safety are places where Americans have questions. And I don't believe that questioning should be squashed. There is intelligent nuance that should be respected."
Even though she's at the bottom of most polls, her performance at the first debate created a splash, largely because of how unconventional it was. Her response to a question about what her first priority as president would be became a viral hit.
"My first call is to the Prime Minister of New Zealand, who said that her goal is to make New Zealand the place where it's the best place in the world for a child to grow up," she said at the June 20 Democratic debate. "I would tell her: 'Girlfriend, you are so on, because the United States of America is going to be the best place in the world for a child to grow up.'"
She said the reaction to her performance and that line was "pretty fascinating."
"Because as much mockery as there was, there was also serious attention given to the substance of my remarks," she told The Hollywood Reporter. "And even the memes, the majority of which I found incredibly funny and very few of which were malevolent, was another—to me—fascinating expression of political sentiments."
Williamson has long been a draw for Hollywood, previously working with Oprah Winfrey and counting Jeff Bridges and Nicole Ritchie as campaign donors. But one of her more interesting Hollywood connections is to Laura Dern, her old roommate.
"She was my roommate when she was 18. I was 31," she said. "Her mother called me—the inimitable, fabulous Diane [Ladd]. She said her daughter didn't want to live at home anymore and I would be the perfect person. I remember being like, 'What?' And then this adorable, adorable 18-year-old comes walking up my sidewalk: 'Hi! I'm Laura Dern!' She is an extraordinary human being and it's been a pleasure and an honor knowing her. I love her."
Williamson has qualified for the next Democratic debate on July 30 airing on CNN.