Mariano's COVID Vaccine Registration Details and How to Book an Appointment
Mariano's, a chain of grocery stores owned by the supermarket company Kroger, is offering COVID-19 vaccinations at select locations. Those eligible for vaccination can register by booking an appointment on the Mariano's website.
The company said: "Our family of pharmacies has received a limited supply of the COVID-19 vaccine in select areas and our licensed health care professionals are partnering with federal and state agencies to administer the doses in accordance with each jurisdiction's rollout plans.
"The COVID-19 vaccine is not available at Little Clinic locations at this time."
The Mariano's COVID-19 vaccine page "will be regularly updated with information on vaccine availability and eligibility by state. Please check back often for new locations and updated eligibility criteria," the company added.
For its store in Houston, Texas, for example, the page currently advises: "Our pharmacies have administered all doses that have been made available to us at this time. Please check back for updates."
How to book COVID-19 vaccinations at Mariano's
The states where COVID-19 vaccinations are currently being administered are listed in alphabetical order on the chain's website.
Each listing outlines the state's "current eligibility" criteria and information on quantities available.
States where shots are currently available include a hyperlink to "Check appointment availability."
Clicking on the link will open a page where users are asked to provide the location and pharmacy of their choice, "medical details" and other patient information to "assess the safety and the appropriateness of vaccination," according to the website.
Users will also be asked to fill out a vaccine consent form before submitting their appointment request.
COVID-19 vaccine appointments are currently available at select locations in the states listed below. See the Mariano's website for the latest information on availability and eligibility criteria for these states:
Alaska
Arizona
California
Colorado
Georgia
Idaho
Illinois
Indiana
Kentucky
Louisiana
Nevada
Ohio
South Carolina
Washington
West Virginia
Wisconsin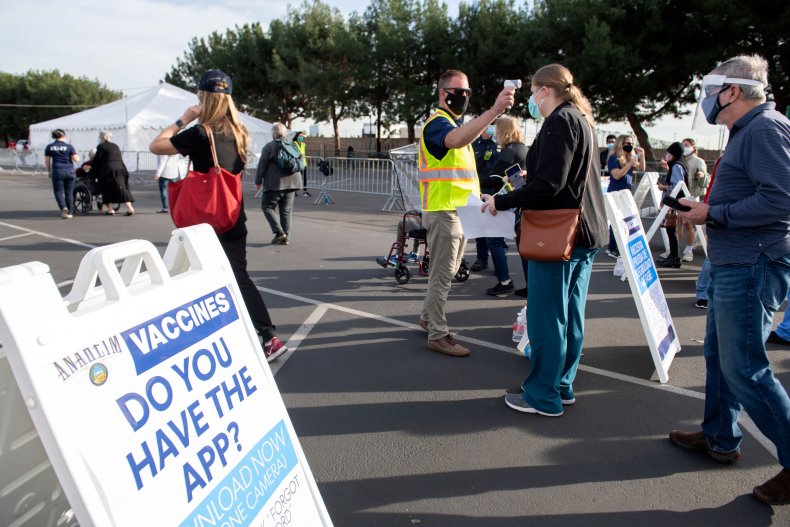 The wider picture
The novel coronavirus has infected more than 103.9 million people, including just over 26.4 million in the U.S., since it was first reported in Wuhan, China.
More than 2.2 million people have died worldwide and more than 57.7 million have recovered as of Wednesday, according to Johns Hopkins University. Just over 447,000 people have died in the U.S.
The graphic below, produced by Statista, shows when countries are expected to have 60 to 70 percent of their adult population vaccinated against COVID-19.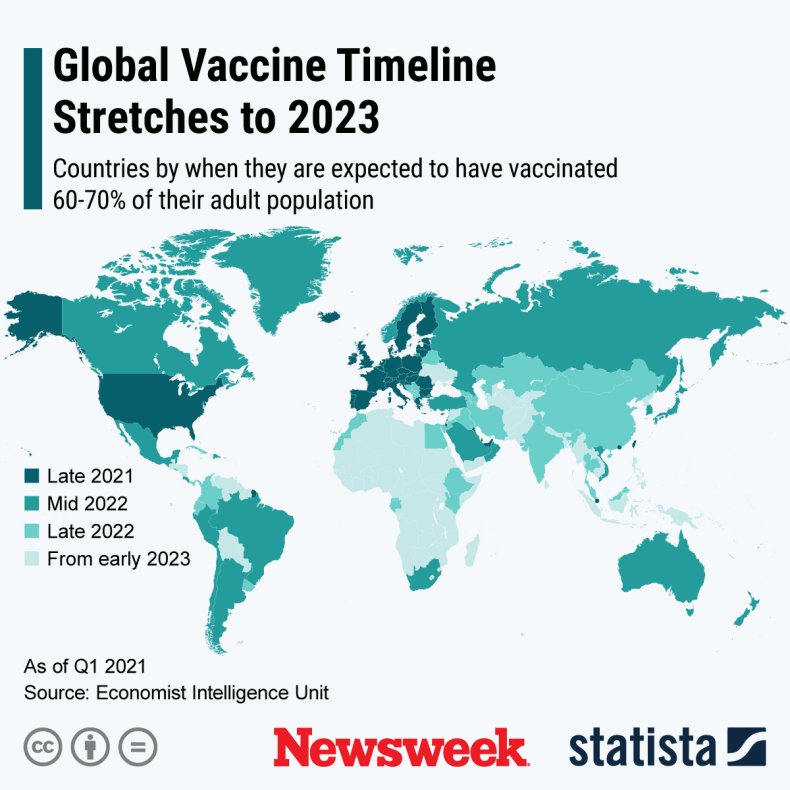 The graphic below, also produced by Statista, illustrates the spread of COVID-19 cases in the U.S.