Marie Antoinette's Diamond Bracelets Soar in Value, Sell for $8.2M at Christie's Auction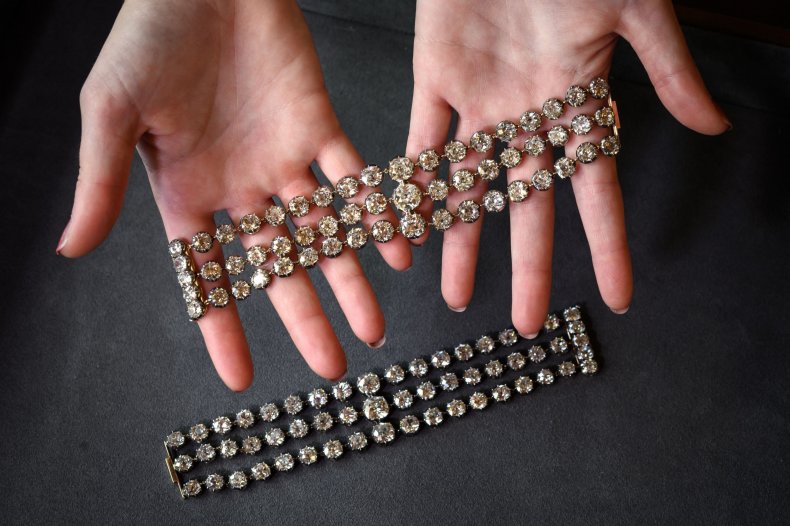 A pair of diamond bracelets that were once owned by the doomed French Queen Marie Antoinette have been sold at auction for over $8 million.
A Christie's auction house estimate had valued the jewelry at $2 million to $4 million before they were sold. The bracelets, which had been in the possession of Antoinette's family for over 200 years, sold for far more than expected to an anonymous telephone bidder when the auction took place in Switzerland on Tuesday.
"A very dynamic saleroom coupled with strong online and telephone bids from around the world, resulted in lively bidding and a very high sell-through rate of 93 percent by lot," Rahul Kadakia, International Head of Christie's Jewellery, said in a statement obtained by Newsweek. "Marie-Antoinette's Diamonds captured the world's attention and achieved a fitting result for such a magnificent Royal Jewel!"
The bracelets, which were the property of an undisclosed "European family" when they were put up for auction, include 112 diamonds placed on three strings per bracelet. The jewelry was kept inside a blue velvet box labeled "bracelets of Queen Marie Antoinette."
Christie's spokesperson Alexandra Kindermann told Reuters that the bracelets had sold for a final bid of 6.2 million Swiss francs, or about 6.8M USD. However, with commissions and fees added in, the total price was 7.46 million Swiss francs, or $8.18 million.
The pre-auction release from Christie's said that Antoinette, the wife of French King Louis XVI, "could not resist" diamond jewelry and purchased the bracelets in the spring of 1776 "for 250,000 livres, a huge sum at the time."
The auction house said that the "extraordinary bracelets are the only example to include diamonds belonging to her and to retain the exact design described" in an inventory of her possessions from 1794.
"To find jewels with over 200 years of French royal history is truly something that collectors and passionate jewelry people from all over the world will be keeping an eye on," Max Fawcett, head of Christie's jewelry department in Geneva, said before the auction.
"How much is someone willing to pay for something from the last queen of France?" added Fawcett. "We have seen the results before of things sold by Marie Antoinette, that there really is no limit to how high these can go and I'm expecting fireworks on Tuesday."
The queen's affinity for diamond jewelry was well known during her day and played a central role in one of the her most significant scandals. In what was later known as "the diamond necklace affair," Antoinette was accused of taking possession of an extremely valuable diamond necklace while refusing to pay for it. In fact, she had refused to buy the necklace, although it had been acquired by a con artist who forged her signature.
Historians have suggested that the diamond necklace affair was a key factor that led to Antoinette's execution during the French Revolution. Although there is no evidence to support the notion that the queen ever uttered the frequently attributed phrase, "Let them eat cake," her reputation had been thoroughly tarnished among common people by the time she was executed by guillotine in 1793.
Update (11/10, 4:27 p.m.): This article has been updated to include a statement from Rahul Kadakia, International Head of Christie's Jewellery.